With the current and upcoming dynamic user needs, applications have become essential in optimizing business productiveness. And as per the ongoing fashion, many companies are opting for android app development to establish their brand. You must be questioning why Android Application development is so prevalent in 2022.  So, let's move on to find out the reasons behind it.
Explore the reasons to build Android App
Extend Business Opportunities
Having an application has become a necessity in this technology-driven market. And having an Android Application development has the highest priority in every business.
Most people around the globe have Android-based mobile devices, leveraging the organizations to provide services to a large community.
In addition, Android is an open-source and easy-to-customize platform leading to offers enormous features and high performance to every user.
As a result, you will have a vivid user-base of potential customers, making it effortless to introduce new service offerings. Also, it enables the collection of feedback from many people, helping the organization improve core business operations.
 Helps to lead in Competition
Every company has its website or web app to establish its brand online and create awareness.
However, many few of them know the importance of Android Applications to moving ahead of their competitors.
With an Android Application, you will be available on mobile devices, from which users can access your services anytime and from anywhere. Most customers prefer utilizing mobile applications rather than opening browsers, searching for URLs, and performing their functions.
Also, Android apps are the most popular among every type of Audience, which will help you accelerate your business growth within a short period.

According to 42Matters, 90,000 new applications are getting published every month on Google Play Store. It showcases that many enterprises are adopting Android Application Development to magnify their business.
Easy Reach out to a vast audience.
Most people have Android-based devices on every continent compared to any other operating system-based gadget.
It is a primary reason why every business should have an android application.
You can quickly reach out to every target audience and expand your customer base. If you have an eCommerce business, having an android application can help you a lot.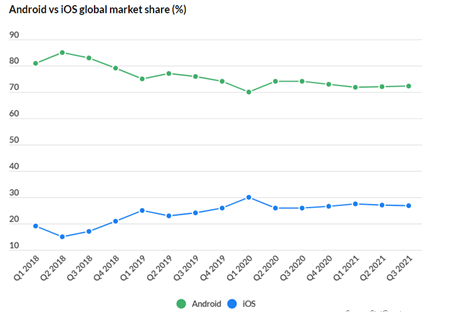 You must be thinking that there can be iOS users too. Then, how can an organization increase sales only from Android apps?
Let's get straight to the answer.
According to the latest statistics, 70% to 85% of mobile users have Android smartphones, and 15% to 30% have iOS devices.
Thus, the Android market is way more massive than iOS, which aids the enterprises to earn a hefty amount only by having an android app.
Android is a flexible, scalable, and customizable technology, supporting the firms to provide a personal and smooth experience to every end-user.
In addition, you can add various third-party APIs, plugins, and widgets to the android app to extend its functionalities and make its appearance alluring and responsive.
Once you achieve a low bounce rate, your engagement rate will optimize along with conversion and retention metrics.
Achieving milestones of a wide user-base becomes possible with modular Android architecture, promoting quick modernization and up-gradation to align with the latest tech trends. As a result, your app becomes capable of fulfilling user needs, and it starts monetizing itself.
It declares that if you want to have more customers, then Android can efficiently help your business.
Affordable Development and Maintenance
Whether a startup or a well-functioning enterprise, everyone wants to adopt a budget-friendly and cutting-edge technology.
For crafting an android app, you can impeccably find all the learning, human, hardware, and software resources.
You can hire an android developer from USD15 to USD50 per hour according to your requirements, experience of the engineer, and time-to-market.
Moreover, many IT firms economically offer their post-development services.
Besides this, if you want to scale up its performance or migrate it to the cloud, it's also an easy to execute and smooth procedure. Android apps are compatible with every major cloud infrastructure, whether AWS, Azure or Google Cloud.
What should be your must-follow android app development trends 2022?
For optimizing your business operations, productivity and revenue, you can follow the following android development trends.
5G-enabled Android Application Development
To provide more speed, fast transactions, and align with new bandwidth technology, you must create 5G-enabled applications.
These applications will smoothly run on new mobile devices and save you legacy app modernization costs if you build an app from scratch.
Additionally, it allows streamlining live videos and effectively handling IoT networks without facing downtime. You can fluently take a wide array of user requests and provide an accurate output to every user on time, enhancing the customer satisfaction rate.
Embedding google assistant in your application can assuredly enhance the user experience.
Most people find it easy to provide voice commands rather than navigate through different web pages and see the required features.
Android comes up with multiple built-in modules and top-notch tools, which can help you to extend your app's functionalities.

https://www.thinkwithgoogle.com/marketing-strategies/search/voice-search-mobile-use-statistics/
As per Google, 27% of people prefer using voice commands, and it is going to grow in 2022. It makes the task of adjoining voice commands an essential app requirement.
AI and ML Module Adjoining
Artificial Intelligence and Machine Learning are two emerging technologies helping organizations to improve their systems and automate workflow.
Android offers its own AI and ML libraries and their full-fledged documentation, which you can use to learn and implement your application.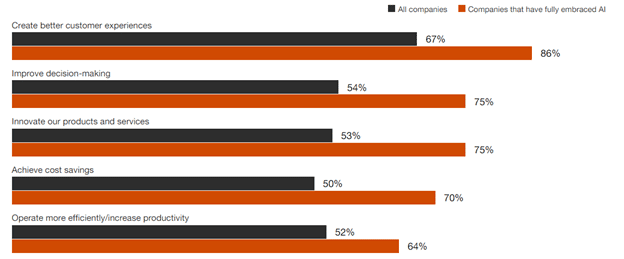 According to PWC, AI is optimizing workflow. Let's have a look at the statistics.
86% are analyzing better customer experience.
75% of companies have made better decisions with AI-enabled features.
75% of firms were able to innovate world-class products and services.
70% of enterprises were able to save overall cost.
64% of companies have seen an increase in productivity rate.
Overall Android Application Security Optimization
Maintaining the integrity and confidentiality of every data chunk is the topmost priority.
And for accomplishing these goals, Android offers built-in authentication, authorization, access control, and encryption mechanisms.
In addition, you can adjoin them with AI and ML modules to strengthen security and prevent illegitimate actors from performing malicious activities.
In 2022, you must have a vigorous and robust security solution for your Android app, as it can become a primary reason to build a reliable customer relationship.
Concluding Up
Android Applications holds the lead in the mobile app market, as more than 70% of the total online population utilizes android-based smart devices.
By only having an android app development, you can achieve significant growth, revenue, customer experience, and productivity rate.
Also, if you want to boost your workflow, you have to follow the latest Android trends. It will help you get a precise understanding of aligning your software with dynamic user needs.