Windows 10X is an updated version of Windows.
Windows Core OS  will ship with new devices in 2021.
Leak shows Windows 10X with a new design, touch-friendly interface.
Windows 10X is a new Windows update for upcoming PCs. It has been designed from the ground up for new PCs. Windows 10X is built on top of a new updated version of Windows called 'Windows Core OS' and will start shipping on hardware in 2021. It incorporates legacy elements and features in favor of improved security and modern user experiences.

This means that everything has been rebuilt with new technology, from the Windows Shell to the underlying OS. As a consequence, on the launch, Windows 10X does not support legacy Win32 applications. Microsoft Edge, UWP, and mobile/web apps will be able to run on Windows 10X PCs in 2021.
However, Legacy Win32 support for the application will arrive at a later date. By default, the Win32 apps can run in a protected container. This ensures that when closed, certain legacy apps will not impact device performance and battery life. As a result of this, Windows 10X is a much more reliable and stable OS, as there is no possibility for bitrot to be triggered by legacy apps.
First Look at Microsoft's Windows 10X
Zac Bowden of Windows Central posted a screenshot of what is believed to be Windows 10X for single-screen PCs on Wednesday. The picture appears to display the Start Menu of the program and a taskbar center-aligned with large icons that look very touch-friendly. There are also shortcuts for Microsoft Edge, Directories, Outlook, and spaces in the taskbar.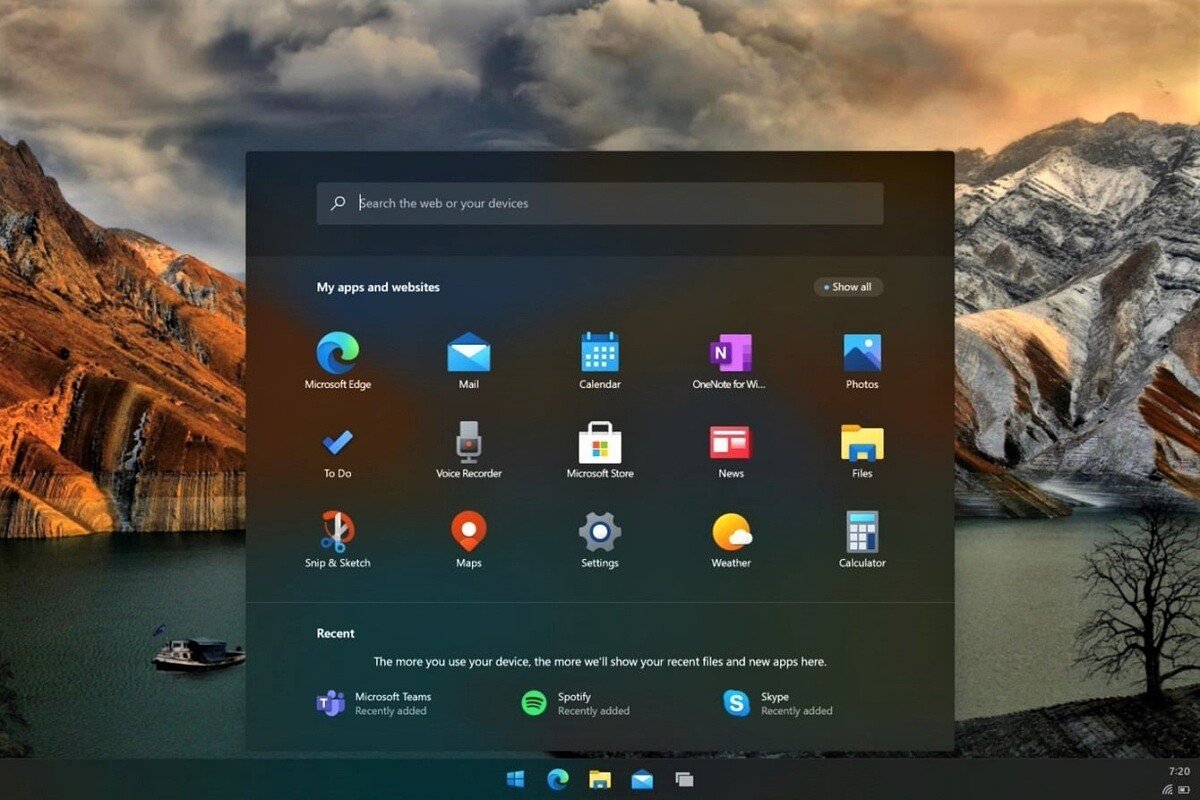 Meanwhile, all sorts of shortcuts are included in the Start Menu. These include helpful productivity apps to applications such as Microsoft Teams, Skype, and Spotify. Although it is not an app for the Universal Windows Platform (UWP), it can be pinned to a Progressive Web App (PWA). Apparently, the Start Menu won't support directories, but, according to the screenshot, it will display applications and websites.
When can we expect Windows 10X?
Apparently, the animation comes from Windows 10X | Build 20279.1002. We will soon have a much better idea of what single-screen PCs are going to look like for Windows 10X. 
The introduction of Windows 10X will shake up business and education circles. It will provide access to the most well-known services from Microsoft while featuring items such as instant-on and access to UWP and PWA applications. It is estimated that the first devices equipped with Windows 10X will arrive in spring 2021, so it might not be much longer until we see the full operation of the app.