Wink app is a social networking app that allows you to engage in healthy conversations with new people. You have complete control over your profile, including who you add and who you communicate with. You can find Snapchat users by swiping right. To use this service, users must be at least 17 years old.
Pros of Wink app:
You can easily connect with new people

You can expand your social

networking
.
Cons of Wink app:
What is a Wink app?
Wink is an app that allows users to find new Snapchat friends by swiping left and right on images. You can add each other as friends if you swipe right on a user's photo and they swipe right on yours. Users can only get a certain number of swipes per day by spending "gems," which you can earn by checking in on the app every day, sharing your friends' contact information, and spreading the word about the app on social media.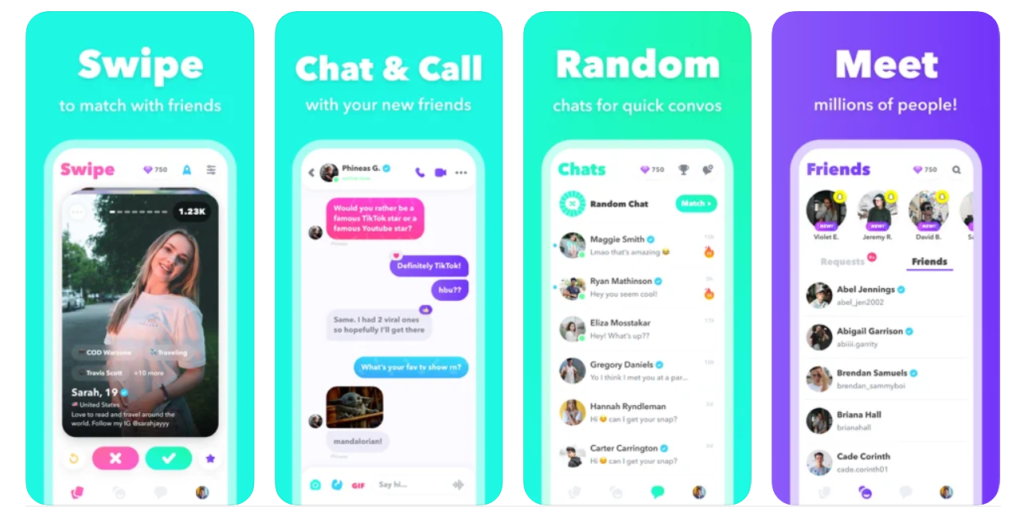 Features of app :
Swipe-

If you swipe right on a user's photo and they swipe right on yours, you can add each other as friends.
Chat and call-

You can use the messenger to send messages, photos, ice breakers, GIFs, audio messages, and even games.
Earn gems-

You can use these gems to purchase a new profile background or to send requests to a new friend.
Features that unveil when you sign up:
Swipe to find a match with new people.

Chat and call your new acquaintances.

The random chat feature allows you to talk right away. You can, however, add them as friends if you want to continue talking later.

Create your own profile and swipe card.
FAQ: 
What OS does it support?
iOS and Android platforms 
Is the app free for use?
Yes, The app is free to use. 
Is the payment secured for in-app purchases?
Yes, the payment is secure for in-app purchases.
What permissions do you need to allow for the app to function?
 The app requires permission to access storage, location, photos/media/files, and wifi connection.
Why should you use the app?
When you meet new people, you can discuss your problems and get honest feedback. There is no prejudgment because they are unaware of your past.
Furthermore, by sharing your difficulties with others, they may be able to provide you with contacts of other people or potential resources.
User Reviews: 
Download the app here:
Like our Wink App Review? Check out more Mobile App Reviews or Submit your own Mobile App Reviews.