Introduction:
Zenly app can help you find out what your friends are up to. It's a real-time app that shows you which of your friends are available to chat with you. You can simply ping them up to see if they are available or to find out where they are without disturbing them. This app is extremely safe to use. Your friends must accept your requests in order for you to view their status.
Pros of Zenly app:
You can surprise your friends by bumping into them by knowing their real-time location.

This is an ad-free app.
Cons of Zenly app:
Users have complaints about changing the location settings even while being on.
What is a Zenly app?
Zenly app helps you discover your friends' real-time location. You can let them know when they are out of battery. You can bump into them anytime to let them know when you are hanging out together. You can call them if you feel the need to. it's safe to use since you have to have the consent of your friends.

Features of Wakeout app :
Features that unveil when you sign up:
 Bump phones with friends to alert others that you're together.

 Recognize when they are at home, school, or work, as well as when they are on their way to any of those locations.

 Reach out to your friends using your favorite transportation apps without providing an address.

Receive notifications when your friends are traveling 

Send your favorite emojis to your friends 
FAQ: 
Yes, it is available on both iOS and Android platforms. 
Yes, the app is free to use.
Is the payment secured for in-app purchases?
Nil
What permissions do you need to allow for the app to function?
 The app requires permission to access Wi-fi/data connection.
 Why should you use the app?
It's a great way to spend time together even if you live far apart. Being in touch with your friends and talking to them can help you stay mentally happy at all times.
User Reviews for the Zenly app: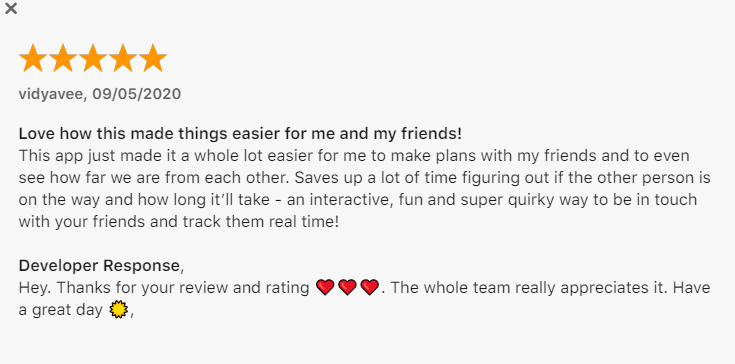 Download the app here:
Like our Zenly App Review? Check out more Mobile App Reviews or Submit your own Mobile App Reviews.