What is Zoho Show App?
Zoho Show app provides a forum for those who enjoy offering alternative perspectives and encouraging audiences through their experiences. It enables presenters to include captivating images into their presentations and retain their audience's attention at any time or location. Utilize Zoho Show to convey, persuade, and communicate in any setting, including a classroom, a meeting room, a conference hall, or any other event.
With your iOS or iPadOS smartphone, create, share, and modify excellent presentations on the go. Import PowerPoint presentations to continue where you left off (.PPTX files). Your slides can be edited offline and downloaded as a picture or a PDF. Utilize Show's extensive library of presentation templates and themes to automate the slide creation process. For your next deck, choose from a selection of marketing, sales, and other template options. You'll get access to hundreds of unique slide themes, including a cover slide and an image slide. Read the complete app review below to learn more about the app.
Main Highlights
Include eye-catching animations and seamless transitions.

Collaborate and share with team members.

With auto-sync, you'll never lose your progress.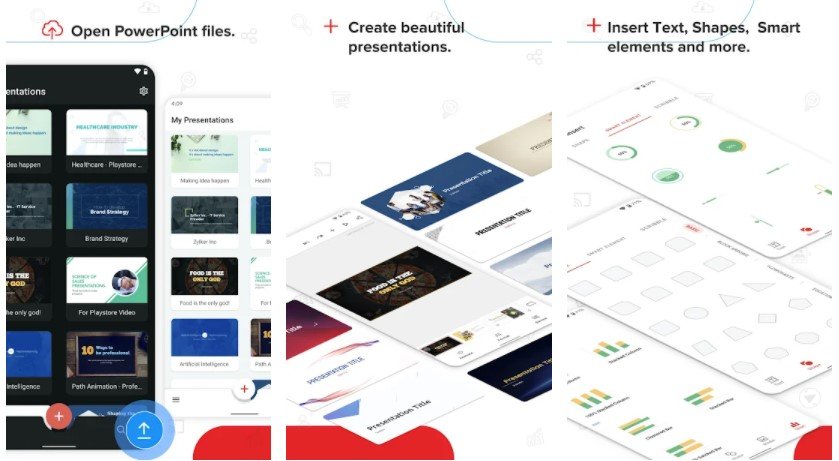 Features of Zoho Show App
Create visually arresting presentations, collaborate with your team, and distribute them for free, on any device, at any time.

The show recognizes your actions—whether you're adding a photo, editing text, or animating a slide—and our uncluttered UI offers you precisely the tools you need to complete the current work.

Zoho Show is pre-designed with over 100 themes covering startup pitch decks to sales presentations and company proposals.

Maintain communication with your teams and improve collaboration.

Create tables for your slides to aid in the organization and classification of your content. Select from a variety of basic table styles and then further customize your tables using various formatting options.

Add photographs to the slide directly from your phone. Additionally, you can include pictures captured via the device's camera or through a URL.

Access the Unsplash library from within the app and browse millions of royalty-free images.

To invite colleagues, simply enter their email addresses in the share option.

The show lets you manage the level of access each collaborator is permitted, preventing data loss or incompatible updates.

By adding comments to slide elements, you can communicate with your team members. Respond to comments to help put team conversations into context.
Zoho Show App subscription
Create your slides using a variety of customization options provided in the Zoho Show. Text, photos, and shapes can all be added and customized. To add profiles to your slides, choose from over 100 available forms ranging from Basic Shapes to Equation Shapes. Make your slides visually appealing by incorporating creative silhouettes. 
Utilize intelligent elements such as the Fill Indicator and Shape Indicator to display numbers on your slides visually. Maintain a high level of engagement using eye-catching animation and transition effects. With over 20 animation effects, you can make slide objects appear, float in, swivel, and more. Select from over 25 different slide transition effects, including Blinds, Spiral, and Zoom.
Zoho Show App Reviews
Frequently Asked Questions
What capabilities does this application possess?
The Zoho Show app for Android enables you to create quickly, import, modify, share, and distribute slides using your phone or tablet.
This smartphone application enables you to: Create and edit presentations immediately from your phone.
Import presentations from a wide variety of cloud storage services.
You can run slides on your mobile device with a single swipe.
Present slide on a giant television screen and control with a phone-based remote control.
Android Wear enables sliding control.
Share presentations with colleagues and be notified when they are modified.
How is a presentation cast for television?
Casting is the technique of projecting your smartphone's screen onto your television, allowing you to share photographs, videos, and movies on the big screen. Casting a presentation to a television entails displaying slides from your phone onto the television screen using a casting device such as a Chromecast linked to the HDMI port on your television. This enables you to share your phone screen with your television, allowing you to broadcast and control presentations using your phone as a remote control.
What is the best way for my Android phone to view my slide notes?
When the smartphone is connected to a television, your slide notes appear on the television. To display presenter notes and keep track of significant points on a slide, tap the Notes icon in the top right corner of a slideshow.
Will my device's Zoho Show app continue to function if I go offline?
No. This functionality is not available at the time because Zoho Show syncs your data with the cloud to ensure uninterrupted collaboration. To update or play your slides, please ensure that you are connected to a mobile network or Wi-Fi.
Is the Zoho Show application Android Wear compatible?
Yes, you can deliver and control slides directly from your wrist using the Zoho Show App. Connect your Android phone to your Android Watch to view current slides, scroll through them, and even keep track of the remaining time in a presentation.
Is the Zoho Show mobile app secure?
Yes. All data is encrypted, and no personal information is stored on your mobile device. If, however, you choose to save your login information on your mobile device, anyone who has access to your device will have access to your account. Visit this page to learn more about our security policy.
Zoho Show App Download
Like our Zoho Show App Review? Check out more Mobile App Reviews or Submit your own Mobile App Reviews.