Main Highlights:
Excessive Incorporation
Emphasizing Downloads Over Retention
Not Considering the Target Audience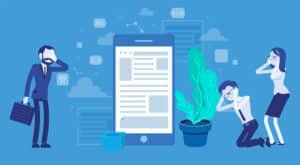 According to statistics, there are presently over 4.27 million programmes available on the App Store and Google Play Store combined. This figure is expected to rise higher in the future.
Not all apps achieve the desired level of popularity among users. Have you ever pondered why certain applications fail to attract users?
For a variety of reasons, your company mobile app may fail. While some programmes are flawless in terms of functionality and features, others are plagued with typical errors.
It is difficult to ensure the success of your mobile app in this extremely competitive industry. As audiences become increasingly mobile by the day, every business strives to establish mobile-first strategies that meet the demands of its customers.
In this essay, we will discuss the most typical mobile app development mistakes that lead to app failure.
Excessive Incorporation
There is still a desire among companies to include all they offer on their website into a mobile app. Mobile applications are designed to simplify the user experience and allow users to do tasks that would otherwise take a long time on a mobile browser or website. Missing the mark on app development is frequently the result of failing to identify the main use cases.
Inadequate Testing
Over 1,000 applications are created every day, making it a difficult market to produce an app that people want to download. Some businesses make the mistake of not testing their app before making it available to the public. The app's quality is critical since it symbolises the company's brand. Ensuring that the app does not fail and that it has undergone rigorous beta testing enables for good brand growth for the organisation.
Don't disregard every feedback (even the negative). You can't satisfy everyone, but reviews may provide vital insight, and that review may reflect the viewpoint of thousands of people who feel the same but don't post one.
Emphasizing Downloads Over Retention
When a company creates a new app, it usually focuses on and prioritises new downloads. Retention is just as critical, if not more so. Getting a lot of downloads in a single use does not make an app successful; continued use does. A brand must track data to determine where the gap between download and use occurs, and then focus efforts on retention and relevancy.
Failure to Prepare
Prior to going into the nitty-gritty, certain critical considerations must be made. What are you thinking? What is your intended audience? What are their existing app usage patterns? What makes them desire this app? Companies are frequently eager to launch an app but have not taken the necessary thought to establish the value to potential consumers.
Multiple Platform Development
It's tempting to create your app on every platform accessible in order to reach as many customers as possible, but the fact is that practically every software is adjusted numerous times after consumers begin using it. User behaviour teaches us a lot, and often necessitates major modifications. It is preferable to preserve resources and discover out what works on one platform, and then add others.
Immediate Return on Investment
When starting a new business, it's tempting to be optimistic, but keep in mind that less than 1% of applications earn money. So, if your objectives for developing an app are just financial, you should think reevaluate your intentions.
Taking the Easy Way Out
It takes a long time to create a new app. You cannot simply copy and paste other concepts and software tool pieces into one and expect your new solution to outperform the competition. Companies should prioritise taking the time to design a flawless app that is distinctive, delivers value, and meets the demands of their customers.
Failing To Consider Hidden Costs
Companies are often positive about app usage and retention. It is critical to consider the expenses of content creation and advertising to drive initial app downloads, as well as the continuous expenditures of sustaining an active user base through operating system and handset upgrades.
 Not Considering the Target Audience
It is not enough to just produce an intriguing product if you do not know for whom it is intended. Before developing a mobile app, you must thoroughly understand your target demographic. If you are unsure about your end consumers, your product may fail in the market, necessitating a larger investment for skill development, advertising, and iteration.
Primitive Usability
When creating a mobile app for your target audience, it must be user-friendly. In addition to focusing on the specific functionality, you should ensure that your consumers find it simple to use. If your programme has user-friendliness concerns, it may lose popularity. It may also elicit a negative reaction from people who install it for the first time and attempt to utilise it.
As a result, it is critical to understand your end consumers and how they will use the app. It will assist you in creating the proper user-flow to lead your users through the programme.