What is the Adobe Photoshop Fix App?
Adobe Photoshop Fix is a smartphone software designed to facilitate non-destructive picture repair. Adobe has integrated elements from popular desktop editing programmes like Photoshop and Lightroom with touch technology to create an app that users can use to alter photographs on the go. The software is presently free to download from the iTunes Store and works on both iPhones and iPads. An Android version will be released, but no date has been set as of yet.
While it is free, the Adobe Photoshop Fix app contains a number of useful capabilities, many of which you will be acquainted with if you have previously used any of Adobe's picture editing desktop products.
Furthermore, it claims to make transitioning between editing programmes quicker and more fluid with Adobe Creative Sync and Creative Cloud access. We put it to the test to discover if it actually lives up to the hype.
Adobe Photoshop Fix is just as easy to use on iPhone as it is on iPad, with tooltips to guide you through all of the powerful tools.
The first thing you'll notice when you start the Adobe Photoshop Fix app is how well-designed it is. Sample photographs are supplied if you want to experiment with the programme without adding any of your own photos, or you may click the Plus symbol to find your own photos.
When you initially use the app, you'll be prompted to join into the Creative Cloud, and by doing so, you'll have access to the photographs you've saved here, as well as other CC programmes like Lightroom and Photoshop. Photos may also be accessible from your iOS device, Dropbox, and Facebook (if installed on your device).
When you pick a picture, it is automatically opened in the editing interface for you. The tools are listed across the bottom, and the choices for storing photos, undo / redo buttons, a flatten image icon (which eliminates the multiple layers applied), and a back button return you to the home screen are listed across the top. Talking of the homepage, here's where you can rename projects to make them easier to organise.
Highlights of the Adobe Photoshop Fix App
Automatically detects face features.

Object removal is simple and effective.

Quick operation.

Simple to use

It's jam-packed with tools and features.

It is fully compatible with Photoshop CC and Lightroom.

The files are stored in PSD format and contain layers.

It's completely free.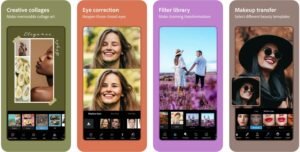 Adobe Photoshop Fix Key features
Use various retouching tools such as: 
Liquify – Push, pull, spin, swell or alter any region to achieve subtle or extreme effects.
Heal and patch – Repair flaws with content from nearby regions, then mix the result.
Paint to smooth or sharpen skin, landscapes, or other material.
Lighten and darken – Add or subtract light from particular areas of a photograph.
Edit and adjust photos using a variety of essential tools:
Desaturate to eliminate all colour or to generate a colour and black-and-white combination.
Paint – Create exact effects by using an eyedropper to sample colours, a customizable brush, and an eraser.
Adjust vignettes, as well as exposure, contrast, and saturation.
Defocus – Blur a portion of a photograph in order to bring attention to your main topic. 
Use seamlessly with other Adobe apps and desktop applications: 
Send your photographs immediately to Photoshop CC on your PC to tweak and enhance them.
Photoshop Fix offers a simple UI, a useful face-warping tool, and generates PSD files with customizable masks.
Adobe Photoshop Fix App Reviews

Why should you install Adobe Photoshop Fix?
Adobe Photoshop Fix is a really handy tool that works surprisingly effectively. It's filled with essential features and tools that are simple to use and create outstanding results for a free piece of software. The program's simplicity, along with its comprehensive editing tools, make it an app definitely worth installing for people searching for a quick way to alter images. Plus, the fact that photos can be 'zapped' over to Photoshop CC as PSD files at the press of a button and enormous photo files can be altered without latency makes it a highly valuable piece of editing software for Adobe aficionados to have. It's amusing, straightforward, has several new features, and provides attractive results, so we're glad to Highly Recommend it.
It has several remarkable features, including:
Crop, Adjust, Liquify, Healing, Smooth, Light, Colour, Paint, Defocus, Vignette
Frequently Asked Questions
How does Photoshop Fix leverage Adobe CreativeSync?
You may use CreativeSync to navigate between several applications on your mobile device in a single workflow.
Move from Photoshop Mix, Lightroom on mobile, and Photoshop Express to Fix and back with ease. Fix works with Adobe Photoshop, Adobe Spark Video, and Adobe Spark Page as well.
On the left side of the screen, tap the Plus symbol. You may either shoot a photo with the camera or choose an existing image from the Camera Roll, Creative Cloud, Lightroom, and other locations.
Can I use Photoshop Fix to adjust pictures?
Photoshop Fix's primary function is to assist you with photo retouching. The Adjustments menu, on the other hand, has all of the functions you'd expect to see in an image editing programme.
Open or add a photograph to Photoshop Fix.

Adjust the slider. The Adjust toolbar appears.

To apply the optimum modifications, choose Auto Fix.

You may also change the mode of modification to Exposure, Contrast, Clarity, or Saturation. To change the degree, swipe sideways.

Accept the modifications.

 
How do I save my composition for use in Photoshop?
A Photoshop Fix composition may be saved as a PSD file for further tweaking in Photoshop.
Select Send to Photoshop after tapping the share icon. The composition is saved as a PSD file in your Creative Cloud Assets after being submitted to Creative Cloud.
Following this stage, your Fix work is immediately loaded as a layered PSD file on your desktop for additional creative modification in Photoshop. Sign in to Photoshop using the same Adobe ID that you used to sign in to Fix.
Do I have to download all of my projects when I use Photoshop Fix?
No. The most recent Photoshop Fix version allows you to selectively sync work to your smartphone. With selective synchronisation, the app only keeps the metadata needed for each project on your smartphone. The remaining metadata is retrieved from the cloud as needed. When you run out of storage space, you no longer have to manually clear it up.