Alison App Review: Leading e-Learning app
What is Alison App?
With the present surge in online learning, you have several options for taking classes from the convenience of your own home. Whether you want to study coding or business principles, there is almost certainly an online education platform for you.
Alison provides a wide choice of courses, with over 4,000 programmes available in a variety of fields. These programmes provide a far greater focus on career-related training, such as certificates and degrees in ISO 9001, retail management, and chemical safety.
Diplomas give a general overview of a profession, whereas certificates teach specific skills. Either of these would be an excellent addition to your resume and LinkedIn profile.
Every course on Alison is free to take, and examination access is unlimited. You can obtain a certificate or diploma after completing a course. Both are reasonably priced, with certificates costing up to $50 and real diplomas costing up to $150.
A career guide is a valuable tool that splits many industries into discrete roles and then provides information on virtually every aspect of the job, from required skills to a forecasted career map. Of course, Alison suggests which of their courses will help you advance in this field.
The Alison app is simple to use, with materials presented in a straightforward manner. Keep in mind that certain courses may not feature or have limited video content, so keep this in mind if you enrol.
Highlights of Alison App
Free courses

Easy to use

Good content

A wide variety of courses to choose from

Sales and Marketing

Language

Information Technology

Health

Business

Management

Personal Development

Engineering and Construction

Teaching and Academics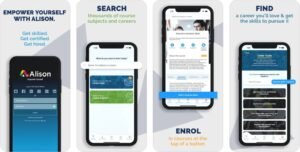 Alison App Key features
Alison provides four major types of courses, giving maximum flexibility for all students. While you may wish to specialise in an entire topic area in certain cases, you may only want to obtain a more deep understanding of specific individual concepts within a subject area in others.
This is a feature seen on many online learning platforms, and we value it on Alison as well. When you enrol in a class, you will be able to take digital notes in the notes area located beneath your course. These notes may be downloaded for later offline reference, or you can email them to yourself.
Alison also includes a referral scheme, something you won't find on many other e-learning platforms. Not only will you be able to check how many students registered in the course, how many graduated, and how many courses are now available on Alison, but you can also invite your friends to participate in the learning (and the fun).
If you successfully recommend friends, you may be eligible for free digital certificates and courses.
You'll find a unique study reminder in addition to the notes section below each lesson. This feature is unique to Alison, and we have not seen it anyplace else.
With study reminders, you may get emails at predetermined periods (any time or day of the week) that motivate you to review the course material.
Online Certifications at No Cost
Many Alison courses give certifications. With these, you will be able to demonstrate that you have finished a course of learning on any of the subjects you are interested in – often, at any level, and at no cost to you. When you finish a course, you can select between a free digital certificate and a free digital diploma. These may be simply downloaded from the website's main dashboard.
A certificate course allows you to focus your studies on certain areas and will provide you with specialised careers of knowledge.
You'll also receive a certificate to put on your CV or in your portfolio. Business studies, health and fitness, media studies, languages, computer programming, and journalism are some of the most prevalent certificate courses. Most certificate programmes run for two to three hours.
Diploma classes are a little longer, lasting between eight and 10 hours. These will provide you with essential skills on key topics, generally by offering more detailed instruction in a certain subject area so you may learn numerous things at the same time.
Alison App Reviews

Why should you install Alison App?
The simplicity of use is one of the most important aspects of Alison.com reviews. Everyone understands the importance of making a good first impression. Web pages are no different. When you take a glance, you can tell whether a design is appealing and meets your expectations, or whether it is chaotic and gaudy.
Learning with Alison is simple and straightforward. You'll get access to a large range of courses, and while certain degrees and certificate courses do have a fee, this online education platform is one of the least expensive to utilise. It is also one of the finest if you want to take courses in more practical subjects that you can immediately use in your profession.
Whether or whether the facts in our Alison learning review convince you to attend an online class with this online course platform, we hope you discover the skills and experiences you seek in Alison. This one-of-a-kind platform offers one-of-a-kind free online certificates and hands-on experiences to help you maximise your learning experience and, ideally, obtain the job of your dreams.
Frequently Asked Questions
Are Alison's classes legitimate?
Although you may not always discover exactly what you're searching for when taking classes on Alison, the great majority of these courses are legitimate. The majority of Alison Course reviews are good, with customers noting that the courses were not only informative but also equipped them with a new set of abilities (and a wonderful resume detail!) that they could use in their present positions or job hunt.
Are Alison's courses accredited?
Although not all Alison courses are approved, and many were not before, the majority are now accredited by CPD UK, an independent organisation that deals with online course accreditation.
Is it possible to acquire a job with an Alison certificate?
Alison is officially one of the world's largest certification bodies, with over 3 million graduates to date! Because of its distinct certification and accreditation strategy, almost anybody may certify and validate their learning on any subject, at any level, for a low cost.
Although a diploma does not guarantee full-time employment – or money in your pocket – it may be a useful tool as you begin your quest. The worth of your certificate may be easily demonstrated to employers, either by showing the abilities you've learned in real-time or by mentioning the course completion as a line on your resume.
According to a 2017 Alison study, more than half of all respondents said their Alison certification helped them get a promotion or permanent employment.
Is Alison offering any free courses?
Alison provides several free online courses. Although there are fees connected with getting degrees and certifications, you may take most courses (and learn new skills) for free. You'll also benefit from an engaging, stimulating learning environment.
How much does Alison set you back?
Although you may take classes for free on Alison, a premium monthly subscription costs $7.99 per month.
Download Alison App from:
Like our Alison app review? Check out more Mobile App Reviews or Submit your own Mobile App Reviews.