Main Highlights:
NxtWave is a Hyderabad-based company created in September 2020 by Rahul Attuluri, Anupam Pedarla, and Sashank Gujjula to bridge the divide between academic education and industry requirements.
The organization offers a range of payment options, including pay-after-placement, EMIs, and scholarships, to ensure that all applicants' CCBP 4.0 programs are accessible, regardless of their financial status.
Earlier this month, the business raised $2.8 million in a pre-Series A round led by Orios Venture Partners and Better Capital.
Due to the changing dynamics of job needs in a highly competitive market, students graduating from educational institutions have difficulty finding work due to the high market demand. According to a survey by ASSOCHAM, barely 20% of each year's five million new graduates find work. While there is a shortage of industry-ready skills and a mismatch between supply and demand, students from colleges in Tier-II, III, and IV cities also struggle to engage with English-language online learning content on Massive Open Online Courses (MOOCs) and other platforms, resulting in poor learning and career outcomes.
This is where NxtWave enters the picture. Rahul Attuluri, Anupam Pedarla, and Sashank Gujjula founded the Hyderabad-based firm in September 2020 to bridge the gap between academic education and industry needs. It upskills students, most of whom come from rural areas, and prepares them for careers in Industry 4.0 technologies.
What services does NxtWave provide?
Intending to produce one million new-age developers each year and considering all the challenges, the NxtWave team created a unique training module that combines vernacular, online, asynchronous, cohort-based training with bite-sized and consolidation learning create transformative learning experiences.
Rahul explains that they are addressing the issue of job-oriented technology course content being unavailable in vernacular languages and a lack of alignment with in-demand and changing tech employment roles. Currently, it provides career paths in Telugu, Hindi, and English.
Rahul explains that the platform has reverse-engineered its curriculum to emphasize hands-on and project-based learning. Rahul continued, "Industry-level initiatives provide the essential exposure to develop precisely the talents sought by employers." Their primary ongoing programs include Continuous Career Building Programs (CCBP 4.0) and the Academy and CCBP 4.0 Intensive.
CCBP Academy is a long-term part-time program for college students that lasts between two and four years. CCBP Intensive, on the other hand, is an eight-month full-time program for recent college graduates and early career professionals. At the moment, the website has paid customers from more than 250 districts across India who have spent more than 175 million minutes on the platform. Over 300 organizations have hired NxtWave alumni in the previous six months, including Google, Jio, Amazon, Accenture, IBM, Bank of America, TCS, and Deloitte.
The programs range in price from $500 (about Rs 35,000) to $2,800 (approximately Rs 2 lakh), depending on the curriculum. The firm is offering programs with various payment options, including pay-after-placement, EMIs, and scholarships, making CCBP 4.0 programs accessible to all applicants, regardless of their financial situation.
Additionally, NxtWave is establishing India's largest 4.0 Tech Student Community, bringing together a mix of forward-thinking and tech-savvy brains from diverse colleges. This community will act as an ecosystem for students to develop skills and professions in 4.0 technologies such as AI/ML, cyber security, IoT, data science, augmented reality/virtual reality, Blockchain, and full-stack development. This group comprises 2,50,000 students from more than 3,000 colleges spread throughout 35 Indian states and union territories.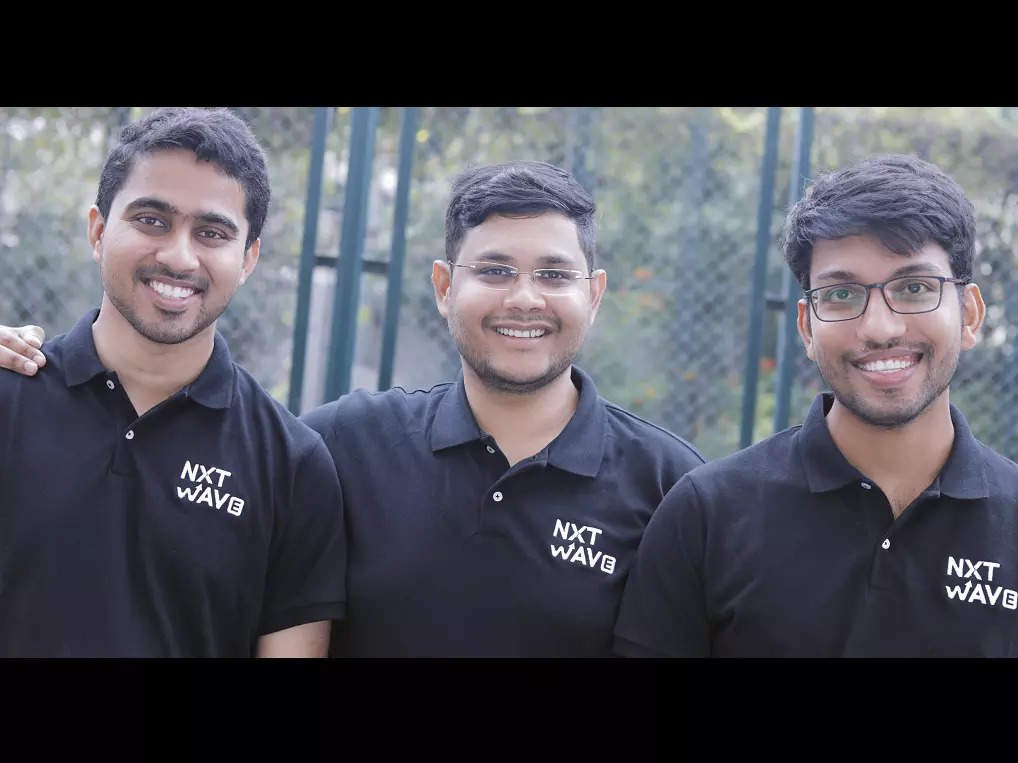 About the Team
Rahul is responsible for product, content, and curriculum, while COO Anupam Pedarla is responsible for operations, and Sashank Gujjula is responsible for customer experience. Rahul graduated from IIIT-Hyderabad with a Bachelor's degree in Computer Science. Before joining NxtWave, he served as Chief Technology Officer at iB Hubs and co-founded CyberEye. Additionally, he has worked with Amazon India and Bwin Technologies. Anupam is a graduate of IIT Kharagpur and earlier worked at iB Hubs as VP-Global Business. Sashank, an IIT Bombay graduate, previously worked at iB Hubs as VP-Student Relations.
Size and revenue of the market
While India's education technology market is vast, Rahul says NxtWave focuses on developing a trained workforce in 4.0 technologies such as full-stack development, AI/ML, cyber security, IoT, AR/VR, and Blockchain. By 2022, the World Economic Forum estimates that 4.0 technologies will generate 13.3 crore new jobs. Rahul continues by stating that their poll discovered that while a sizable proportion (80%) of graduates are interested in learning sophisticated technologies, there are numerous obstacles to pursuing existing possibilities.
Some programs provide instruction in some of these 4.0 technologies. Still, they are geared toward the top 1% or 2% of students, while the remainder struggles to comprehend professional tech content written in English. NxtWave is focused on the remaining 98 percent of students and recent graduates, particularly from Tier II, III, and IV colleges and towns that lack access to a high-quality learning ecosystem and have extremely low employability.
NxtWave is a subscription-based service that generates revenue from the registration fees paid by candidates. The venture began with a Rs 10 lakh investment and promised to be profitable from day one. The positive cash-flow firm claims to have grown profitably by 12X in the last ten months at a $10 million annual revenue run rate.
Financing and the road ahead
NxtWave's mission is to transform 40 million college students and graduates between 18 and 23 into highly qualified professionals in Internet of Things (IoT) technology. The team hopes to directly change one million adolescents over the next three years. The team is working over the next year to provide support for other Indian vernacular languages such as Kannada, Marathi, Tamil, Bengali, Gujarati, Malayalam, and Odia and expand career tracks in English, Hindi, and Telugu.
Apart from Indian languages, the business hopes to expand into Southeast Asian languages such as Indonesian, Vietnamese, and Filipino. Earlier this month, the business raised $2.8 million in a pre-Series A investment led by Orios Venture Partners and Better Capital.