Main Highlights:
LG Display has broadened the possibilities for transparent displays by introducing four new concepts at CES 2022:
the Shopping Managing Showcase
Its OLED Shelf, which is featured at the top of this piece, comprises two 55-inch transparent OLED displays layered on top of one another and topped by a shelf.
LG Display has been experimenting with transparent displays for some time, presenting its first flexible and see-through screen in 2014 and, more recently, a fine TV mounted to the foot of a bed.
LG Display has expanded the applications for transparent displays with four new concepts showcased at CES 2022: the OLED Shelf, Shopping Managing Showcase, Show Window, and Smart Window. LG Display should not be mistaken with LG Electronics, as the company merely develops concepts that other companies can adapt and bring to market.
Its OLED Shelf, displayed at the top of this post, comprises two 55-inch transparent OLED panels stacked on top of one another, with a shelf atop. LG Display claims it is excellent for the living room, where it can display art, a television show, or both concurrently on each of the two screens. The Always-on Display Mode enables the screen to remain on at all times. If the artwork was on exhibit, the picture could remain stationary, like a painting, while merging into the background wall.
There is also space for you to place an actual painting behind the screens, visible when they are turned off. LG has also developed a motorized sheet of opaque material that rolls down like a projector screen, enhancing the vibrancy and realism of their visuals. (Images viewed on translucent displays may appear ghostly at times.) Some electronics are housed on the pedestal shown above, and the screens accept regular HDMI input.
LG Display Show Window enables the creation of one-of-a-kind window displays
While the OLED Shelf is aimed at consumers, LG Display claims that its Shopping Managing Showcase is aimed at "luxurious" department shops. When put in front of tangible objects, the transparent OLED display appears to create a futuristic shopping experience. It creates an overlay on the things behind it, allowing store owners to put images that highlight specific features of their products or even use the display to develop quirky visual effects. We watched a film in which flowing visuals directed our attention to one of the perfume bottles in the collection above, creating a shiny halo effect around it.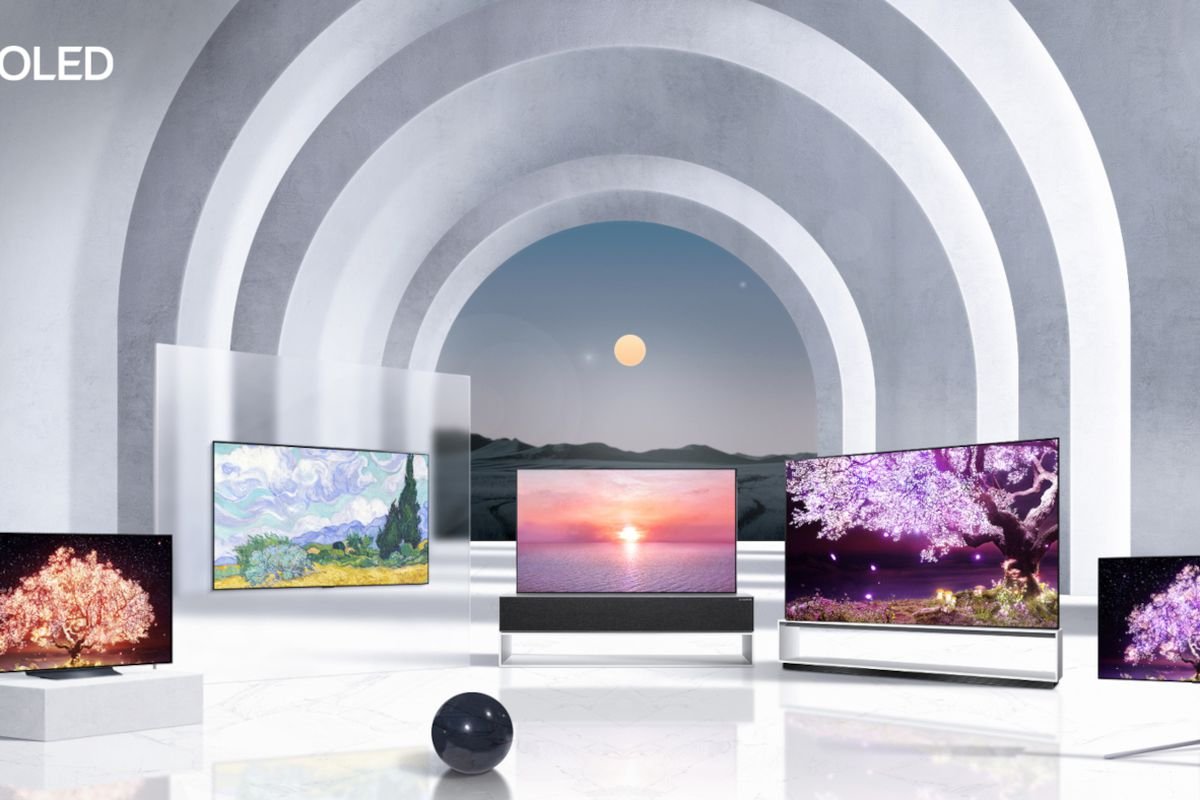 LG Display also showed us its Show Window, another business-focused model comprised of four 55-inch clear OLED panels. That could be used to highlight products in window displays — rather than to use decals; businesses could add digital text that could be readily altered at any moment.
According to the firm, prototypes of it are already on display at Seoul's new Musinsa fashion store, as well as at art exhibitions at The Smithsonian and 180 The Strand in London, as well as within select metro car windows in China and Japan, as well as during a Bulgari fashion show. The business also demonstrated its Smart Window, another transparent OLED panel that can be used for video conferences or workplace presentations, but did not release any display photographs.
While we're unlikely to see many of these transparent displays in the real world, they're still imposing to look at, and LG Display says it's willing to assist clients in producing some of them. LG Display spokesman Jean Lee told The Verge that the OLED Shelf is ready for manufacturing and that if any of their customers desire it, they can offer it. These displays use the same 55-inch 1080p transparent OLED panels with a 40% transparency, which Lee claims are manufactured using the company's eighth-generation display production method.
LG Display has been experimenting with transparent displays for some time, exhibiting its first flexible and see-through screen in 2014 and a fine TV mounted to the foot of a bed more recently. However, the company is not only interested in transparent panels; it is also exhibiting a half-moon-shaped chair with an integrated OLED screen at CES this year.