In recent years, Apple Inc. has been at the forefront of sustainability efforts in the tech industry. The company's dedication to reducing its environmental footprint has culminated in significant achievements, including its recent announcement of carbon-neutral products in its Apple Watch lineup. These accomplishments underscore the potential for other companies to follow Apple's lead and embrace sustainability as a core part of their business strategy.
Carbon Neutrality Achievements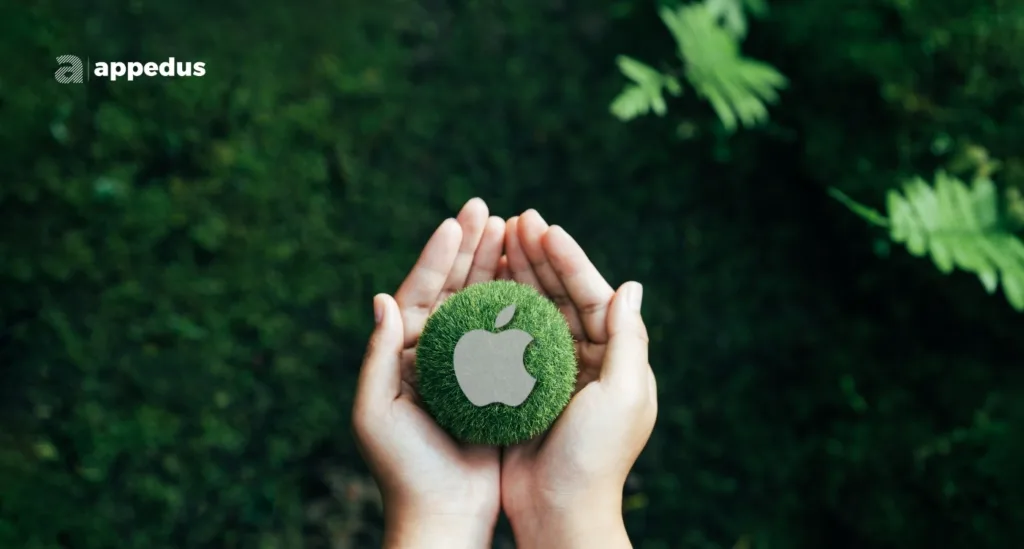 Apple and Sustainability has been marked and facilitated by extensive work and innovation within the company and its global supply chain. Central to this journey is the company's commitment to carbon neutrality. Apple has set a  goal of making every product it produces carbon neutral by 2030, encompassing not only its manufacturing processes but also the lifetime use of its devices and the entire global supply chain.
Apple's first foray into carbon-neutral products is exemplified by the all-new Apple Watch lineup. These innovative watches have seen substantial reductions in product emissions, with emissions slashed by over 75% for each carbon-neutral Apple Watch. This achievement signifies a significant milestone in Apple's path towards its ambitious 2030 goal.
Diverse Sustainability Initiatives
Apple's commitment to sustainability goes beyond carbon neutrality. As part of its broader environmental efforts, Apple has taken several steps to enhance its eco-friendly practices:
Leather Elimination: 
 Apple has ceased the use of leather in all its product lines, a notable move that demonstrates its dedication to sustainable alternatives.
Fibre-Based Packaging:
The company has introduced entirely fibre-based packaging for its new Apple Watch lineup, showcasing a commitment to eco-conscious packaging practices.
Recycled Materials: 
Apple continues to incorporate recycled materials into its products, such as recycled aluminium, tin, cobalt, and rare earth magnets, to decrease the demand for new resource extraction.
Energy Efficiency:
 Apple prioritizes energy efficiency in its product design and operation, resulting in prolonged device lifespans and reduced energy consumption.
Grid Forecast Tool:
 To empower users to make sustainable choices, Apple introduced the Grid Forecast tool within the Home app. This feature informs users when cleaner energy sources are available on their electrical grid, enabling them to optimize energy usage.
Strategies for the Success of Apple and Sustainability Efforts
Apple's journey towards sustainability offers valuable lessons and strategies that other companies can adopt:
Clear Sustainability Goals: 
Setting specific, measurable sustainability goals is crucial. Apple's goal to achieve carbon neutrality by 2030 provides a clear roadmap.
Renewable Energy Investment:
 Investing in renewable energy sources, such as wind and solar, can significantly reduce a company's carbon footprint.
Supplier Engagement:
Collaborating with suppliers to transition to renewable energy and adopt eco-friendly practices can drive sustainability throughout the supply chain.
Closed-Loop Supply Chain:
Embracing a circular economy model by using recycled materials and designing products for recyclability can reduce environmental impact.
Recycling Programs:
Encouraging customers to return and recycle old products helps minimize electronic waste and fosters customer loyalty.
Software and Energy Efficiency: 
Optimizing software and hardware for energy efficiency contributes to both sustainability and product durability.
Transparency and Reporting:
Regularly sharing sustainability progress and achievements fosters transparency and accountability.
The Apple and Sustainability Effect
Apple's commitment to sustainability not only enhances its brand image but also sets a precedent for other tech companies to follow. The company's recognition in the Carbon Clean 200 list and other accolades demonstrate that sustainability and profitability can coexist successfully.
As Apple continues to accelerate its sustainability efforts and work towards its 2030 goals, each product represents an opportunity to reduce emissions throughout its lifecycle, from manufacturing and charging to materials and transportation. With a rigorous approach to product decarbonization, Apple seeks to reduce greenhouse gas emissions from three primary sources: electricity, materials, and transportation.
The carbon-neutral Apple Watch models are a prime example of Apple's commitment to reducing emissions. These watches meet stringent criteria, including the use of 100% clean electricity for manufacturing and product use, a significant percentage of recycled or renewable materials, and a reduction in shipping emissions through non-air modes. Carbon credits are employed to address any remaining emissions, resulting in a carbon-neutral product footprint.
Apple's progress extends beyond individual products and encompasses its entire value chain. By heavily investing in clean electricity, advocating for renewable energy adoption among suppliers, and supporting decarbonisation efforts in transportation, Apple has significantly reduced its carbon emissions while maintaining impressive revenue growth.
The Path to 2030
Apple's journey towards carbon neutrality began over a decade ago with the company achieving carbon neutrality for its global corporate operations in 2020. Its Apple 2030 strategy centres on a remarkable 75% reduction in overall carbon emissions from 2015 levels. Through these efforts, Apple has already reduced total emissions by over 45% since 2015.
In the pursuit of its goals, Apple has invested in large-scale solar and wind projects to power its facilities and has encouraged its manufacturing partners to do the same. This collaborative approach has resulted in more than 15 gigawatts of clean energy support worldwide, a testament to the company's influence in the industry.
Reducing Transportation Emissions
Transportation emissions make up a notable portion of Apple's carbon footprint and is a concern for Apple and Sustainability efforts. To address this, the company has shifted towards transportation modes that are less carbon-intensive, such as ocean and rail, significantly reducing transportation emissions. Additionally, product packaging redesigns have enabled more efficient shipments, further decreasing emissions.
Apple also plays an active role in supporting efforts to decarbonise the shipping industry, fostering innovation in alternative fuels and low-carbon options.
High-Quality Carbon Removal
After achieving substantial reductions in emissions, Apple aims to cover any remaining emissions with high-quality carbon credits primarily derived from nature-based projects. These projects focused on activities like restoring grasslands, wetlands, and forests, contribute significantly to addressing climate change.
Apple defines high-quality credits as those from projects that are real, additional, measurable, quantified, and possess systems to prevent double-counting and ensure permanence. The company has actively advanced natural carbon removal solutions, such as its Restore Fund, which supports projects in Latin America.
For the carbon-neutral Apple Watch models, high-quality carbon credits will be sourced from projects that restore and protect working forests and native ecosystems in Paraguay and Brazil, contributing to global carbon reduction efforts.
Introducing Grid Forecast
As part of its commitment to engaging with customers and promoting sustainable choices, Apple and Sustainability introduced the Grid Forecast tool within the Home app. This tool provides users with information about their electrical grid's energy sources, enabling them to make informed decisions about energy usage.
Grid Forecast combines data on the grid, emissions, and weather to offer users easy-to-follow signals about the best times for activities such as running large appliances or charging electric vehicles. This tool empowers individuals to lower their carbon footprint by using electricity during cleaner energy periods.
Conclusion
In conclusion, Apple's commitment to sustainability, as exemplified by its carbon-neutral products and diverse environmental initiatives, serves as a blueprint for companies across industries. 
The convergence of clear sustainability goals, renewable energy adoption, supplier engagement, closed-loop supply chain practices, recycling programs, energy-efficient design, transparency, and innovative tools showcases a path forward towards a more sustainable and responsible business landscape.
Apple's resolute dedication to balancing profitability with planet-conscious practices reinforces the notion that environmental stewardship is not only the right thing to do but also a strategic imperative in today's world.