Apple's Jaw-Dropping Prime Time Keynote
In recollecting the most recent instance of a corporate gala seizing the coveted prime-time keynote television spotlight, Apple's upcoming 8 p.m. ET keynote has emerged as a notable contender. The only recent successful parallel that comes to mind is Victoria's Secret and its celebrated fashion show. While there may be some overlap in the viewership demographics between these two spectacles, the allure of Bella Hadid likely eclipses that of a new iMac release.
Nevertheless, Apple forges ahead with its ambitious endeavor, promising a keynote presentation to be broadcast on its website, YouTube, and via Apple TV, competing with the likes of Monday Night Football on traditional broadcast television. The company is poised to leverage the cultural cachet it has amassed through its smartphones, Bluetooth headsets, and computers to expand its audience and promote its products.
This grandiose primetime Apple event signifies a logical progression for the company. Few in the tech industry have achieved the same level of success as Apple in transforming product announcements into significant cultural events. Virtually every major tech corporation has made an attempt.
Sony enlisted Taylor Swift for a CES keynote, Samsung featured a member of BTS to great acclaim at a Galaxy Unpacked event, Google turned to the Slo-Mo guys, and Intel staged elaborate performances with LED-adorned dancers and acrobats. Yet, there remains something uniquely resonant about an Apple event, something that captivates the masses.
Subsequent to the iPhone event, it becomes evident that the company has nearly reached the zenith of what can be achieved with a mid-day infomercial lasting an hour. To extend its reach, captivate a broader audience, and secure a more permanent place in the public discourse, Apple must venture into prime-time keynote territory, or explore the acquisition of a social media entity, and navigate it to profitability.
Taking its impeccably crafted products, which invariably capture the attention of tech enthusiasts and a select few close acquaintances, and moving them to a more accessible evening slot would potentially attract a significantly larger viewership.
The rationale behind this strategic shift is perhaps underpinned by the fact that the stakes are lower for a Mac-focused event than for an iPhone launch. The anticipation generated by the latter often leads to calls from family and friends, sparking discussions about the latest iPhone features.
In contrast, the prospect of a Mac update seldom elicits the same level of interest. Additionally, the iPhone events can substantially influence Apple's stock prices, whereas a modest MacBook Pro enhancement is less likely to cause dramatic fluctuations.
While the precise viewership of this event in comparison to the previous iPhone event remains uncertain, Apple's primary objective may not necessarily revolve around surpassing its own viewership records, given its penchant for keeping such data confidential. Rather, Apple's forward-looking strategy appears geared towards future keynotes, especially those centered on the Apple Vision Pro.
As Apple endeavors to convince the world of the potential of a $3,500 AR and VR headset, it stands to reason that an evening prime time keynote may garner more attention than a traditional morning presentation.
Consequently, the decision to use this series of Mac updates as a trial run makes sense. Such announcements may not lend themselves to the conventional keynote format where hordes of journalists and analysts converge on Cupertino to witness a video presentation before experiencing the products firsthand. However, the success of this endeavor hinges on the presentation's entertainment value to prime time keynotes.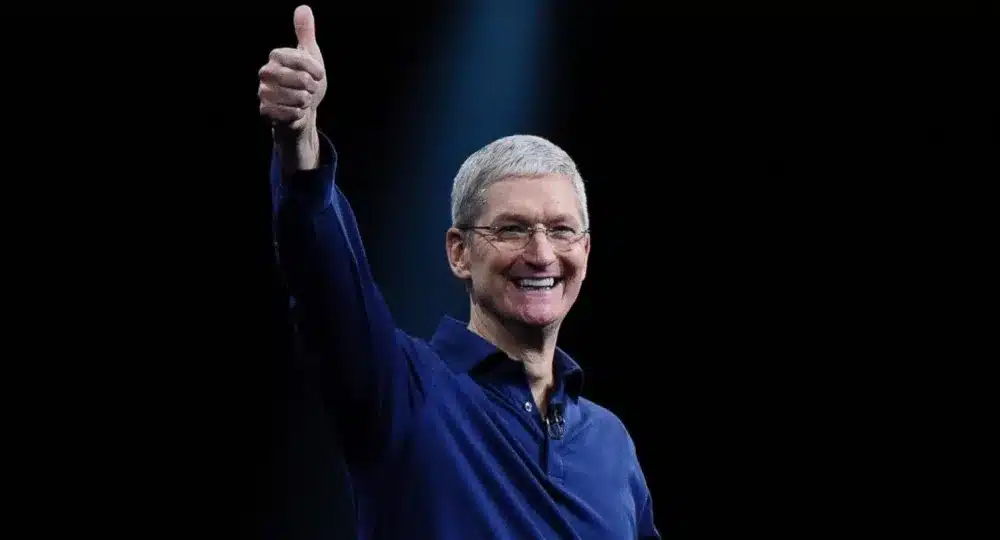 Tim Cook must deliver more than a mere appearance in an AFC Richmond jersey with a Ted Lasso-inspired mustache affixed to his upper lip. The rumored product updates alone may not suffice. Expectations point to the inclusion of skits similar to the one featuring Octavia Spencer as Mother Earth from the iPhone event.
Although it may not rival the star-studded affairs, the ongoing SAG-AFTRA strike may limit the presence of actors from Apple's renowned shows and films, resulting in the absence of spectacles such as Jennifer Aniston and Reese Witherspoon's Apple equivalent of an SNL digital short, or the enigmatic staring contest between Adam Scott and Patricia Arquette, rudely interrupted by Craig Federighi as the latest member of the Severance program, showcasing an iMac.
Nevertheless, perhaps Martin Scorsese will demonstrate the convenience of accessing his new Letterboxd account on a MacBook Pro or a substantial portion of the prime time keynote will be rendered in the video game Resident Evil Village, naturally developed on a Mac.
In conclusion, it is plausible to assume that Apple will take a more creative approach. Apart from testing prime time keynote timing, the company is increasingly showcasing its ambitions in the realm of entertainment. Rumors had hinted at this earlier in the year, with reports suggesting that Apple was poised to invest roughly one billion dollars in new film programming.
Now, its films, such as "Killers of the Flower Moon" and "Napoleon," are vying for Oscars, following the company's initial Academy Awards success with "Coda" last year. Moreover, Apple TV Plus recently witnessed its second price increase since its launch, underscoring the company's desire to be associated with the entertainment industry. Ignoring this aspect of its business in its very first prime-time event would be quite astonishing. Apple cannot merely deliver a time-shifted keynote; it must align its ambitions with the grandeur of the occasion.