Artificial Intelligence (AI) is an emerging trend in this digital space. From manufacturing and retail to e-commerce, education, and supply-chains, the sparkles of AI technology are spreading in every corner of the industries. Moreover, with a blend of Machine Learning, predictive analytics, NLP, Computer vision, and Robotic Process Automation technologies, the essence of AI software is doing miracles. Every industry is seizing the benefits of AI, accelerating digital transformation in processes, and staying on top of this evolving digital competition. 
For instance, AI technology empowers retailers to deliver more personalized services, e-commerce companies to provide convenient access, BPO centers to ensure 24*7 response to customers, suppliers to track and monitor vehicle movements, and automobile companies to launch self-driving or autonomous vehicles. 
Just like other industries, the impact of Artificial Intelligence (AI) in the medical industry is incredible. From automatically detecting diseases and tracking healthcare signs to identifying tumors, robotic surgery, and drug development, AI has its impact. 
Pharma and healthcare companies are increasingly adopting AI technology and reaping from its automation and predictive capabilities. If you are still in dilemma to believe Ai's impact in the healthcare and medical industry, have a look at the below stats.
Key Statistics of AI (in Medicine) That Reflects its Emergence
According to Statista, Key Statistics Of AI (In Medicine) That Reflect Its Emergence 

According to Statista, the market value of AI in healthcare is expected to surpass USD 28.1 billion by 2025.

Over 50% of doctors believe that AI-powered applications are helping them to deliver improved patient care services from remote locations.

Nearly 62% of physicians are connecting their patients through AI-based online video consulting applications. 

According to the leading market research reports, AI and ML-like automation technologies will erase the need for human nursing by 15%.

AI-powered medical imaging systems can detect diseases and their severity with 98% accuracy. 

AI is improving patient care outcomes by 40%-50%

AI tools and systems will reduce diagnostic errors to approximately 68%.
These are a few stats that reflect the rapid adoption of AI technology across the medicine and healthcare sector. Herein, we have compiled a list of the best applications of AI in the Medicine field.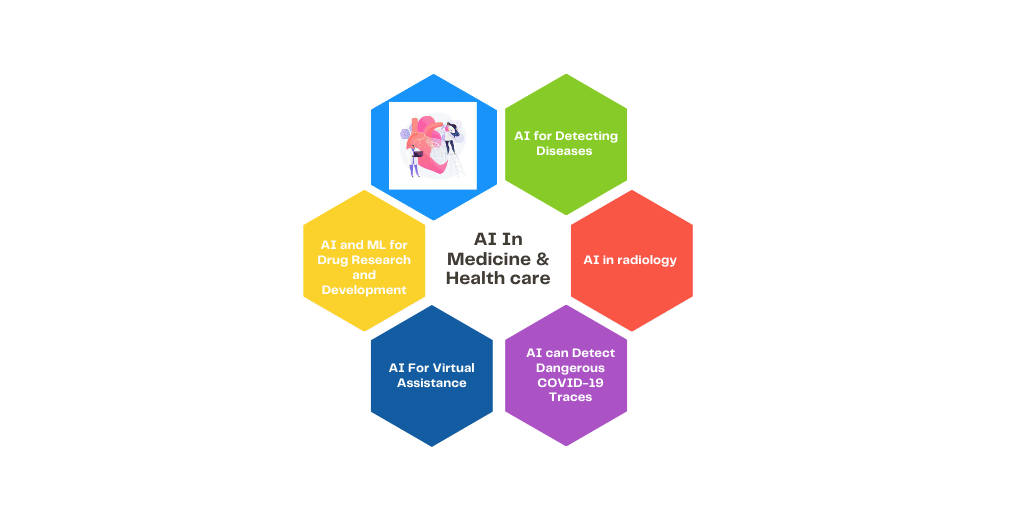 Top 4 Applications of AI In Medicine
Artificial Intelligence is a widely accepted technology by medical or healthcare service providers for the development of intelligent software applications. Here are a few significant use cases of AI in the medical field.
AI for Detecting Diseases and Improving Patient care
It is one of the best applications of AI in healthcare. AI software, along with ML and deep learning capabilities, can accurately detect suspected diseases faster and efficiently. AI-based software using deep learning algorithms tracks symptoms and detects diseases for better diagnosis. 
Hence, AI technology allows the physician to provide the right treatment at the right time and improve patient care. The instance for this application is AI in radiology and pathology.
Yes, AI-infused systems or applications are occupying more space in the field of radiology. AI-powered medical imaging systems using pattern recognition techniques let physicians accurately analyze the X-rays, CT scans, and ultrasounds reports and efficiently predict the disease severity. 
Such predictions into a patient's health conditions will help doctors to provide a successful therapy for any kind of disease.
AI and ML for Drug Research and Development
The application of AI in drug discovery and development is emerging at a rapid pace. Pharmaceutical companies and drug development companies across the world are embracing AI technology to reduce the risks associated with drug development functions.
The traditional process of drug discovery and development takes a few years and eats up millions of costs. But, when we put AI systems and applications in place, the companies can optimize and automate the tedious tasks involved in drug development. 
For instance, AI in pharmaceuticals is best suitable for checking the possibility of producing new proteins, medications, and molecules with different shapes, sizes, and formulas. Later, machine learning techniques play a crucial role in sorting and picking out the most viable drug, which is expected to get FDA approvals soon.
Yes, from identifying the drug size and shape to development and clinical trials, in every stage, AI technology will play a vital role.  
AI For Virtual Assistance
It is one of the most significant use cases of Ai in healthcare and medicine. AI mobile apps are serving as virtual nursing assistants to post-surgery or elderly patients. With the help of these AI-powered virtual nursing assistants or apps, patients can track their disease symptoms, reduce hospital visits, and monitor their health status.
The AI applications will also be used for booking doctor consultations and getting prescriptions online. You can also use AI-based medical apps for receiving notifications on regular medications. Hence, AI applications development lets healthcare service providers better engage their patients and take outpatient care services to the next level.
AI can Detect Dangerous COVID-19 Traces
The COVID-19 outbreak has impacted the financial conditions of the global markets. It has hampered the revenue lines of all businesses. But, fortunately, it has opened doors for the growth of AI-powered mHealth apps development. 
The government and private healthcare service providers have stepped towards the development of virus tracking apps for breaking the chain of coronavirus spread. 
Contact tracing mobile apps use the power of the latest AI and ML technologies to accurately trace nearby people who have tested positive for COVID-19. Such prior notifications to the app users will help in protecting themselves from deadly coronavirus infections.
These AI-based contact tracing mobile applications also features symptoms checker tools for tracking COVID symptoms and improving the chances of shielding from the viral infection. 
Wrapping Up
The future of AI in medicine will flourish with rapid advancements in digital technologies. We have discussed only a few uses of AI technology in the healthcare industry. But, the benefits of AI and its associated technologies are infinite.
AI applications have great potential in enhancing the gene-editing process, providing personalized healthcare treatments, and fastening clinical trials at affordable costs.
"Walk along with AI and reap the advances for delivering better healthcare services to your patients."