How Emily got her pizza with Chatbots.
Emily has ordered a pizza for her dinner but when she opens the box, she sees that the pizza is all burnt. Infuriated, she tries to contact the company to register a complaint and ask for a refund.
Despite being on call hold for a few minutes, she was not getting connected to the customer executive.
While on hold, the ongoing tone notified her of a new customer service chatbot offering customer support.
Though initially reluctant, she gave the chatbot a chance. Emily then registered the complaint via the chatbot.
Almost immediately not only did her issue got resolved but also she got her refund. No more waiting on call and Emily gets a new pizza as an apology from the company.
But.
Can you imagine what would have been the scenario if there was no chatbot?
Just to put matters into perspective, what if Emily was hesitant to use the customer service chatbot?
She would have to wait to get connected to customer service.
She would be mad about not being able to raise her complaint right away.
Wasting time and effort, it would have been the worst experience for Emily leading to never ordering pizza from that company in the future.
There could be many such scenarios where an AI-based chatbot can benefit a company and save its brand name.
Therefore, enterprises need to focus on improving customers' experience with chatbots.
They should know how using an AI-based Chatbot can increase their sales 10 times.
Let us tell you how!
For any business, building a user experience-enhancing chatbot for customer service can be one of the greatest means to enhance engagement with their audience. With the help of the right technology, all the customer expectations can be fulfilled in a flash.
These days, humans don't like waiting for solutions to be delivered and force businesses to look for quick and effective solutions like chatbots.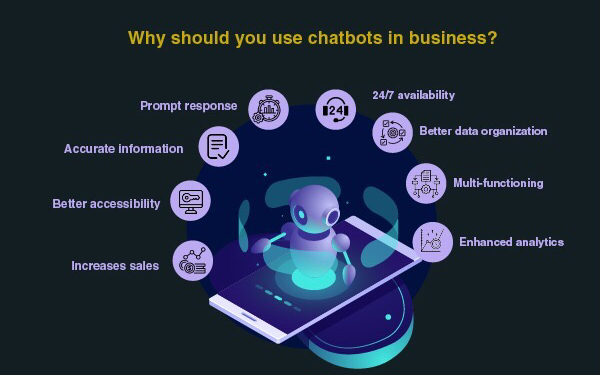 How Chatbots Help Businesses?
Prompt response
Accurate information
Better accessibility
Increases sales
24/7 availability
Better data organization
Multi-functioning
Enhanced analytics
Benefits Of Choosing AI-based Chatbots
Prompt Response
I am sure, all of us have experienced waiting on hold for customer support through calls. I know it is quite frustrating. Whether you have a minor doubt or a serious problem, you have to wait to get connected to the customer executive.
But no more!
Chatbots are here to solve this problem in a very effective way. The inbuilt AI algorithm recognises the main problem of the customer and comes up with a quick response. Whether it be one customer or a hundred, chatbots can answer and solve everyone's queries instantly and effectively.
Accurate Information
Since Chatbots are the products of Artificial Intelligence (AI), the responses generated by them are accurate and well processed. There are chances that a human can misunderstand the concerns of a customer and provide a misleading response based on his/her understanding.
But with Chatbots, there is no scope of miscommunication. As the AI algorithm understands the concern and generates accurate responses, the chances of confusion are negligible. Chatbots optimize the quality of communication and help businesses improve customer satisfaction.
Better accessibility
Today, multiple marketing channels act as a means for businesses to reach out to their target audience. So you may remain unknown of how a customer has found your business and why he/she is interested in your product/service. They might have some doubts as well.
Chatbots introduce your products to them by interacting with them. Maybe a set of questions and answers or interactions through voice control can make your products and information about your products readily accessible for customers.
Increases Sales
If you have a human to handle your customer service, you have to first train them. You teach them to understand the needs of customers first. This training is required to improve sales because when you know what customers want, you can suggest recommendations accordingly. But, even after all the training sessions, you can not be sure that they won't attempt any mistake.
With chatbots, you can be sure. As chatbots are quick at understanding and analyzing customer behaviour, they suggest the most appropriate products that customers are more likely to buy. Not only this, but they establish trust between businesses and customers. So, customers tend to buy more and become loyal customers.
24/7 availability
Chatbots don't work 9 to 7. Once a chatbot is developed and deployed, it operates 24/7 and 365 days without asking for leaves. This reduces the chance of any customer not being able to get customer support. As chatbots can be installed on multiple platforms including platforms that we daily use like WhatsApp and Facebook, customers can get their answers quickly and at any time they want to.
Better Data Organization
The AI algorithm in Chatbots collects all the data from your chat with the bot. A chatbot closely notices the way a user reacts to a certain recommendation, what type of questions he/she is asking, what excites the customer to make a purchase, and what is the customer looking for? Such information works as feedback to AI. Chatbots then engage with customers based on the collected data and the quality of service keeps growing. In a way chatbots allow users to program themselves in order to give more reliable results.
Multi-functioning
Chatbots can be customized to serve more than one purpose. For instance, if a chatbot is created for a pizza delivery business, it can enable users to order a pizza, make payments, rate the service, give feedback, and register complaints. This multifunctioning characteristic of chatbots has been game-changing for many businesses. It has helped businesses to enhance customer engagement, therefore increasing sales.
Enhanced Analytics
As chatbots collect individual data, it improves the accuracy of data and results in better analytics. For a business to understand the performance of chatbots last week, last month, last year has never been so easy. Not just in the past, using AI and machine learning, businesses can foretell the results of their decisions making them more proficient. By improving the quantity and quality of data, is how chatbots help businesses to grow rapidly.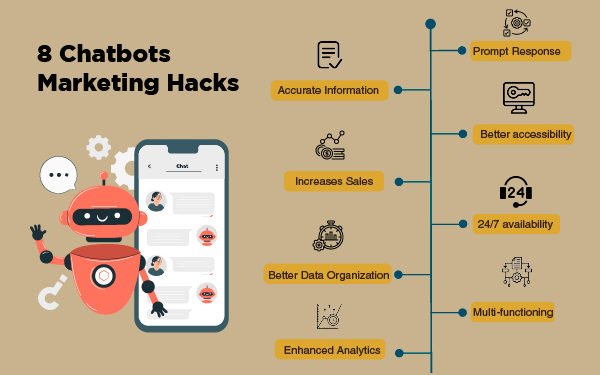 Summing-up
Chatbots are built using the most advanced technologies like AI and machine learning. They help businesses understand the customer needs and enable customers to get easy access to products they need. Chatbots are a must for any business to:
Get new customers
Maintain relations with existing customers
Build a loyal customer base
Excelling in these three areas, Chatbots have proven to be a game-changer. And this is how chatbots help businesses increase sales 10X. Should you need any further information or a detailed action plan on how to develop an AI-based chatbot, we can connect for a free consultation.