Introduction: 
BetterMe app is a tiny personalized fitness helper for you. As we know that getting in shape has a lot to do with nutrition. The app offers carefully hand-picked hundreds of recipes for every taste, cooking time, and budget. This app makes working out is not always a breeze for everyone. There's often no time or limited motivation to go to the gym or even go for a run. The BetterMe team knows that you're working long hours and are tired. 
BetterMe has made a family of apps that will help you believe in yourself. It motivates users is proving to the world that nothing is impossible. Fitness, yoga, meditation, walking, strength exercises – whatever activity, this app got you covered. With an emphasis on motivation, you will never find yourself skipping a workout again! BetterMe apps help you to become the best version of yourself.
Pros of BetterMe App: 
Personalized problem zone workouts.

No equipment required.

Certified teachers and coaches.

Articles on various topics by professional authors.

Good community and Expert support
Cons of BetterMe app:
The food library is limited. 

It is hard to accurately track meals.

Food items are only scaled in pounds.
What is BetterMe app? 
BetterMe workout app is a tiny personalized fitness helper for you. The app is instrumental in counting your calorie intake, controlling your weight. This makes sure that you exercise on a regular basis. Workouts for any level, whether you're a beginner or a pro, the app has got you covered. 
It has a variety of exercise sets for at-home or at-the-gym sessions, with zero equipment or a full gym. Even if you've never tried to work out in your life, simple and clear instructions will help prevent injuries and get you accustomed to the fitness world in record time. The app offers a customized wholesome approach to weight loss and weight gain. It adjusts to your busy schedule, preferences, and lifestyle to achieve fast results without harming your health. It also has nutrition plans created by certified experts to boost your progress with options like intermittent fasting, keto, vegan, and many more. It is supported by certified coaches in chat. 
The fitness and weight loss app offers several workout routines that target specific body areas. You can chat with the coaches if you are unsure about what to do. Or, if you need motivation or just want someone to talk to, the team is online and happy to help.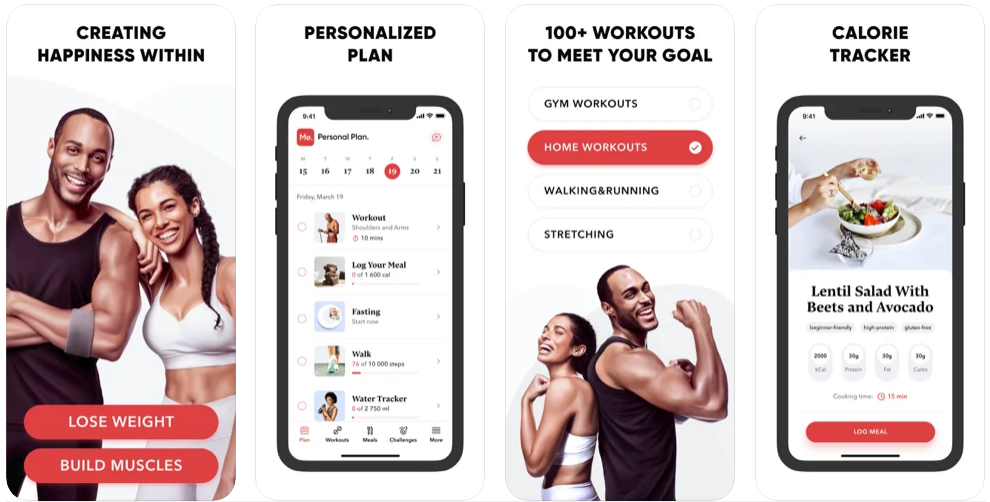 Features of the app:
Workout Programs:

It offers personalized sets of workouts and diet plans to help you get in shape faster.

Meal plans:

Get dishes picked according to your preferences. They are easy to make thanks to video recipes available on the app.

Calorie Tracker:

You can know exactly how much you consume a day. It also monitors your macros all with an intuitive design. 

Big community:

App provides daily articles, tips, tricks, and answers to all the FAQs to help you out.

Personal coach:

This feature always provides you with a professional guide. It supports you through your weight loss journey

Water tracker:

Keep track of your daily drinking goal. 

Step counter will make sure that you're reaching your daily goals.
Features that unveil when you sign up: 
Premium Feature Buying option.

Advanced Workout and Diet plans.

Expert level exercise guidance.
Frequently Asked Questions:
Which OS supports the app?
Both iOS and Android platforms are compatible.
The App is free for a 3-day trial then provides Subscriptions starting at $9.
Is the payment secured for in-app purchases?
Yes, the in-app purchase payment method is secured. 
Which permissions are required to use the app?

 
The app requires permission to : 
Location

Contacts

Identity

Storage

Wi-Fi connection information

Contacts

Photos / Media / Files
Why should you use the app?

 
BetterMe app is an integrated hub for workout and fitness enthusiasts. With its Health Kit, you can track your steps as well as log your water and calorie intake altogether. You can see your workout and meal schedule screen. Set workout notifications and add yoga journeys as well as walking and running workouts. It covered all your daily activity needs.
The app offers to offer a wide range of subscription options so that you can choose the right one. Its short sessions are fun and accessible. Which can be done at the gym, at home, or even at the office, anytime. It has promising reviews and plenty of happy users. The app is easy to find and the navigation is very intuitive and simple.
User Reviews: 
Download the app here:
Like our BetterMe App Review? Check out more Mobile App Reviews or Submit your own Mobile App Reviews.