What is Blue Apron app?
Blue Apron delivers quality recipes complete with step-by-step instructions and farm-fresh ingredients in a refrigerated box, guaranteeing that everything remains fresh until you return home. Each week, you can tailor your menu to your preferences, and there is no commitment. You can skip a week if you lack time to cook.
Blue Apron makes it entertaining and straightforward to prepare delicious meals at home. You'll be able to effortlessly manage your account while traveling, as well as discover seasonal recipes, cooking techniques, and how-to videos.
Main Highlights
Every week, Blue Apron's chefs produce seasonal meals.

Set up delivery and manage your account while on the go.

Use exclusive tips, techniques, and how-to videos to speed up meal prep.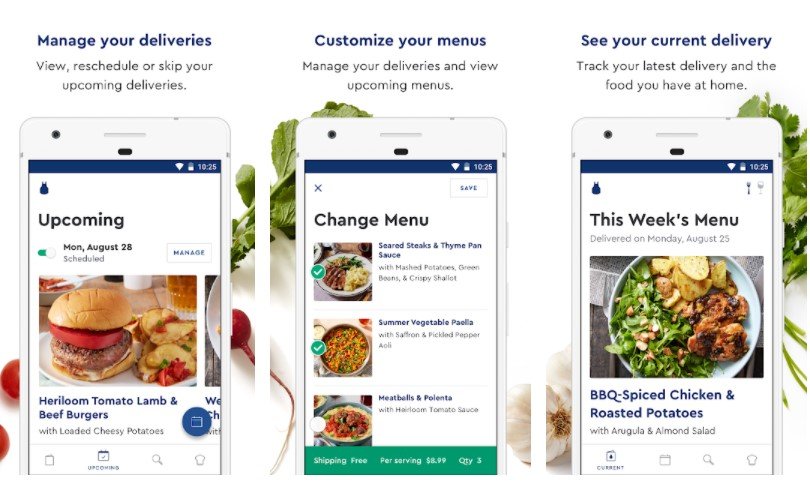 Features of Blue Apron App
Each week, Blue Apron's chefs produce distinctive, seasonal meals.

On the move, manage your account, schedule delivery, and personalize your selections.

Utilize exclusive tips, techniques, and how-to videos to expedite meal preparation.

Consider subscribing to the Blue Apron monthly wine delivery program, which mixes premium wines with Blue Apron dishes.

Capture and save images of your Blue Apron creations using various effects and filters.

Enjoy unrestricted access to the Blue Apron recipe library, which contains over 1,400 delectable recipes.

Make a note of all your favorite recipes, so they're constantly on hand.

After you've finished your meal, visit the recipe page to log its calories using HealthKit in the Health app effortlessly.
Why choose Blue Apron App?
Blue Apron Variety is always on the menu, from top-rated favorites to health-conscious cuisine and more. Blue Apron ensures the freshness of all ingredients by delivering them in an insulated package. You'll learn new skills, sample new flavors, and prepare delicious meals for your family.
Blue Apron App Reviews

Frequently Asked Questions
To adjust a forthcoming recipe, navigate to your Upcoming page and find the planned order you wish to amend.
You'll see the recipes you're presently subscribed to here, denoted by a checkmark. You can explore and select recipes from a different plan for that week by selecting from available methods beneath your delivery date.
After selecting the plan from which you wish to choose recipes, click the 'Change Recipes' button to the right of the delivery date. Use the 'Remove' and 'Add to My Box' buttons to add or delete recipes from your purchase. To customize recipes, click 'Choose Options,' then 'Add to My Box.' Once you've made your selections, click 'Save' in the top right-hand corner. All order and account modifications must be completed before the 'Changeable before' date and time, accessed by clicking on the Receipt icon to the right of the 'Manage Delivery' button.
How can I change the date of meal delivery?
If you'd like to change the day of a future week's delivery, navigate your Upcoming page and locate the order, you'd like to edit. Select 'Manage Delivery' to reschedule and select your preferred delivery date from the list of available dates. This will adjust the delivery day for that order while maintaining your regular weekly delivery day as specified in your Plan Settings.
Additionally, you can modify your delivery day temporarily via the mobile app by locating the delivery date you'd like to reschedule on the 'Upcoming' tab. To change the scheduled delivery date, tap the 'Reschedule' icon beneath the expected delivery date. To confirm, click 'Change Delivery Date.'
Simply ensure that all modifications are made before the 'Changeable before' date, which can be viewed by clicking on the Receipt symbol to the right of the 'Manage Delivery' button.
How do I avoid missing a delivery?
You can cancel up to five weeks in advance of scheduled deliveries! To cancel an upcoming order before its processing:
Navigate to the Upcoming section of your website. Select 'Manage Delivery' after scrolling down to the delivery you wish to skip.
A pop-up window will appear, giving you a choice to change your weekly delivery day, change your delivery address, or cancel the order. To skip this delivery, select 'Skip This Delivery.'
Blue Apron App Download
Like our Blue Apron App Review? Check out more Mobile App Reviews or Submit your own Mobile App Reviews.