What is Bouncer App?
This Bouncer app review was long overdue, as we really loved using this app.  Bouncer Android app is an effective solution to control permissions that are requested by several mobile apps. It provides the ability to allow permissions on a temporary basis. You can now approve permission for a short time, and after that, Bouncer will automatically resist those permissions later. Anyone can easily download Bouncer from Play Store, and it is compatible with all Android devices.
Bouncer app is created by Sam Ruston, an expert play store developer who has earlier created many popular apps. Bouncer app helps to allow permission one time only and removes the permission after exiting from that app. Isn't it neat?

It is best for those users who have concerns about their smartphone privacy and poor battery life. Bouncer controls the power-hungry apps which consume power by misusing the permission facility. These power-consuming apps run processor-heavy tasks in the device background. The app also allows to schedule permission for a particular amount of time, and after completion of the time, it automatically removes it.
Main Highlights
With Bouncer Android app, you can give permission to apps temporarily. 
This permission is based on either a certain period of time or the moment you exit the app.
GPS and various other device-based access eats into your battery life, Bouncer app helps you save a lot on your battery juices.
Features of the Bouncer App
People now are getting more and more attached to technology and smart devices. But the privacy of such devices hampers due to permissions that everyone grants to all apps. But once you install the bouncer app, it will notify you every time you enable permission on your device. It will allow you to grant permissions only on a temporary basis and provides three options to grant such permissions.
You can either grant permissions to apps permanently by the keep facility or remove the permission as soon as you exit the app. It offers a schedule option to allow apps permission for a stipulated time, and after that, it removes the permission.
Bouncer secures the privacy of your device by controlling the permission request offered by several apps. The security of the smart device increases enormously after installing the application. Now you do not have to worry about the security issues anymore

The best part about the Bouncer app is it does not have access to internet permissions.

So, even if it gets your sensitive information, it cannot transmit it anywhere else. You can trust this app as it cannot see any information on your phone except the settings app. It uses the settings app only to turn on or off the permissions.
Using Bouncer, you can increase your battery life easily. It controls the power-consuming apps that misuse the permissions granted to it and run in the background continuously. Now you do not have to worry about such apps running in the background.
Why Bouncer App?
The Bouncer is a Mobile Permission app that allows users to grant permission to various apps for a short period. Using this, one can control the permissions to either keep it permanently or for some time. It provides security to the device and removes permission automatically as soon as you click the home button or exit the app.
It saves your device battery life from the power consuming apps that run in the background.The Bouncer is a trustworthy mobile permission app and does not access any of your private information. As lots of apps try snooping on you, this can be a good way to control it. We have covered most of the major features in this Bouncer app review, we would highly recommend you to try your hands few times to really see the power of this app.

Top Bouncer App Reviews on App Store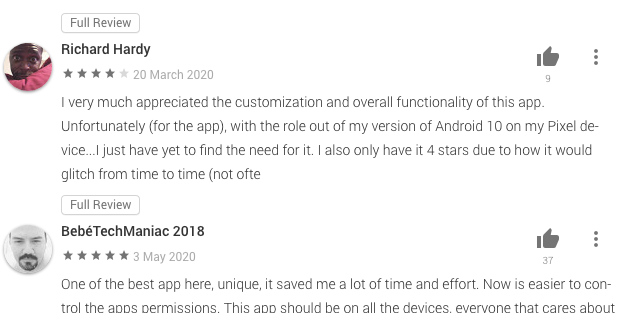 If you have not downloaded the Bouncer Android app yet, then you are missing out on some great features on your Smart device!
Frequently Asked Questions About  Bouncer App
How to turn off location permission using Bouncer App?
If you have granted any location permission to any app and when you finish working on the app, Bouncer app will ask you to turn off the permission so that the other app doesn't use the location permission in the background.
Is Bouncer app Secure?
Bouncer App requests no permissions. It cannot see info inside apps except for the settings app (so it can turn permissions off). Bouncer doesn't have internet permission so even if it could get sensitive info (which it can't) it couldn't transmit it anywhere.

Is Bouncer app a paid app?
Yes. Bouncer is a paid app. It is available for $0.99 on Google Play Store.
Download Bouncer App

Did you like this Bouncer App Review? Check out our other mobile app reviews or Submit an app review.