For some, a home business is not an option, but for others, it is a reality. If this describes you, you can start your own meal delivery service from home. We'll go over some processes and recommendations in this part to assist you to get your business off to a strong start. You might have enjoyed making meals and taking lunch to work many years ago. In today's society, where the demands of your job and a tight schedule have made cooking a luxury, food delivery services have increased in popularity.
Subscription meal delivery services are growing in popularity, owing to their ease. Furthermore, food delivery services often provide home-cooked meals, which are better options than fast food and restaurant delivery services. To launch UberEats Clone, you must be willing to forego short-term comfort in exchange for long-term profits.
This article will assist you in establishing a home-based food delivery service. It will also walk you through the process of launching a full-fledged food delivery app similar to UberEats.
Step-by-Step Instructions for Creating a Food Delivery App
Building a meal delivery service like Uber Eats is a difficult endeavor that requires the integration of numerous components. As a result, having a clear plan for developing your food delivery software is essential if you want to build a name for yourself in the online food sector. Using Uber Eats as an example, we have described several critical steps that restaurateurs must take in order to launch similar online enterprises.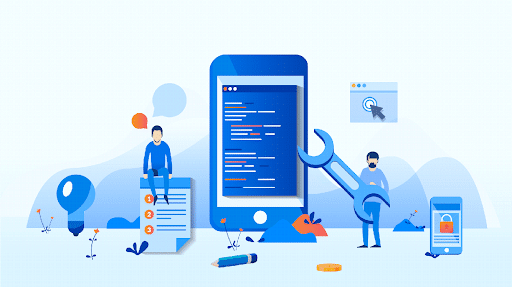 Step 1: Perform Market Research
When developing a meal delivery app, the first step is to conduct extensive research on your rivals, target demographic, and current food industry trends. To gain a thorough understanding of the present market scenario, you must answer the following questions:
Who are your rivals, and what services do they provide to their customers?

Who are your ideal clients?

Which features should your food delivery app include in order to stand out?

What are the most recent internet food business trends?
Step 2: Decide on a Food Delivery Model
Following rigorous market research, the next step is to select a meal delivery strategy that can suit both your business goals and the wants of your customers. There are two food delivery models:
Model of Order-Only

Model of Order and Delivery
Order-Only vs. Order and Delivery Model: Key Distinctions
| | | |
| --- | --- | --- |
| | Order-only model  | Order & Delivery Model |
| Functionality  | Food delivery systems are in charge of accepting and managing orders. | Order management and delivery are the responsibility of delivery platforms. |
| Logistics Support | There is no logistical support because delivery is handled by the restaurant itself. | It includes logistical help. The meal delivery platform handles the delivery. |
| Monetization Methods | Order-only platforms earn revenue by charging a commission fee to the restaurants with whom they partner. | The order and delivery business generates revenue by charging commission fees to restaurants and delivery costs to customers. |
| Examples | Just Eat, Deivery.com | DoorDash, Deliveroo |
Step 3: Select Prominent Uber Eats-like App Service Features
Here are some must-have features for your food delivery app to give you an advantage over your competitors:
| | | | |
| --- | --- | --- | --- |
| Admin Console | App for restaurants | App for customers | App for delivery boys |
| Management of a Restaurant | Order Administration | Registration of Users | Login Security |
| Delivery administration | Menu Administration | Listing of Restaurants | Push Notifications |
| Capabilities in several languages | Push Notification | Order Monitoring | Management of Delivery |
| Multi-Store | Payment Tracking | Various Payment Options | Tracking in Real-Time |
| Option for Multiple Payments | Management of Ratings and Reviews | Alternatives for Takeout | Management of Multiple Deliveries |
| Report on Statistics | Assist and Support | Discounts and Special Offers | |
| Notifications | Delivery Tracking | Advanced Lookup | |
| | | Ratings and Reviews | |
| | | Points for Reward | |
Step 4: Harness the Power of the Right Technology Stack
When developing an app like Uber Eats, choosing the correct technological stack is critical since it serves as the foundation for offering a smooth customer experience. Depending on the business strategy of your food delivery service, you may require different technology. 
The following technologies are required to create a food delivery app similar to Uber Eats:
Web Application Development
React or AngularJS
Development of Mobile Apps
Swift and Kotlin (Android)/ (iOS)
Back-End Design
PHP
Databases
MySQL
Third-Party Providers
Step 5: Select a Realistic App Development Option
Once you've decided on the features and powerful technological stack, you must choose the best alternative for building your food delivery app based on your needs.
There are two choices:
Employ an App Development Group
To create a successful food delivery solution, you may require the following team members:
Android programmer

iOS programmer

Front-end designer

Back-end programmer

Manager of Projects

Analyst, Business

Designer of UI/UX

Engineer of testing

Make use of a ready-made solution.
If you need to construct your food delivery app quickly, using a ready-made solution may be the best way to get your food delivery service up and running.
Final Thoughts
Consumers have gone crazy for internet services, and the meal delivery app is no exception. When your hunger pangs are easily satiated by the online meal delivery service, it's a true blessing. If you want to start your first entrepreneur journey with an online food delivery service, create a food ordering app and stand out from the crowd.