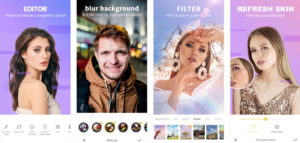 BEIJING, Feb. 2, 2018 /PRNewswire/ — Chengdu Pinguo Technology Co., Ltd announced today that its Camera360 has been named "Best 'Belt and Road' App 2017" by App Annie, a world-leading mobile data and analytics service provider.
Pinguo Technology is an innovative enterprise taking mobile photography service as its core. The company was founded in October 2010. Its headquarters are in Chengdu (China), with branches in Beijing, Shanghai, and Tokyo.
The company's core product, Camera360, has one of the world's largest user base communities within the mobile imaging industry. As of the end of August 2017, Camera360 has a total of more than 800 million users worldwide and a cumulative domestic user base of 250 million. It produces 2000+ photos per second and more than 200 million photos in a single day.
In the past year, Camera360 has accomplished many important achievements:
In 

January 2017

, Camera360 won Chengdu Internet's "Double Innovation" brand culture and entertainment brand, as well as the honor of "Top Ten Internet Brands in 

Chengdu

."

In 

January 2017

, "People's Daily" published articles on Chinese Internet companies, ushering in an era of great voyage for these enterprises

. All 

the major Internet companies started their journeys abroad

 

and began cultivating overseas markets

. 

Camera360, which has done business abroad for many years, was noted as a pioneer and example to follow.
In 

August 2017

, Camera360 was shortlisted for the Top 50 "2017 China Outbound Marketing Brands Ranking" jointly launched by KPMG, an international top consulting firm

, 

and Facebook.
In 

November 2017

, Camera360 won the 2017 "Creative International Innovation Award" in the two-week competition customized for 

Guangzhou

 Automotive Fit by Camera360.
In the overseas market, Camera360 covers more than 200 countries around the world and has reached a rank of top 5 among 145 national and regional imaging apps, including #1 in 80 of these countries and regions. For Camera360, which has been cultivating overseas markets for many years, App Annie's approval and recognition of Camera360's overseas market has created a new impetus for its continued growth abroad.
"The App Annie Best Publisher Awards are the gold standard for measuring global success of mobile markets," said Bertrand Schmitt, CEO and co-founder of App Annie. "Under the leadership of China's Belt and Road Initiative, Chinese enterprises are aggressively expanding into overseas markets. Based on global store data, effective App analytics and insights have become crucial. Congratulations to Camera360 on their great success in 2017."
Selection criteria
The 2017 App Annie Belt and Road Ranking is a list composed of the most popular 30 apps in countries and regions included in China's "Belt and Road initiative." The ranking is based on the total downloads on iOS and Google Play.
App Annie Intelligence provides the industry's most accurate App Store estimates and serves as a source of information for App Annie. It links all the aspects together with unique DNA technology to form a complete view of all companies, including their subsidiaries.
About App Annie
App Annie delivers trusted App Market data and analytics in the global application economy. More than 1 million registered users rely on App Annie for a better understanding of the App market, their business, and related opportunities. Headquartered in San Francisco, USA, the company employs 450 people and has 15 offices around the world. App Annie has raised $157 million in funding from investors such as Sequoia Capital, Institutional Venture Partners, IDG Capital Partners, e.ventures, Greenspring Associates and Greycroft Partners.
SOURCE Camera360 & PRNewswire