What is Citrix Workspace app?
Citrix Workspace app provides a great user experience – a secure, contextual, and unified workspace – on any device. It gives you instant access to all your SaaS and web apps, your mobile and virtual apps, files, and desktops from an easy-to-use, all-in-one interface powered by the services. Using your mobile and virtualized applications, files and desktops are faster and easier than ever.
Citrix Workspace was developed and managed by a very talented team of Citrix Systems and the app is updated very frequently. This app is breaking records with millions of downloads by users. The app does not hinder any other applications running on your phone. It uses a secure, enterprise-grade environment. It ensures that your data is safe and nothing is shared with any other application.
Main Highlights:
Work on your favorite device from wherever you are

Access email or other corporate applications

Access your files, apps, desktop from your phone, tablet, or all in one from a unified view

Provide single sign-on capabilities with Citrix SecureHub and Citrix Files

Features of the App
This virtual channel allows Workspace to redirect sensor information to applications running on the server. For example, applications can use accelerometer data to drive 3D-modelling applications, use an ambient light level to control the brightness of the screen, use location data to alter the behavior of applications, and so on.

Built on the Raspberry Pi 3 platform, the Citrix Ready workspace hub provides a secure connection to authorized apps and data. The app supports user authentication to Citrix Ready workspace hubs as an experimental feature. This allows authenticated users to cast their sessions to a hub. The feature is disabled by default.
Why Citrix Workspace App?
Citrix Workspace app provides a great user experience – a secure, contextual, and unified workspace – on any device. The app provides a faster connection to the users. It provides a simple clean interface and visuals and makes it easier for the users to work with. It is secured and safe for everyone to use.
App Reviews on the App Store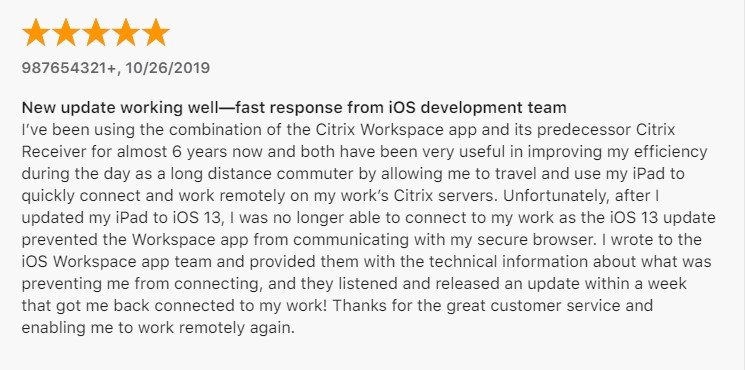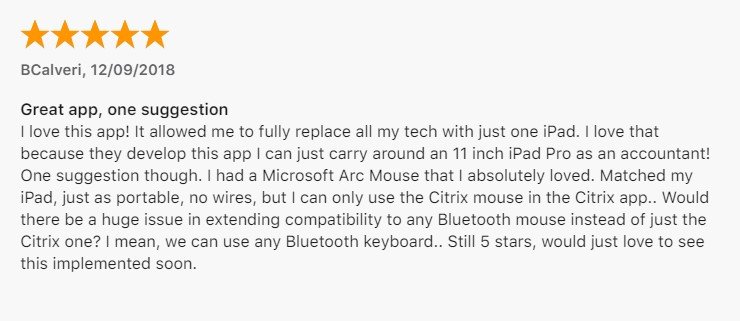 Frequently Asked Questions 
Is the app completely free?
No, the app is not completely free on the App Store.
Yes, the app is secure as it doesn't store any personal information and it asks for very few permissions.
What permissions does the application require?
The app needs basic permissions like Storage, Location, and Photos/Media/Files.
Which android version does it require?
The application is compatible with android version 5.0 and above.
Does the app have a dark mode?
The app does have a dark mode.
Download the App
Like our Citrix Workspace App review? Check out more Mobile App Reviews or Submit your own Mobile App Reviews.