What is Crackle App?
You can spend a lot of money on video streaming services each month, or you can save some money by choosing free services to suit your entertainment demands. Crackle, a joint venture between Chicken Soup for the Soul Entertainment and Sony, is a free choice with a decent range of movies and TV shows. The service is available on various platforms, and we had no concerns with its streaming performance. 
Crackle TV, formerly known as "Grouper," has been operating since the early 2000s. After being purchased by Sony in 2006, they were rebranded as Crackle TV. Films from Columbia Pictures, Screen Gems, TriStar Pictures, and Sony Pictures Classics are commonly featured in Crackle's Movie and TV library. Sony also distributes a large number of TV series. There is a plethora of high-quality programming available for free. For example, as of this writing, I can watch fantastic series like "News Radio," "Shameless," and "Grounded For Life."
Main Highlights
Crackle TV is available for iPad, iPhone, and Android devices.

Create a free account to see fewer advertisements.

Fill your 'Watch Later' list with all of your favorite movies and TV shows.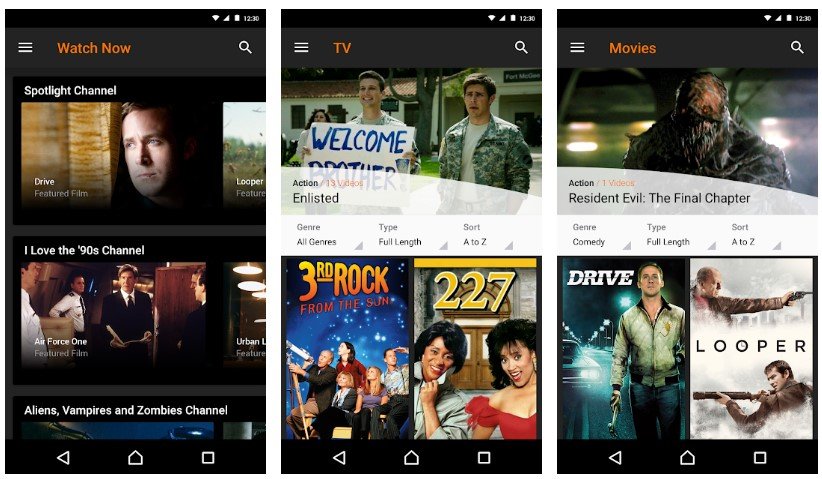 Features of Crackle App
Crackle TV may be seen in your browser using Internet Explorer, Chrome, or Safari. Still, it can also be streamed to your television using any supported devices: PlayStation 4, Apple TV, Roku, Xbox One, Samsung Connected TV, LG Connected TV, Visio Connected TV, Fire TV, Chromecast.
The Crackle TV app is compatible with iPad, iPhone, and Android devices.
Set up a free account to see less advertising and to resume your journey on any device.
To locate new successes and all-time masterpieces, sort by genres such as comedy, drama, action, thriller, and fandom. Fill your 'Watch Later' list with all of your favorite movies and TV shows.
Check out the Crackle team's handpicked choices on the Spotlight Channel.
Crackle lists all of its available streaming titles and allows you to filter by genre and sort by alphabetical or recently added order.
Crackle displays the release year, rating, runtime, and audio options available.
Crackle also includes a synopsis of the episode, series, and movies.
Crackle's online interface is functional, and the color palette of black, orange, and white works well.
Why choose Crackle App?
Stream free Hollywood films, TV shows, and originals on your preferred devices. Sony Pictures Entertainment Company owns Crackle TV, a completely free streaming service. The service offers a monthly rotation of movies, TV shows, and original programming. Crackle has a terrific assortment of movies, and TV shows that people will want to watch.
Crackle just introduced a feature called "Always On," which allows you to search for programming while viewing another movie or show. Please remember that Crackle lacks a high-quality UI and sophisticated capabilities such as offline downloads and complete HD broadcasts. Anyone on a tight budget might want to check it out for its movie library despite its shortcomings.
Crackle App Reviews
Frequently Asked Questions
What Can I Stream on Crackle?
Crackle has approximately 700 movies and a little more than 100 TV shows at the time of writing. Crackle's biggest draw is its movie library, especially since most TV shows miss a few seasons. The movie catalog on Crackle is more extensive than that of some premium options, such as CBS All Access. HBO Now contains roughly the same number of films, but most of them are of far higher quality.
3:10 to Yuma (1957), Ali, Close Encounters of the Third Kind, Concussion, Dr. Strangelove, El Mariachi, Fury, Glory, Invasion of the Body Snatchers (1956), Midnight in Paris, Monster, Moon, Mr. Smith Goes to Washington, On the Waterfront, Rachel Getting Married, RV, Taxi Driver, Teenage Mutant Ninja Turtles (2016), and The Social Network are among the top movies available on Crackle.
How to Get Rid of Crackle Ads?
Crackle, like other free services, is ad-supported, and there is no way to disable them. It is a free option to pay to remove advertisements and add additional features.
How do I become a Crackle member?
Crackle does not require you to create an account to view its content on any platform. The ability to add items to a watchlist is the main advantage of creating an account. There is an icon in the upper-right corner that allows you to access your profile settings.
You may edit your personal information, opt-out of notifications, and change the parental controls and captions from this page. Icons for Crackle's home page, TV, Movies, and Search can be found across the top of the interface. The search feature on Crackle accepts titles, actors, and genres. It works well for the most part, although inputting a listed producer did not always yield relevant results.
Crackle App Download
Like our Crackle App Review? Check out more Mobile App Reviews or Submit your own Mobile App Reviews.