Introduction:
Tango app is a live video streaming platform where you can earn money by appearing live. You can meet new people and have a stimulating conversation. It's a huge benefit for content creators because it allows them to showcase their skills. It's a great way to make money by engaging with the audience.
Pros of tango app:
You can earn money by showcasing your

talent

 

You can become an influencer by getting discovered by the tango live streaming community.
Cons of tango app:
Gives people permission to be cruel.
What is a tango app?
The tango app is a live streaming app. The app enables you to come live on the platform and interact with your audience in your own way. People may join the live show to support their favorite artists. Through this, content creators help manage to earn some penny.
Tango allows you to monetize your social community by streaming your life from different parts of the world. You can go live to broadcast your skills and start a broadcasting career with tango's easy payout system. 
Features of the app:
Public chats:

You can create a public chat to interact with your social community.
Personal chat:

Gives you an option to engage with your friends, family or fans privately
Share

: promote social events on your profile for everyone to see.
Features that unveil when you sign up:
Watch new and popular broadcasts streaming live videos anytime.

Meet and interact with talented Tango live streamers from all over the world.

 Swipe to see top moments and live reactions from broadcasters.

Have fun playing interactive games with live video streamers.

Follow your favorite streamers to be notified when they go live.
FAQ: 
iOS and Android platforms 
Yes, The app is free to use. 
Is the payment secured for in-app purchases?
Yes, the payment is secure for in-app purchases.
What permissions do you need to allow for the app to function?
 The app requires permission to access storage, location, photos/media/files, and wifi connection.
Why should you use the app?
It was created for the content creators to have their medium to express their creative space. Every amount they make gives them the motivation to work even harder. It's a good way to showcase your talent while earning a living.
User Reviews: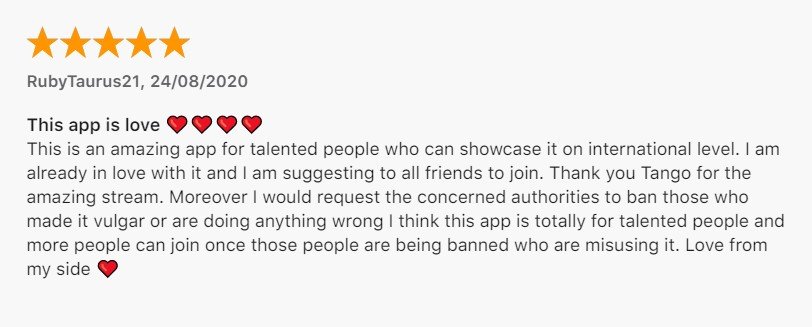 Download the app here:
Like our Tango App Review? Check out more Mobile App Reviews or Submit your own Mobile App Reviews.