Overview of Cute App
The era we live in is also called the fashion era. We all want to be fashionable and updated with the trends of fashion. So with Cute, we can leave roaming here and there and get all the items of fashion in a single place. It offers varieties of makeup items, accessories, jewelry, and other beauty or home decor items at a single easy-to-use place.  
It is a unique fashion platform where we can buy anything from glasses to necklaces to home decoration items. It is a marketplace full of variety and quality products. It is the best place for any fashion geek to get all their necessities in one place.
Pros of Cute App:
A large variety of items.

Different categories.

Diverse community members.

Save with constant offers and deals.
Cons of Cute app:
Misleading prices on items.

The shipping is not very good.

Cannot apply promo codes at items.
What is the Cute app? 
Cute is an online marketplace to sell stuff related to fashion and decoration. It has a database of mi lions of customers and provides items from over five hundred million boutiques from all over the world. Whatever it is that a fashion geek would want is available and of good quality. It is a treasure for anyone looking for something that could not be found elsewhere. Not just different products, it gives the choice to buy similar products with different colors or different shades.
It provides a very decent place to browse and buy trendy items for a good price. Cosmetics, fragrances, skincare, haircare, and other beauty accessories are just some of the things that it has to offer. A large marketplace with a huge number of customers is the tip tops of the Cute app.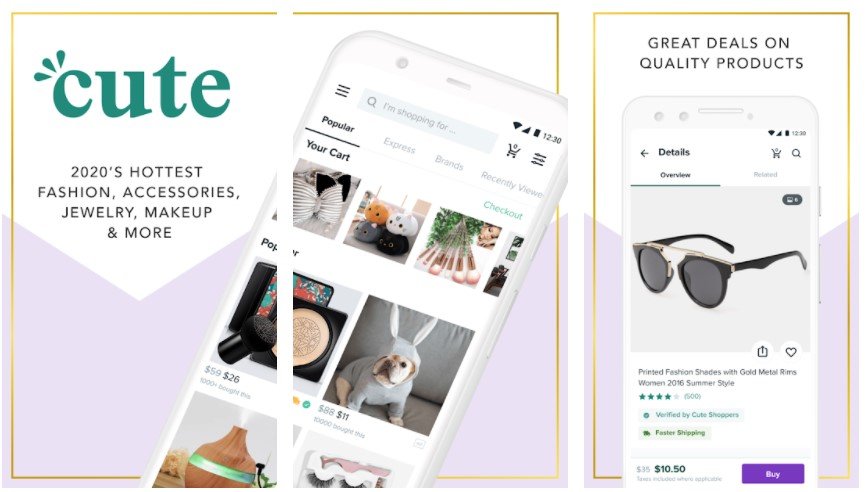 Features of the Cute app:
Variety

: Millions of items from all over the globe.

Categories

: Home decor, beauty, cosmetics, fashion, and many more.

Trends

: get notified about new fashion trends.

Buy

: discover branded items and buy them at a good price.

Browse

: Different Brands and a large variety of things to choose from.

Tracking:

Track your orders and get notified when they will arrive.
Features that unveil when you sign up: 
Start saving instantly with its reliable marketplace.

Instantly browse millions of items.

Find branded products at a cheap price.
Frequently Asked Questions 
Which OS supports the app?
Both iOS and Android platforms are compatible.
Yes, the app is free to use.
Is the payment secured for in-app purchases?
There are no in-app purchases.
Which permissions are required to use the app?
The app requires the following permissions: 
Identity – find accounts on the device

Contacts – find accounts on the device, read your contacts

Location – precise location (GPS and network-based)

Photos / Media / Files / Storage- read the contents of your USB storage, modify or delete the contents of your USB storage

Camera – take pictures and videos

Other permissions – 

receive data from the Internet

View network connections

full network access

control Near-Field Communication

run at startup

control vibration

prevent the device from sleeping
Why should you use the Cute app?
Cute app is specially designed as a fashion marketplace, where people can order items of different categories from all over the world. It provides users with all kinds of items related to fashion in one place and an easy-to-search and browsing interface. The app is good for anyone who wants to be updated with the trends of the world and be fashionable in the modern era.
User Reviews: 

Download the app here:
Like our Cute App Review? Check out more Mobile App Reviews or Submit your own Mobile App Reviews.