Do you want to increase the efficiency and productivity of financial services through digital transformation trends? Digital transformation is essential for every business, especially in finance industries where productivity and economic growth are crucial.
A wide variety of financial technologies and fintech apps is the final fruit of technology innovation. Besides, these mobile applications are used to complete financial and paperless transactions quickly. So, with digital transformation services, financial transactions become faster than traditional banking services.
Have A Look At The Case Of The Traditional Banking Process!
Let us take an example to understand how digital transformation is better than the traditional methods of banking services.
Imagine a situation when people used traditional methods for financial transactions like collecting cash from your bank account, transferring the amount to another bank account, and cheque deposits.
To complete all these transactions, you need to stand in a long queue and wait for your turn to collect cash from your bank account by submitting the necessary financial details in the cash slip. Afterward, the cashier or bank employees consume more time delivering your money.
Hence, this traditional method is time-consuming and full of awkward repetitive tasks because it utilizes the pen and paper approach. On the contrary, with the introduction of technology and digital transformation services, consumers can complete multiple transactions faster with a single click of a button and in the comfort of their home or office without bank visits through mobile fintech apps.
Therefore, these technological innovations will satisfy today's customer requirements for faster and more secure financial transactions. So, for this reason, various digital transformation trends positively affect the finance industry.
Which Are The Digital Transformation Trends That Boost Efficiency Of Finance Industries?
The finance industry needs to deploy various advanced digital technology initiatives, and trends and experience increased efficiency, productivity, and growth.
There are some latest digital transformation trends that you will need to consider enhancing financial services for better growth.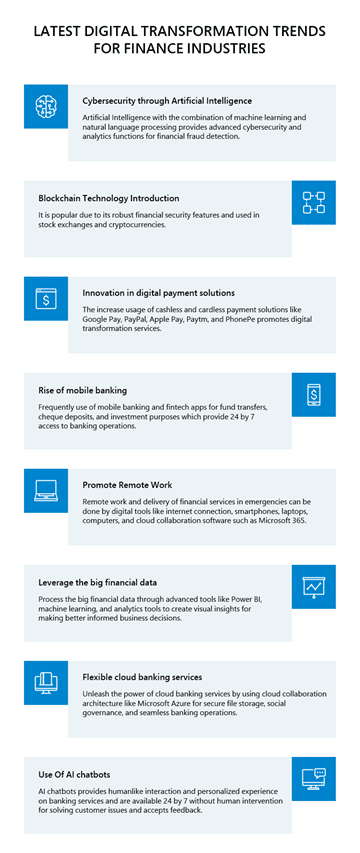 The benefit of cybersecurity functions through AI
The latest innovation in technology opens a door for many fraudsters that can cause harm to various financial processes. For example, the financial risks like identity theft, phishing attacks, malware, ransomware, hacking, etc. Therefore, some dedicated technologies emerged from the digital transformation services, such as cybersecurity through AI Artificial Intelligence.
However, this modern technology provides the advanced security layer by combining artificial intelligence with machine learning (ML) and natural language processing (NLP) concepts. Besides, this technology integration helps in the advanced fraud detection and prevention patterns.
In addition, it also effectively prevents information loss due to increasing cybercrime and provides digital tools to combat financial crimes through highly encrypted security protocols. Also, it offers actionable insights about the cyberattacks that improve customer experience with advanced fraud detection.
Introduction of blockchain technology
Blockchain technology is one of the famous digital transformation trends that is gaining popularity at a slow speed and offers robust security features. For example, small financial institutions, stock exchanges, and cryptocurrencies utilize blockchain technology due to its advanced financial security functions.
Since it is in the emerging stage, this advanced robust technology has the potential to grow in the future and will highly influence financial industries. In addition, it has a centralized, secure system that offers strict controls for auditing data and smart contracts. You can contact a digital transformation solutions provider worldwide for more information and guidance regarding blockchain technology.
Innovation in digital payment solutions
Numerous digital tools can promote seamless, cardless, and cashless transaction processes. For example, the innovative payment transaction gateways such as PayPal, Google Pay, Phone Pe, Apple Pay, Paytm, etc. Moreover, all these services provide digital payment solutions to the customers.
Due to multiple advantages and uses, these digital payment solutions are better than traditional transaction services. In addition, these financial services and e-wallets provide user-friendly solutions for online transactions.
Mobile banking transactions and financial services are increasing due to the latest technological innovation and digital transformation services. It happens because of the easy availability of various mobile applications called fintech apps.
Indeed, customers can quickly deposit cheques, transfer funds, and apply for loans and insurance plans from their mobile devices through fintech apps and e-wallet services.
Nowadays, customers prefer online banking because of its convenience compared to visiting banks and following brick-and-mortar models for financial processes.
Besides, they can benefit from 24-by-7 access to banking operations through mobile devices. Therefore, mobile banking is one of the innovative digital transformation services that will increase in upcoming years.
Promoting Remote Work regardless of location
There are certain situations where the digital transformation and advanced technology allow the finance industry to promote remote work and work anywhere regardless of the location.
For instance, during the Covid-19 lockdown situation in 2020, financial service workers or employees have increased remote work that provides the necessary financial services.
However, remote work and delivering financial services are possible with few digital tools like internet connection, smartphones, laptops, or tablets, and centralized cloud collaboration software such as Microsoft 365.
So, in a situation where there are geographical restrictions, digital transformation consulting services promote remote work and work from anywhere from any device. Therefore, in the future, financial institutions and industries will adopt the hybrid working model for better efficiency and productivity in emergencies.
Leverage the potential of enormous financial data
Banks and other financial institutions generate an enormous amount of financial data daily that consists of unorganized customer details, insurance policies, fixed deposits, personal loans, home loans, commodity prices, changing interest rates, etc.
For proper guidance and benefit from these large financial data, digital transformation agencies offer necessary digital tools like machine learning, Power BI, and analytics to process data and provide analytical solutions for making informed decisions. However, this big data help financial institutions and banks serve their customers based on their insights.
Indeed, this analytical dashboard can help financial institutions and banks to increase investment and create an excellent professional environment for banks, employees, and customers.
Flexible Cloud Banking services
Nowadays, banks and financial sectors migrate their operations and services to the cloud collaboration architecture due to the digital transformation and innovation in the latest technology.
For example, the Azure cloud collaboration platform provides scalability, making it easy for banks and financial institutions to satisfy the increasing demands of customers. The cloud banking services offer a secure and cheaper centralized platform to implement than the existing infrastructure.
Also, the cloud banking services offer a secure file storage system for storing customers' financial data and provide a better environment for social governance services.
Use of Chatbots for automated communication
Customers expect the personalized experience of banking services like secure digital payment solutions for financial institutions and banks. In this manner, people want banking apps that offer them an excellent experience with all necessary features and seamless functionality.
For this purpose, AI chatbots provide a personalized experience to the customers during financial transactions. Moreover, these chatbots are available 24 by 7 without any human intervention, and offer the necessary information to the customers.
However, this latest chatbots feature offers an interactive experience like humans, resolves their issues, and accepts feedback. So, the banks and insurance companies can extract these data and analyze them using AI technology to serve customers effectively.
Such expertise can be extensively deployed by any Microsoft Certified Partner available in the market with customized solutions for the banking and financial industry,
Are You Looking To Revolutionize Finance Industry With These Digital Transformation Trends?
The traditional banking and finance industry follows brick-and-mortar methods for repetitive, lack of security, and time-consuming transactions. So, with the digital transformation services, the financial sector provides a seamless banking experience to the customers through online 24-by-7 banking services and mobile banking. They offer high-level security with cloud collaboration platforms.
For more information and necessary guidance for boosting productivity and efficiency in the finance industry, you can contact a digital transformation solutions company that offers dedicated digital tools and consultancy services in the right direction. They also provide necessary IT services for the finance industry based on the requirements of the bank.