Overview of Dolby On App
We all must have listened to music, and at times hummed them and tried to record them in our voice. But when we listen to our own recorded voice, we may not consider that even as close as good. Why? Because we don't have a good voice? Absolutely not, we think that our voice is not good and we can not sing well, but the real reason behind it is the equipment. We simply record and hear the audio which is simply recorded and processed, but now with the app, say goodbye to all the goosebumps you had while listening to your recorded voice.
Dolby On is a powerful tool that transforms your phone into a digital studio. And when we say 'digital studio', we are not exaggerating. You can record songs, sounds, instruments, podcasts, rehearsals, voice memos, and much more with Dolby's incredible sound recording technology. With one tap you can fix all the issues like noise reduction, limiting, spatial audio, EQ, and more. From amateurs to professionals, everyone can use Dolby On to achieve a career in music or do it as a leisure hobby.
Pros of Dolby On App:
Record live music, voice, videos, podcasts, and more

Clean and improve the quality with

noise reduction, de-essing, and a fade-in/out.

Post audios and share them with anyone.

Easy to use user interface.

Easy recording and simple editing.

Record audios like a professional just from your mobile phone.
Cons of Dolby On app:
Cannot share multiple files at once.

Cannot pause recordings.
What is the Dolby On app? 
Dolby On is a simple app for musicians, songwriter, or anyone that would like to do with recording and editing. Dolby app has all the tuning and editing option that a literal studio provides, and not just that, it is totally free and give you all the options and customizations right on your smartphone.
It is a complete app that fulfills all the audio recording and editing needs that no other formatting is actually necessary for making your audio look professional and of great quality. Collaborate with your team or your band and send rehearsals and other in-progress audios directly by emailing or messaging and earn their feedbacks, then improvise your audios with Dolby's tools. Dolby app takes care of the recording part so that you can focus more on creating and improvising.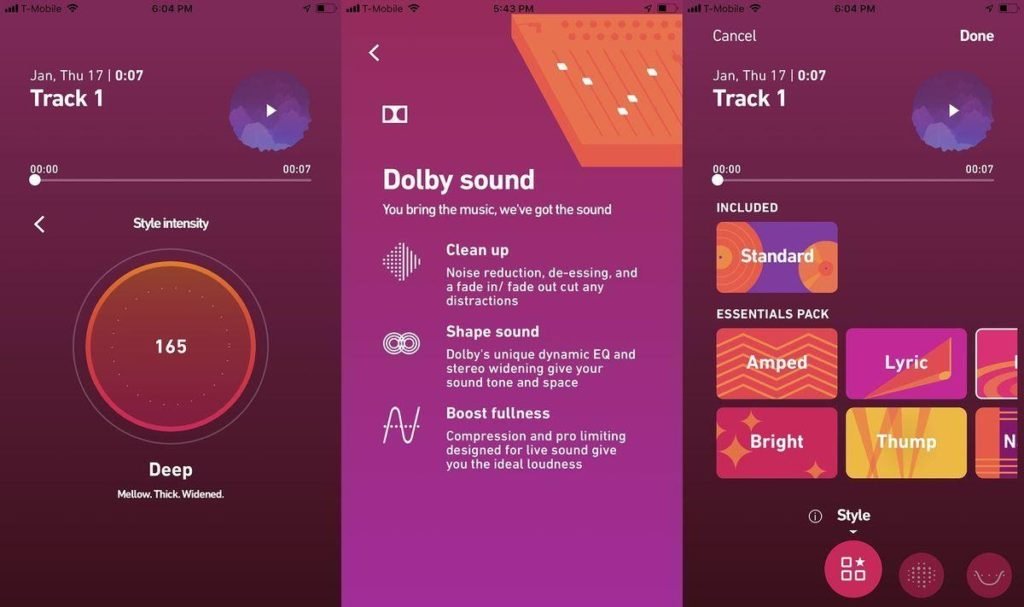 Features of the app:
Record for any purpose

: Whether you are a musician, or a songwriter, or a band member, or even just a music enthusiast that likes to create music. It is for everyone and can be used for every recording purpose.  

Record Anything

:

live music, voice, videos, podcasts, and many more.

Improvisation

: Clear and improve your recordings with features like

noise reduction, de-essing, and others.

Enhance

: Equalize and tune your recordings with Dolby's

Dynamic EQ, bass, mids control, music memo, and many more.

Share Directly

: share with friends and family, or post directly to social media.
Features that unveil when you sign up: 
Instantly record any song or audio.

Cherish your business, or photography, or social media with its powerful tuner.

Access to all the different tools without having to rely on any external software.

Completely free without any annoying memberships or paid features.

Trim, rerecord, starting positing ending position, configure anything for your audios.
Frequently Asked Questions:
Which OS supports the app?
Both iOS and Android platforms are compatible.
Yes, the app is free to use.
Is the payment secured for in-app purchases?
There are no in-app purchases.
Which permissions are required to use the app?
The app requires the following permissions: 
Media Files

Storage

Microphone

Wifi

Camera
Why should you use the app?
Dolby On is a powerful app that provides users with all the features that a recording studio offers, and that just on their mobile phones. It has features to clear up the quality of the video, and also have tools to enhance the audio with different filtered and styles. Its easy-to-use interface is a big improvement that is not to be found in any other app. Dolby On is best for all your audio recording and enhancing needs.
User Reviews: 


Download the Dolby On app here:
Like our Dolby On App Review? Check out more Mobile App Reviews or Submit your own Mobile App Reviews.