Overview of Hollie Guard App
Harassment is a real thing, and crime is the worst that could come out of a person. There are times when we feel insecure and vulnerable to threats. Walking alone at night, going through fishy neighborhoods, or feeling any type of threat. These experiences make us anxious and afraid, but if we take the right precautionary measures, we can escape from any bad thing happening to us. Hollie Guard is a personal safety app that turns your phone into a kind of safety device and protects you from misfortunes.
Hollie Guard was developed especially for women because women are more prone to threats as compared to men. But still, Hollie Guard can be used by anyone facing or feeling any kind of danger. With it, you can set up emergency contacts and whenever you are in danger, you just need to push a button and your emergency contacts will be notified that you are in danger along with your current location.
Pros of Hollie Guard App:
All the basic features are free.

It is

recommended by Edinburgh Police enforcements

.

Easy and very quick to alert emergency contacts.

Sends your message along with your location to emergency contacts.

Also sends a live recording through the camera to emergency contacts.
Cons of Hollie Guard app:
Continued use can decrease battery life.

Somewhat difficult to set up.
What is the Hollie Guard app? 
Hollie Guard is a personal security app that is designed to protect anyone from dangerous situations. Whenever you feel like you are in trouble, you can raise an alert. After raising an alert, Hollie Guard will start capturing your camera along with the microphone and prepare a live video and send it to the emergency contacts that you have selected and tell them that you are in danger. Your route information, which means which path you were taking and your current location will also be sent to them, so they can reach out to your help or take other actions.
Hollie Guard is a very useful app for those who constantly think that they are in danger or those who have to travel through dangerous places. It ensures that you are safe and you do not face any fishy situations that might harm you.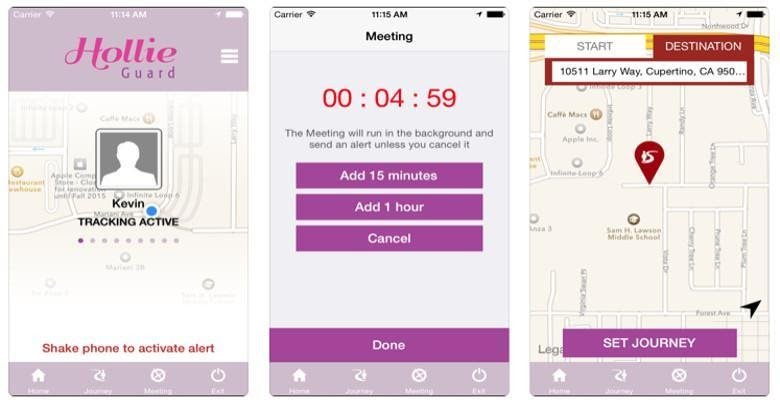 Features of the app:
Advanced alerting system

: Just shake or slide your phone and the app will automatically raise an alert.

Protect Yourself

: Save your emergency contacts and reach out to them immediately at times of difficulty. 

Evidence

: Automatically records video & audio and sends them immediately.

Motion sensor

: Advanced sensor that activates when it senses that you have tripped and fell, and then notifies contacts.

Route

: define your route, so that emergency contacts can easily view where you were going and what pathway you were taking.

Gesture

: customize how you want to raise an alarm; by shaking, sliding, panic button, meeting, and journey triggers.
Features that unveil when you sign up: 
Instantly configure and activate Hollie Guard to keep you secure.

Select your emergency contact. They'll get a text that will explain to them that you have chosen them as your emergency contact and that your information will be shared with them whenever you are in danger.
Frequently Asked Questions 
Which OS supports the Hollie Guard app?
Both iOS and Android platforms are compatible.
Yes, the app is free to use. Additionally, it provides a subscription.
Is the payment secured for in-app purchases?
Yes, the in-app purchasing method is secure.
Which permissions are required to use the app?
The app requires the following permissions: 
Media Files

Motion Sensors

Contacts

Storage

Microphone

GPS

Wifi

Camera
Why should you use the Hollie Guard app?
Hollie Guard app ensures that you are out of any danger, and always have your back whenever you are feeling insecure. Its brilliant way of notifying your emergency contact works flawlessly and gives them a very precise detail of what's happening. They can either come to your help or send you help or take any other actions. Hollie Guard is best to ensure your safety and well-being.
User Reviews: 
Download the app here:
Like our Hollie Guard App Review? Check out more Mobile App Reviews or Submit your own Mobile App Reviews.