Overview of Steady App
Earning steady income nowadays is becoming increasingly difficult. Unpaid leaves delayed paychecks, and commodity cuts are an ordeal to an ordinary person. It is a brilliant app that turns your free time into extra money so that you don't get left out and experience any unpleasantries. It provides you part-time career opportunities so that you can turn your free time into money, and prove the proverb that says "time is money".
With its tools and insights, you can keep track of how you are using your time and how much money in those free time you are making. Boost your income and save big savings on offers that are provided by Steady. Explore employers and view the average of how much people are earning in your area. Analyze the data in-depth and make improvements to increase your fortune.
Pros of Steady App:
Community of over 3 million people earning money and saving big.

Companies listed on Steady's platform include

Uber

,

Target

, and

instacart

.

Save money by redeeming various offers.

In-depth analysis tools.
Cons of Steady app:
Income is low since Steady is providing earning opportunities to millions of people.

Sometimes income might be delayed.
What is the Steady app? 
Steady is one of the few apps that stables you financially. It provides you with employment options from different companies and employers so that you have a choice to do what you can do better. It provides easy management of part-time listings so that you do not get distracted and wander away from your true goals. It is easy and is a lifesaver for people who do not want to be financially crippled.
Steady provides a very decent in-depth analysis tool so that you can easily view and compare your earnings with others. It also gives you the data of how much money you have earned and provides them in a neat graph to see if your earnings are also steady and are not.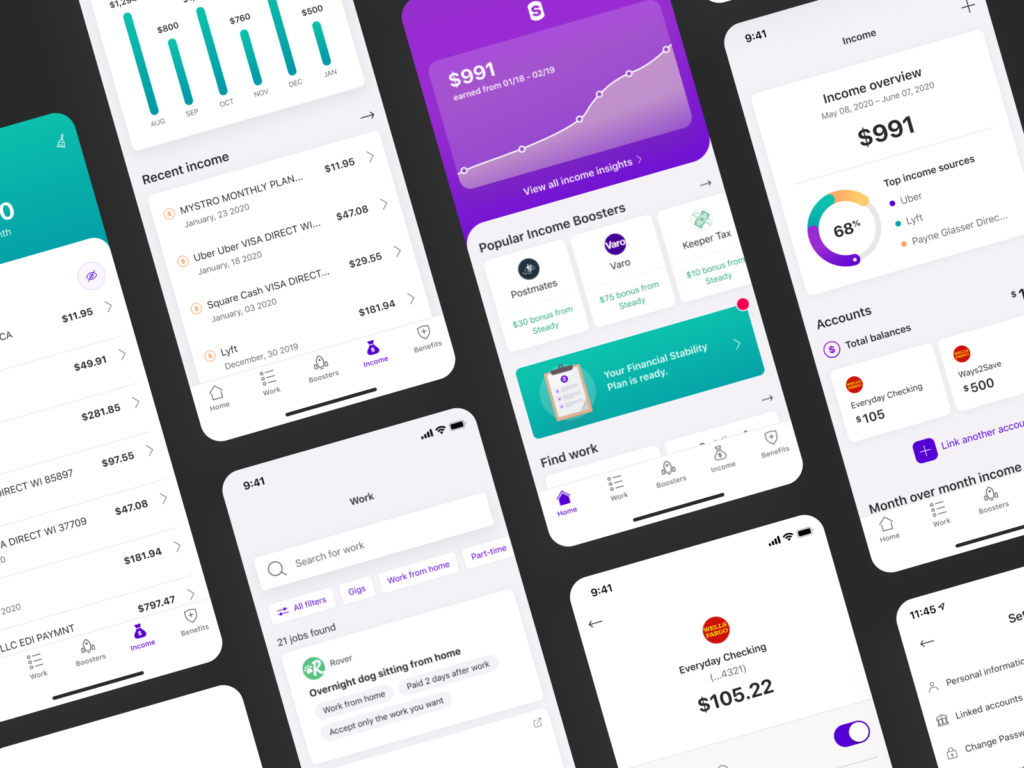 fluctuating.
Features of the app:
Steady Earning

: Earn whenever you are free and utilize your free time.

Boost your income

:

with side hustles, part-time jobs, and more.

Analyze

: See how much you are earning and how you can improve that.

View

: See what other people are up to and employ their strategies to see if that also world for you.

More earnings

: take benefits from income boosters, and emergency credits to help yourself in need.

Learn

: You not only earn by doing part-time jobs, but you also learn and take experience. And those experiences will benefit you always.

Offers

: earn cashback or reward by utilizing various offers.
Features that unveil when you sign up: 
Start saving instantly with rewards and coupons.

Find part-time work in different companies and imply with your schedule.

Earn whenever you are free.

Meet new employers and earn their trust for any future work.

View analytics about your savings and earnings.
Frequently Asked Questions 
Which OS supports the app?
Both iOS and Android platforms are compatible.
Yes, the app is free to use. Additionally, it provides a subscription.
Is the payment secured for in-app purchases?
Yes, the in-app purchasing method is secure.
Which permissions are required to use the app?
The app requires the following permissions: 
Media Files

Storage

Microphone

Wifi

Camera
Why should you use the app?
Steady app ensures that you are out of any financial danger and tries to boost your earnings. With its different features and offers, you can save and earn more than any casual person. These small efforts in your free time keep you financially independent and away from asking others for any aid.
User Reviews: 

Download the app here:
Like our Steady App Review? Check out more Mobile App Reviews or Submit your own Mobile App Reviews.