Main Highlights:
Electrify America, a Volkswagen company, announced plans to construct new human-centered charging stations throughout California and New York, complete with solar-panel awnings and a lounge-style waiting area.
Additionally, the company is launching a slimmer, more simplified electric vehicle charger to improve the user experience.
Between 2022 and 2023, the new multi-charger stations will be installed in various locations, including Santa Barbara, San Francisco, San Diego, Beverly Hills, and the Manhattan and Brooklyn boroughs of New York City.
Electrify America, a subsidiary of Volkswagen, revealed plans to build new human-centered charging stations in many locations around California and New York, replete with solar panel awnings and lounge-style waiting space. Additionally, the business introduces a thinner, streamlined EV charger to enhance the consumer experience.
Throughout 2022 and 2023, the new multi-charger stations will be placed in various places, including Santa Barbara, San Francisco, San Diego, Beverly Hills, and the New York City boroughs of Manhattan and Brooklyn.
Charging an electric automobile is not as simple as filling up with petrol. The time required to recharge a car varies according to the vehicle's kind and power source. Battery specialists claim that charging periods will eventually be reduced to roughly ten minutes, but not for several years.
Meanwhile, Electrify America's goal is to make charging as convenient and straightforward as feasible. The company's new stations are arranged around the concepts of comfort, security, and amenities, emphasizing the time required to recharge an electric vehicle. According to Electrify America, the idea is to make the shift from standard petrol stations to an electric car lifestyle more enticing.
These new designs will help enhance their customers' charging experience, expanding based on Electrify America's ultra-fast and dependable coast-to-coast network, according to a statement from Giovanni Palazzo, president, and CEO of Electrify America.
The most noticeable alteration to Electrify America's present design is the addition of solar panel awnings, which provide shade from the sun and severe weather while also powering the station's activities. The business claims it is now retrofitting 400-500 individual chargers at 100 charging stations around the nation with solar awnings. Solar canopies are already installed at the company's flagship charging stations in Baker and Santa Clara, California.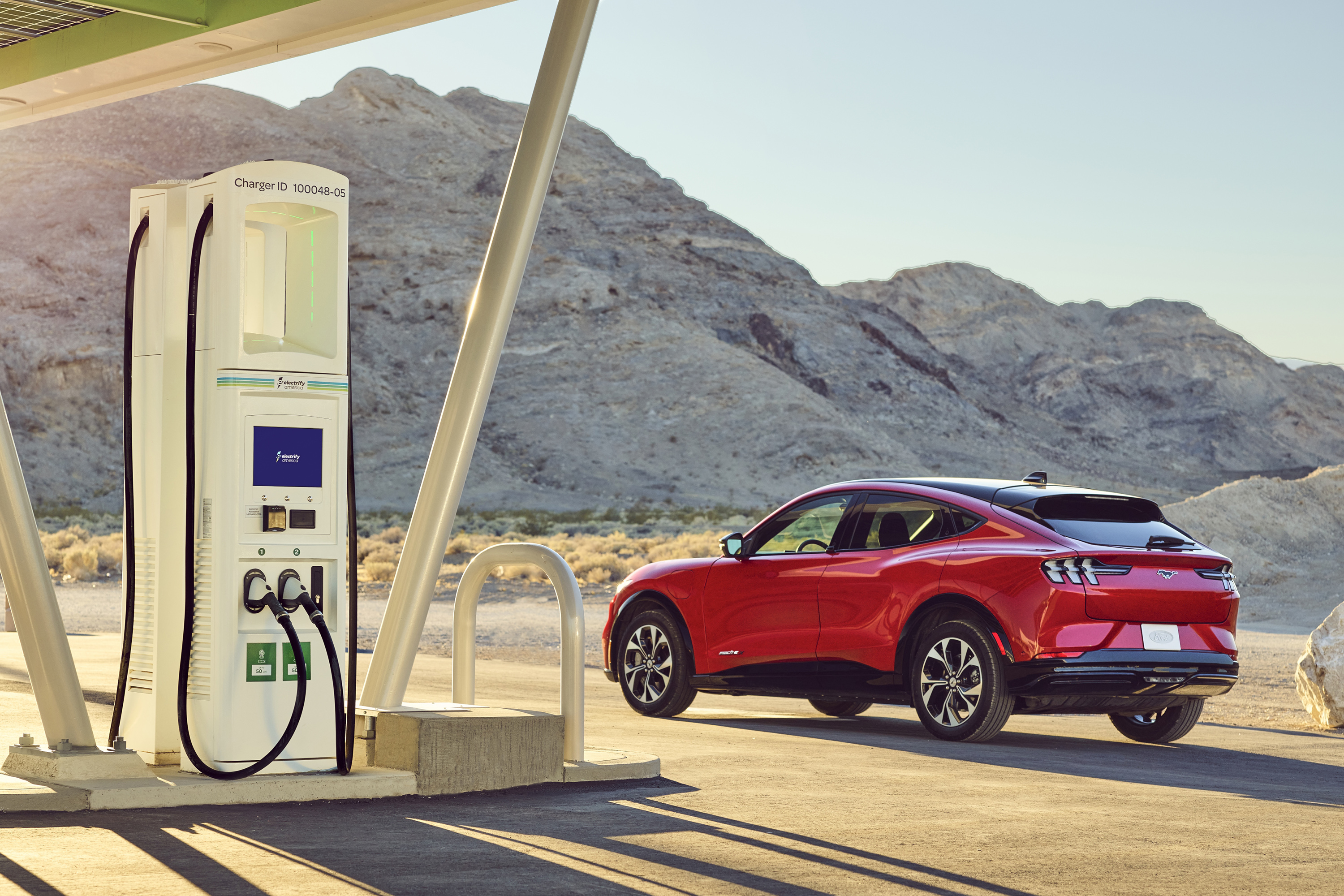 What the revamped charging stations under Electrify America will include?
The revamped charging stations' customer lounges will have specialized event rooms. On-site cameras and increased lighting will assist EV owners who charge at night to feel more secure. Additionally, Electrify America notes that stations near retail centers may offer valet charging and curbside delivery.
Additionally, the business has begun shipping a revamped electric vehicle charger with a smaller profile and more straightforward controls. The ultra-fast chargers, which have a charging capacity of up to 150 and 350 kilowatts, stand nearly 8 feet tall and include recessed screens to prevent glare from the sun.
Finally, Electrify America said that it would install on-site battery storage systems at 150 chargers around the country to manage the grid's energy load and capture extra solar energy when possible. The push toward an electric transportation system is intensifying, Palazzo added, as buyers discover an increasing variety of EVs from practically every manufacturer.