What is the Fitbit app?
Fitbit, Inc. is an American consumer electronics and fitness company headquartered in San Francisco, California. Its products are activity trackers, smartwatches, wireless-enabled wearable technology devices that measure data such as the number of steps walked, heart rate, quality of sleep, steps climbed, and other personal metrics involved in fitness. 
Before October 2007, the company was previously named Healthy Metrics Research, Inc. While these devices appear to increase physical activities, there is little evidence that they improve health outcomes. In 2019, Google announced its intention to buy Fitbit for $2.1 billion. The transaction is expected to close by the end of 2020.
Fitbit is considered the fifth largest wearable company in shipments as of 2019 with a 14.8% over year growth, behind Xiaomi and Apple. Fitbit reports to have sold more than 100 million devices and have 28 million users.
Main Highlights 
A free app that records day & progress over time.

Find free workouts, nutrition programs, meditation tracks, sleep tools & more.

Connect with friends, start challenges & join an inspiring community.

Set goals, earn achievement badges & celebrate milestones.

Automatically sync your data to 3,000+ popular partner apps.

Access innovative smartwatch apps & fresh clock faces.

Works with all Fitbit trackers, smartwatches, scales & other Fitbit products.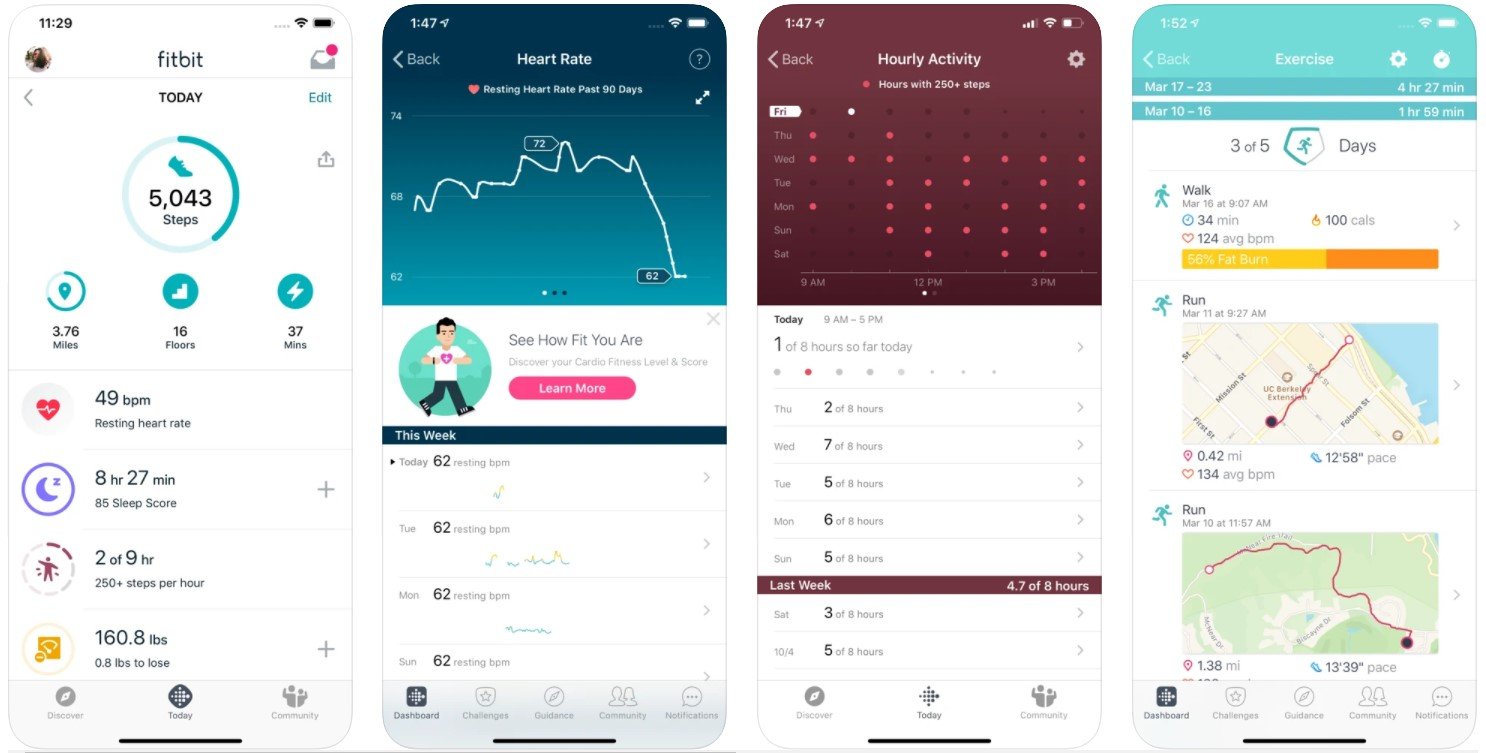 Features Of Fitbit App
Comfortable, lightweight design.

Week-long battery life.

The screen is bright and easy to see outdoors.

Great fitness and sleep-tracking features.

Voice replies are handy for Android users.

Track heart rate.

Workout from home.
Why Choose the Fitbit app?
The Fitbit app delivers a personalized experience to give a deeper understanding of users' stats and progress while providing insights to help and reach their goals. Customize the app to see the stats that matter most. Pair with a Fitbit tracker or smartwatch to see all-day stats like steps, distance, calories burned, floors climbed, and active minutes. 
 Access free video and audio workouts that you can do on your time, right from your living room. Find sessions for HIIT, cardio, strength, yoga, and more. Plus, start a 90-day free trial of Fitbit Premium to unlock 240+ workouts from popular brands like barre3, Daily Burn, POPSUGAR, and Yoga Studio: Mind & Body.
Fitbit's innovative sleep tools—including a nightly Sleep Score, sleep goal setting, bedtime reminders, and graphs that show your time in light, deep, and REM sleep. Listen to free audio tracks to lessen stress and improve mood. Use mindfulness to start it a  better way, find moments of calm, and set intentions with meditation or get help falling asleep with stories and relaxing sounds.  
Understand overall health by using a watch or tracker to record heart rate 24/7. In the app, find valuable data like resting heart rate trends, time spent in heart rate zones during workouts, and a cardio fitness score. The Fitbit app makes it easy to connect with friends, start activity challenges, read educational articles, get expert advice, and share your journey with an uplifting community.
Top reviews Of Fitbit App
Frequently Asked Questions About FitBit App
Can you have two devices on the Fitbit app?
Note that you can't connect multiple devices that use the Fitbit App Gallery to one account. For Fitbit Charge 3, Fitbit Charge 4, Fitbit Ionic, Fitbit Inspire series, Fitbit Sense, and Fitbit Versa series, only connect one of these devices to one account at a time.
Why is my Fitbit app not working properly?
You may need to force quit the Fitbit app. From your mobile device, head to Settings > Apps & notifications > See all apps > Fitbit > Force Stop.
Do you need to sync your Fitbit every day?
We recommend that you sync your tracker or watch it daily. Most Fitbit devices record detailed minute-by-minute data for 7 days. 
Download the Fitbit App
Like our Fitbit app review? Check out more Mobile App Reviews or Submit your own Mobile App Reviews.