What is Fotor Photo Editor app?
Fotor's online photo editor has a plethora of valuable features that can help you improve your images. Enhance photos, retouch portraits, remove backgrounds, and apply effects with this app. Our most popular photo editing features are here for your viewing pleasure.
You can easily crop, resize, add text, create photo collages, and create graphic designs with this comprehensive collection of online photo editing tools. Editing images using the Fotor photo editor is a breeze. All of your photo editing needs will be met by various stylish photo effects and editing options. Beginners and experts alike can benefit from this product, which is suitable for both.
Main Highlights
For personal, professional, and entertainment needs, Fotor design tools offer dozens of design sizes, including Facebook.

Fotor design offers over 100,000 carefully selected design elements, such as fonts and graphic shapes.

You can save a set of edits as "recipes" to use on other photos.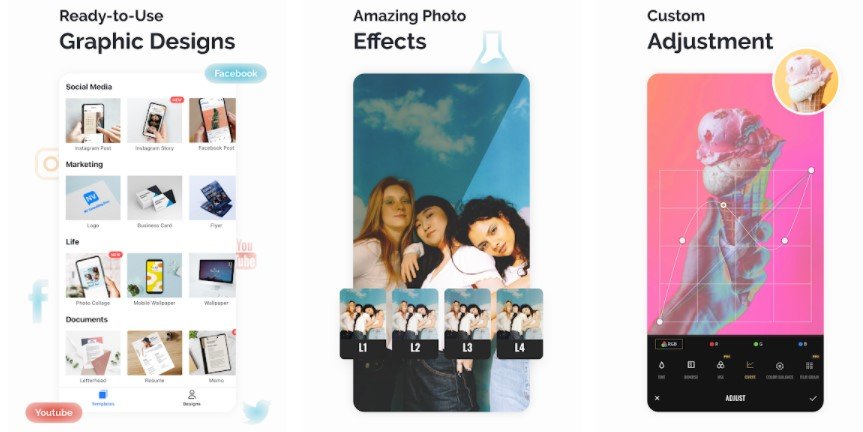 Features of Fotor Photo Editor app
Even if you're looking to get rid of wrinkles, alter your face shape, or make your portraits look more lifelike, the touch-up function can help.

Save time and effort by quickly processing a large number of photos. With a single click, you can apply Scenes, Effects, and Borders, as well as Batch resizing, renaming, and file format conversion, all in a matter of minutes.

You can choose from more than 100 premade layouts that can hold up to nine photos each, or you can use FreeStyle to arrange your pictures in any way you like.

Your masterpiece can be completed with a border in the color of your choice, or you can choose from one of ten different designs.

Add shadows, round off the corners, or adjust the border width.
About Fotor Photo Editor app subscription
There are no limits to the number of premium assets that can be added to the game. Fotor Pro subscriptions cost $8.99 per month or $39.99 per year. USD 11.99/month or $89.99/year for a year's subscription to Fotor Pro+.
Depending on where you are, the price may be different. Using your iTunes account, you'll be charged for subscriptions. If you do not cancel your subscription at least 24 hours before the end of the current period, your subscription will automatically renew. Once activated, you will be unable to cancel your subscription. Subscriptions can be managed in your Account Settings after purchase.
Fotor Photo Editor App Reviews

Frequently Asked Questions
What is photo-editing, and how does it work?
Photo editing is a quick and easy digital method of enhancing a photograph. Even though cameras and smartphones are excellent photo-taking tools, they don't always capture the sharpest images. Adding photo effects, blurring the background, and removing unwanted items are just a few of the ways you can improve your photos with photo editing. Fotor's best online photo editor can help you get even more out of your photos.
Is there a free online photo editor?
That's exactly what you can do with Fotor's free online photo editor, though. Fotor is a great free online photo editor, so open it up first. Select an editing feature, such as basic edits, portrait beautification, or photo effects from the left dashboard, select the one that best suits your needs. The final step is to apply the feature, save your work, and then distribute it.
How do you alter your computer's language preferences?
Fotor is available in nine languages to accommodate the needs of users from around the world. Among them: English, Spanish; Portuguese; Russian; French; German; Simplified; and Traditional Chinese; and Japanese, among others. Aside from that, our language switching is effortless and accessible from virtually every interface. Just give it a whirl!
To begin, navigate to our homepage and select a language from the Language menu in the upper right corner. The second option is to click on the "Language" in the bottom left corner of the Hub pages of Edit, Design, and Collage to change the language setting. Third, click the "More" button in the lower-left corner on the Edit and Design tools pages to switch to a different language. Click on "Settings" in the bottom left corner of the Collage tools page and select the language you want to speak.
In Fotor, how do I open and select a design template?
In just a few clicks, you can create professional-looking design graphics for any occasion. For example, there are poster templates, Instagram templates, Facebook post templates, card templates, flyer templates, presentation templates, and logo templates, among the most popular free templates.
They've put a lot of thought into the design of each one. You can start from scratch, or you can start with a clean slate. There are a variety of ways to get started with these design templates. You can also make changes to the template after you've selected it to create a new design.
Click the Create New Design button or scroll down the mouse to see the template recommendations or more template options. If you're looking to create posters, social media posts, cards, and more, you'll want to choose a template type based on your design needs.
Select "Create New Design" from the menu, then select "Custom Size." Enter a custom length and width, like a standard size, and click "Save." Enter the Design tool and search for keywords above to find templates that match the theme you've chosen. 
You can change the image, add elements and text, copy the style, rotate the image and detach the image, etc., by clicking the part of the template you want to edit. This is the final step in the design process. You can choose to save, share, or export your project.
Fotor Photo Editor App Download
Like our Fotor Photo Editor App Review? Check out more Mobile App Reviews or Submit your own Mobile App Reviews.