Main Highlights:
It was only a year ago that the feature was initially made available. Your News Update was created in an attempt to deliver a personalized algorithmic feed for audio news, similar to those that had been popular on Facebook or other Google products, to compete with Facebook and other Google goods.
Play me the news has been improved with the addition of a customizable audio digest option.
It was classified as such by the search engine, according to its results "As well as the most popular news stories, it includes a combination of brief news items based on your interests, where you are located, your user history, and your preferences.
It was 'Your News Update' that turned to Google's massive database of personal information to present its clients with more specific and relevant news updates. Several news sources that Google licenses were considered to determine which updates will be made available.
Google has quietly removed the "Your News Update" feature from Assistant, opting instead to use the company's existing (and more traditional) news briefs instead. Your News Update was first presented in 2019 as an attempt to bring the same kind of algorithmic feeds to audio news that had been so successful on Facebook and other Google products to the audio news market.
Instead of requiring users to select three additional sources (such as NPR, The New York Times, or CNN), Your News Update would take advantage of Google's vast amount of personal data to deliver significantly more targeted and relevant news updates from a diverse variety of partners with whom Google has a licensing agreement for news content.
For audio news, the problem is that it was reliant on being extremely accurate, which was difficult to achieve because you had to listen through each news report, which took significantly longer than reading a text-based version.
Additionally, as anyone who has recently used Google's algorithmic headline function in its applications is aware, Google's guesses about what you're interested in might be hit or miss depending on your location and other factors. The same difficulties with algorithmic feeds everywhere else on the internet were present here, as well: the possibility of becoming caught in a self-selected bubble of filtered news was present.
According to the Google documentation, the functionality was deprecated for an unspecified reason; hence, we may never know why Google relegated the feature into their ever-expanding product graveyard. On the other hand, Google Assistant preserves its original news digest feature, guaranteeing that consumers are not kept in the dark about current events.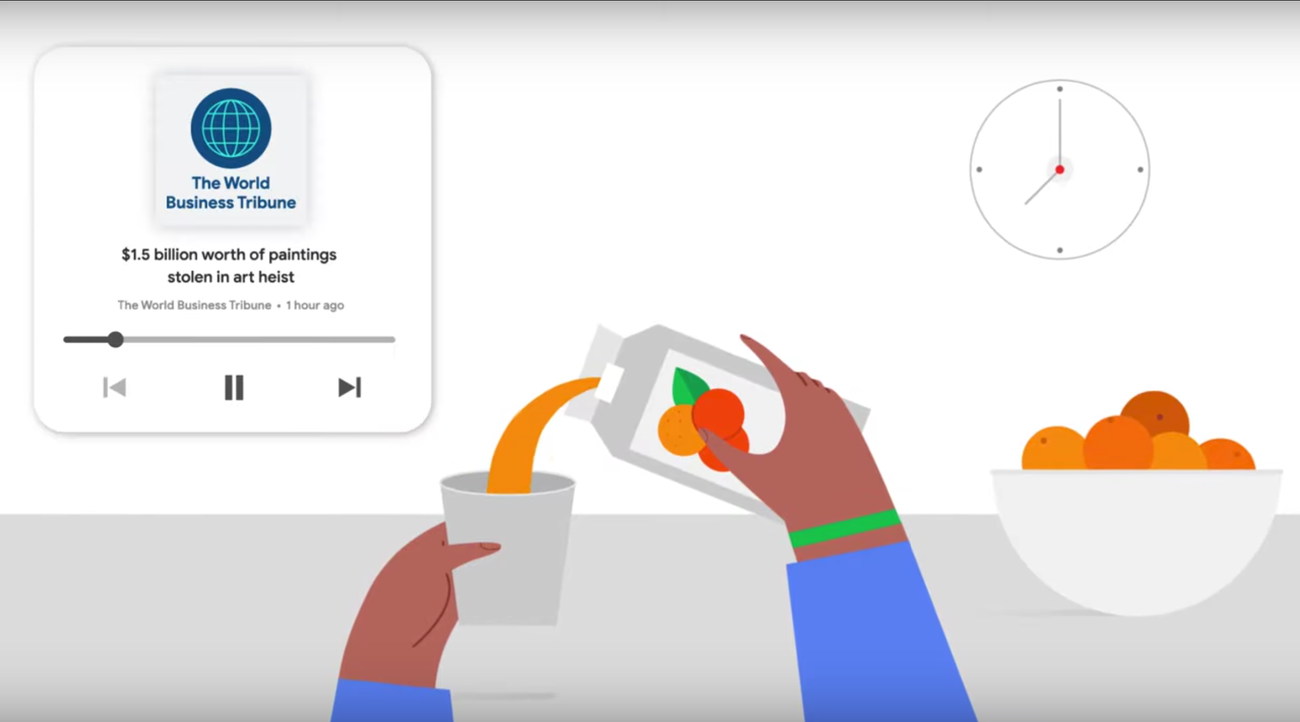 The feature expanded Assistant's "play me the news" capabilities by allowing users to create personalized audio digests. "A blend of brief news articles selected at the moment based on your interests, location, user history, and preferences as well as the most popular news stories accessible," according to Google's definition.
Google Assistant's new feature
This feature translates the concept of an algorithmically determined news feed — such as the one you receive from Facebook or Google — into an audio stream that you can listen to on your device. To gain access to it, ask a Google smart speaker or your phone's Assistant to "listen to the news," and the service will begin playing. A series of brief news updates from partners with whom Google has licensed audio is generated using the information Google has collected about you over time, along with your geographic location.
It will replace the current method of obtaining news updates used by Assistant, a simple list of news sources, with your News Update. With such a system, you must indicate which references should be played and in what order they should be played.