Introduction:
Managing your Business Profile is the most crucial factor for business growth. Millions of people search on Google for businesses and services. Manage your business with the Google My Business app. Google My Business makes your Business Profile stand out. It turns google searches and brings you more customers. It has a fantastic User Interface that connects you to your customer. You can see your followers in the Customers tab. Respond to reviews and message your customers. You can edit your Business Profile in real-time. Share Information About your business, upload photos, and create offers.
You can see your customer's interaction with your Business Profile from the app's Home tab. It gives real-time notifications about customer's connection with your business on Google.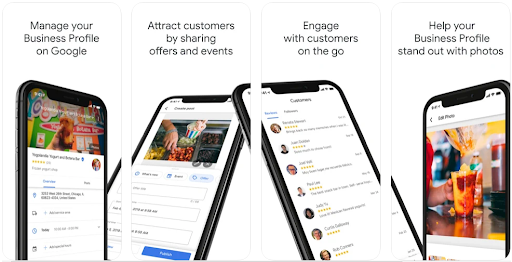 Pros of Google My Business:
Easy User Interface and Experience.

Connection to all Google services.

Helps in providing real-time information to the customer.

You can receive and respond to reviews and feedbacks easily.
Cons of Google My Business:
Gives confusing results due to old data

Fake review interrupts the feedback.
What is Google My Business?
Google My Business helps you to manage your Business Profile. It leads the google searches to your business websites and brings customers. With this app, you can freely advertise on the biggest platform-Google. It's easy to use and you get feedback from customers in few clicks on your device. 
Google provides you with a free website for your business. This website is linked with various google services. You can link your business with Google Gmail, Maps, AdSense, etc. to increase your reach. You can manage multiple locations from one dashboard. It even allows others to manage your business profile with permission.
Features of the App:
Easily connection:

You can respond to reviews, message your customers, and see your followers in the Customer Tab.
Share with customers:

You can upload photos and add information to attract customers. 
Post-Real-time details:

You can provide timing, Holidays, Special events and offers to customers.
Get business insights:

Get Insights on Consumer engagement on your business profile.
Real-time notifications:

Get updates to keep track of your customers on Google.
Website Creation:

You can make a mobile-friendly website that works in the app. This also provides Google services with it.
Exclusive features when you sign up:
Linked:

It's linked to all google services. This Provides useful services to consumers and business owners. You are linked with AdSense, Maps, Search, Trends, and various Google services.

Easy Syncing:

Your data is easily synced to all google services via email.Which can be accessed anywhere.
Frequently Asked Questions:
Which OS supports the Google My Business?
It runs on Android and iOS. 
Yes, it is free to use, even after Sign Up. 
Is the payment secured for in-app purchases?
Yes, the payment is secured by Google services.
Which permissions are required to use the app?
It requires the following permissions:
Location: Required to use your current location for business location

Contacts: Required to auto-completion of email addresses. To make Bookings for customers stored in contacts.

Storage: Required to access photos taken at your business location.
Why should you use Google My Business?
The app helps owners of the page can put updates on their business. Gives information like duration, holidays, working hours, photographs, services, and pricing. It's Linked with Google map which helps to get more ideas about location. It includes a website link, phone number, and email, and contact information of the business. 
It's completely free to Sign up and provides a free website. Its help to get an idea about the business website and its advantage. You can set your working time and day in our listing. 
User Reviews:
Download the app here:
Like our Google My Business App Review? Check out more Mobile App Reviews or Submit your own Mobile App Reviews.