If you're seeking for university-level online programmes, edX will almost certainly appear in your search results.
edX is a cutting-edge online learning and education programme created by some of MIT's and Harward University's brightest minds. The application includes around 2500 online courses in disciplines such as web development, computer science and programming, business, design, and so on.
These certificate programmes are provided by some of the world's top-ranked colleges and industry-leading corporations, and are taught by specialists from the world's greatest institutions.
The software serves as a student's private classroom, allowing him or her to gain information, develop new skills, and achieve a globally recognised certification.
The software was first released in 2012, and it already has over a million users less than a year later. The mission of edX is to become the world's premier Massive Open Online Courses (MOOC).
So, how can you design an app like edX that is sure to succeed? You must make a list of the must-have features and models. Aside from that, you should know how much it will cost to construct an edX app.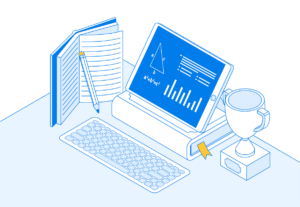 Create an App Similar to edX
Creating software like edX is not a simple task. To begin, you must be able to determine your requirements.
Following that, you must outline the main features that will set your app apart from the competitors.
Take the following steps:
The user experience is the most important aspect of e-learning software. When you begin designing the app, think about the interface from the user's point of view. There should be a narrow line where you can properly integrate them into your business.
You may draw out the categories, characteristics, and their associated functions using a graphical depiction of the mind map. Consider actions and their reactions to these traits and functions. Consider the business concept as well as any technical requirements for developing the application.
Wireframes for improved vision:
Wireframes are graphical representations that illustrate the layout of a website. It may also be referred to as the website's blueprint, as it depicts each individual feature. The wireframe's purpose is to guarantee that the development team and client have a clear view of the project and its features and possibilities.
User-friendly and intuitive UI design:
Because the UI and UX are the initial points of contact between the business and the consumer, they must be user-friendly and intuitive. If something fails to impress, the user is unlikely to return to the programme in the future.
Testing for constructive feedback:
Distribute the blueprint of your programme to a few users to check if the e-learning application has any practical impact. Obtaining their advice is beneficial since making modifications during the planning stage is simple.
Before releasing the app to the public, you must ensure that it functions as expected. The best way ahead is to distribute the beta version to some genuine consumers from your target group. Get some honest feedback from them and utilise it to improve the effectiveness of your software.
Custom platform or open-source platform customization:
Your e-learning application can take one of two techniques. You can choose between a custom-designed platform and an open-source platform.
While you are preparing, you should also employ the appropriate team to design an application for you. You might begin by interviewing reputable suppliers or looking for freelancers.
Choose your technology stack:
An e-learning application requires a sophisticated technology stack, akin to edX.
Here's what we think:
Languages include JavaScript, Python, PHP, and Scala.
Nginx is a web server.
Amazon S3 storage
MySQL database, Amazon Relational Database Service
Elastic Search and Amazon CloudSearch are two search engines.
How Much Does it Cost to Develop an App Similar to edX?
Budgeting is the most critical component of any app development. If you don't have the cash, your edX-like software will be a pipe dream.
So, what is the cost to produce an app like edX?
The development cost for an e-learning application like edX, with the previously described must-have features, will range between $54,750 and $62,500.
This is predicated on the assumption that the development staff will be situated in Eastern Europe, such as Ukraine, and will labour for $50 per hour. From conception to completion, the project should take between 1,095 and 1250 hours.
However, if you decide to construct a fully customised platform, it will cost you a lot of money, work, and time. To design the application, you will also require a team of competent and efficient software engineers.
In any case, a precise price may be determined once your application requirements have been determined.
Furthermore, the nation of domicile of the development team will affect overall expenses.
Here is a preliminary assessment:
Europe's east. $54,750 and $62,500 (at $50 per hour)
Western and Central Europe $109,500-$125,000 (at $100 per hour)
The United States. $164,250-$187,500 (at $150 per hour)
The more complicated your platform develops, the more time and money it will take to get it live on app marketplaces.
Final Thoughts
According to reports, the corporate online learning business rose by 900% between 2001 and 2017. In terms of the environment, e-learning is unquestionably a more environmentally friendly option than traditional classroom-style education.
Without a doubt, online learning is the way of the future, with several advantages.
So, if you are thinking about developing an app similar to edX, there is no better moment than now for educationist start-ups or entrepreneurs to construct their e-learning app and earn big money.
All you need today is the proper concept that solves a learning problem, a sound business strategy, and the backing of an experienced development team.