Main Highlights:
According to Instagram's iOS App Store listings, it is preparing to launch a 'subscription' feature to enable content creators and influencers to earn money.
Earlier this year, Instagram CEO Adam Mossier stated that the company was considering subscriptions.
Users can now purchase Instagram Badges to demonstrate their support for content creators during live sessions, in addition to a new subscription option.
Instagram is preparing to launch a 'subscription' feature that will allow content creators and influencers to boost their incomes. This development has occurred following the announcement by Instagram CEO Adam Mossier earlier this year that the company was considering offering subscriptions.
According to reports, a new "Instagram Subscriptions" category has been discovered in the "In-App Purchases" section of the Instagram App Store listing. However, keep in mind that the price listed here may not be the final price when the service is launched or made available for use. Instagram Subscriptions may cost users Rs 89 per month (in Indian Rupees).
The new subscription option is joined by introducing Instagram Badges, which users can purchase to express their appreciation to creators during live sessions.
About Instagram Subscriptions:
Instagram Subscriptions, similar to Twitter Blue, will provide fans with access to exclusive content. According to Sensor Tower, "Instagram Subscriptions" is a new in-app purchase added to the App Store on November 1 for $4.99. The $0.99 in-app purchase was added to the game a few days later, on November 3, after waiting a couple of days.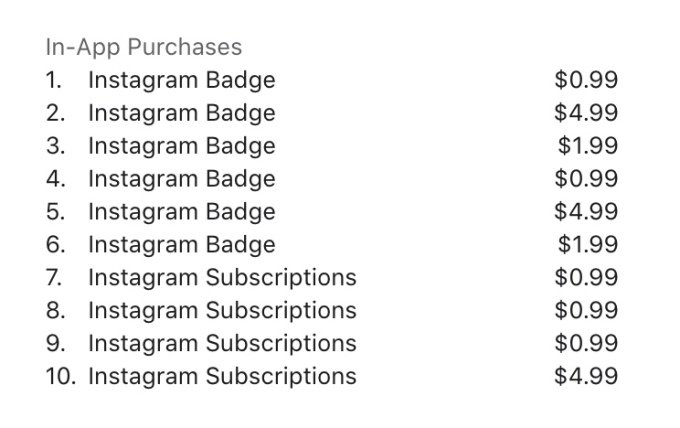 Reverse engineer/tipster Alessandro Paluzzi tweeted that Instagram is testing a subscribe button on a creator's profile, which would allow users to follow their content. This is in addition to other reports. Those who subscribe will have access to exclusive content, such as stories and live videos, as well as other benefits.
A special badge will appear beside your username if you send the creator a DM (direct message) or comment on their posts. The purpose of this badge is to elevate the importance of the creator's interactions. They will be able to keep track of their estimated earnings, as well as the number of active and expired members. For creators, the ability to create their subscription names and prices will be available. Furthermore, fans have the option to opt out of the program at any time.
This year, Instagram promised to investigate subscriptions for content creators and was later spotted developing a feature that would allow content creators to share exclusive Stories with their subscribers. Now, it appears that the company is ready to begin testing subscriptions for creators with a larger audience.
Both Sensor Tower and Apptopia monitor the mobile app ecosystem, which includes tracking chart movements, app engagement, and gathering app marketing intelligence data, to name a few features. There are other less obvious changes that apps tend to make, such as rewriting their App Store descriptions, swapping out the images they use, or adding new purchases to their App Store listings (such as this).
Twitter Blue 
At times, these changes can serve as a hint as to what's to come. For example, App Store observers were able to predict the arrival of Twitter's premium subscription service, Twitter Blue, by monitoring newly added in-app purchase options. "Instagram Subscriptions" in-app purchase options are likely a sign that Instagram's subscription-based creator platform will be rolled out more widely in the future.
A smaller group of creators usually tests new features before they are made available to the general public. The new in-app purchases indicate that Instagram Subscriptions may be coming to the US soon, but it's possible that you won't be able to access them right away.
Instagram has stated that it plans to add subscriptions and even non-financial incentives (NFI). When it comes to paying for exclusive content from their favorite artists, subscriptions are a way for fans.