Main Highlights:
The highly accretive combination is estimated to generate $1 billion in Adjusted EBITDA by the end of 2024, with annual EBITDA synergies of $300 million by year three.
IronSource is valued at about $4.4 billion in an all-stock deal, reflecting a 74% premium to the 30-day average exchange ratio.
The Unity Board of Directors adopts a $2.5 billion share repurchase programme to begin upon the transaction's completion.
The two largest Unity owners, Silver Lake and Sequoia, have pledged to investing $1 billion in Unity in the form of convertible notes to be issued upon the transaction's close.
ironSource confirms its second-quarter and full-year 2022 forecast, which it issued during its first-quarter earnings call. Unity expects second-quarter financial results to be somewhat better than the upper end of the guidance range announced during the company's first-quarter earnings call; Unity decreases full-year 2022 sales projection from $1,350 – $1,425 million to $1,300 – $1,350 million.
About ironSource
ironSource is a major App Economy business platform. IronSource's platform is used by app developers to turn their apps into successful, scalable businesses by leveraging a comprehensive set of software solutions that assist them in growing and engaging users, monetizing content, and analysing and optimising business performance to drive more overall growth. In addition, the ironSource platform enables telecom operators to provide a richer device experience by combining relevant app and service suggestions to engage consumers throughout the device's lifespan. IronSource enables clients to focus on what they do best, delivering excellent apps and user experiences, while facilitating business success in the App Economy by offering a comprehensive business platform for the App Economy's fundamental elements.
About Unity
Unity is the world's most popular platform for developing and deploying interactive, real-time 3D content. Our platform offers a complete set of software tools for developing, deploying, and monetizing interactive, real-time 2D and 3D content for mobile phones, tablets, PCs, consoles, and augmented and virtual reality devices. We assist customers of various sizes and stages of maturation, ranging from individual artists to huge corporations.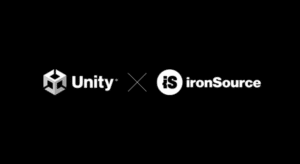 IronSource, a mobile monetisation platform, has decided to merge with Unity, one of the world's most popular game production platforms. IronSource will become a fully owned subsidiary of Unity following the all-stock transaction, which values the company at $4.4 billion.
The news has been confirmed by the firms. The all-stock transaction values ironSource at $4.4 billion. Silver Lake and Sequoia, the two largest Unity owners, will additionally invest $1 billion in Unity in the form of convertible notes when the transaction complete.
The firms expect the transaction to finalise in Q4 and to "create a run rate of $1 billion in Adjusted EBITDA by the end of 2024," according to Unity.
Expert in app monetization ironSource has just partnered with Unity Technologies, the platform used by game developers to produce real-time, interactive 3D content, to create a fully integrated, end-to-end platform for the Creator Economy.
By combining platforms, the two firms will be able to power the developer journey from creativity to business, as well as give technology for app creators to more successfully run and expand their games and applications.
Unity provides a cross-platform game engine as well as an integrated ad network for developers to commercialise their games. irounSource is an advertising network (though it calls itself a monetization platform).
They compete because they both generate money from the same audience, which is game creators. Consolidation in this industry isn't a new tendency in the post-App Tracking Transparency era, but what's striking here is that both of these firms went public lately, and their valuations have dropped dramatically subsequently. Despite the fact that income is increasing.
The merger would bring together two industry titans in interactive development and app monetization. However, both firms share something else: They are publicly listed, and their stocks have fallen in recent months, mirroring the bigger downturn in the technology industry. This is putting pressure on shareholders, on top of the corporations' larger plans to continue growing and diversifying as enterprises.
By joining forces, developers may have access to greater optimisation and monetisation, eventually driving better results for consumers across many domains, adding scale and data, and resulting in better outcomes for advertisers and increased income for publishers.
As a result of the merger, developers will have access to cross-channel marketing and production options via Luna, as well as unique app discovery prospects via Aura.
ironSource intends to incorporate Supersonic, its publishing system, inside its Unity game engine.
"Unity's industry-leading creation tools and deep penetration in the game industry will increase opportunities for our telco partners to leverage interactive gaming and 3D experiences on-device (iOS and Android), as well as enable us to build and deploy carrier-branded, on-device experiences to help telcos drive engagement in the services they care most about," wrote Tomer Bar-Zeev, CEO of ironSource."
However, the merger implies that producers will have access to real-world audience feedback and data to help them better their content and financial performance.
Preview of Financial Results and Guidance
IronSource reaffirms its second quarter and full-year 2022 expectations stated during its first quarter 2022 earnings call in conjunction with the acquisition announcement.
Unity management anticipates that its second-quarter financial results will be somewhat higher than the upper end of the forecast range offered during the company's first-quarter earnings call. Unity's Create business continues to perform well, while the company's data and technical initiatives in Operate are yielding better results. While Unity anticipates sustained excellent growth in Create and improvements in Operate, it is lowering its full-year revenue projection from $1,350 to $1,425 million to reflect our current assessment of macro trends, product launch, and competitive dynamics in our monetization business.