Introduction:
Josh app is a video-creation platform. The app enables you to create short videos on this platform ranging from cooking to entertainment to daily challenges, among other things. Based on all of your video clicks, taps, and likes, Josh creates a personalized feed that curates all of your preferences in one place. It also allows you to follow people, celebrities, and content creators in order to connect with them. It's also a fun way to go viral on the internet.
Pros of Josh app:
There is flexibility for making videos of any genre.

You can edit your videos on your own app.

You can access various gifs, stickers, and filters 
Cons of josh app:
Has only one display setting option for user interfaces.
What is Josh app?
Josh app is popular for its video creation feature, which allows users to edit and upload videos simultaneously. The video forms are enthralling, spontaneous, and authentic. It allows you to watch, interact with what you like, create your own version of the same, and find an endless stream of short videos.
You have the option of adding your own music or even adding a timer or filter to it. Without leaving the app, you can easily trim, cut, merge, and duplicate video clips using the integrated editing tools.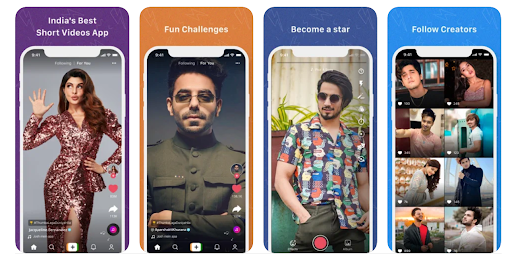 Features of the app :
Badges-

This is to recognize creators who consistently produce high-quality content by displaying a badge on their profile.
Social logins –

sign in with Facebook, Google, or Apple.
Double-tap feature –

allows you to double-tap on videos and comment to like them.
Features that unveil when you sign up:
You must follow the creators of your choice.

Create your own creative videos to assist other users in connecting with your content.

If you are not interested in creating videos, you can simply browse through videos of your choice.

You can like someone's post or comment by double-tapping on it.

You can choose between trendy dance videos and dialogues.
FAQ: 
Yes, it is available on both iOS and Android platforms. 
Yes, the app is free to use.
Is the payment secured for in-app purchases?
nil
What permissions do you need to allow for the app to function?
 The app requires permission to access contacts, identity, microphone, device and app's history, wifi connection, photo/media/files, camera, and storage 
 Why should you use the app?
You can interact with any content you want. It generates a personalized feed based on the type of content you are interested in. It can assist you in coming up with creative ideas for yourself.
User Reviews for the Josh app:
Download the app here:
Like our Josh App Review? Check out more Mobile App Reviews or Submit your own Mobile App Reviews.