What is Kraken App?
Kraken is a cryptocurrency exchange. It makes no attempt to provide savings accounts or loans. Users can leave assets on the site, but it encourages users to transfer them to an external cryptocurrency wallet. Kraken emphasises that it is an exchange, not a wallet service. I do, however, utilise its custodial wallet since it provides reasonable staking rates. Kraken offers a diverse choice of tokens for staking as well as competitive returns, making it a top staking platform.
It is a centralised exchange that may be accessed online or via a mobile app. As previously stated, qualifying individuals can utilise Kraken to obtain margin, stop orders, and crypto short sells. It also allows you to stake coins to earn interest if you keep the cash in your account undisturbed.
You'll need to give information such as your name, date of birth, and address to create a basic account. You must be over the age of 18 and reside in a supported location (anywhere in the U.S. apart from Washington and New York).
Highlights of the Kraken App
Sophisticated features like margin trading and staking.
Good customer service options.
Relatively low Bitcoin (BTC) withdrawal fees.
Wide range of educational material.
More than 120 coins supported
Simple user interface
High liquidity exchange
Security
Advanced trading features
Reasonable fees
Strong staking options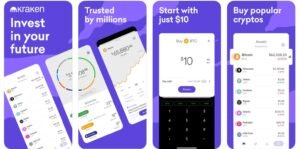 Kraken Key features
In addition to being one of the first cryptocurrency exchange platforms, Kraken has a lot to offer investors of all levels. Some of its top features include:
Cryptocurrencies have proven particularly vulnerable to hackers over the years, resulting in millions of dollars in lost coins. While the majority of hacked exchanges have repaid their clients for any lost value, you don't want to end up at a crypto exchange with poor cybersecurity, which might leave your coins vulnerable to theft.
Kraken is concerned about security, scoring first with a flawless score on the crypto exchange security review site CER. Notably, Kraken has not seen any big hacking incidents since the start of its trading activities in 2013. Even the worldwide industry leader Binance cannot make that claim. Having stated that, there have been user complaints about Kraken on internet forums regarding hijacked accounts.
Kraken not only claims safe currency storage, with 95% of deposits maintained offline in cold storage locations dispersed across the world, but also platform security. Its servers are housed in secure cages that are monitored around the clock by armed guards and video monitors. In addition to physical security measures, Kraken encrypts all of your sensitive contact information at the system and data levels and conducts vulnerability testing on its own system on a regular basis.
Ease of Use
Though Kraken's Instant Buy platform might make it a costly first step into crypto, there are no entrance restrictions if you're just starting started. You may be instantly validated in minutes. The highest category, Pro, might take many days since specific papers must be carefully evaluated.
After you've been authenticated, you may fill your account with fiat cash like US dollars and begin acquiring cryptocurrencies.
While the site accepts credit cards and debit accounts for account financing. Every cryptocurrency purchase made with a credit card incurs a 3.75% fee + $0.25. If you use the basic version of Kraken, a fixed charge of 1.5% or 0.9% (depending on the kind of cryptocurrency) will be added to your deal.
New investors may also be intimidated by Kraken's presumption of customer knowledge; while the site does provide good instructional content, you're essentially on your own when it comes to real investing.
While Kraken does function in the United States, it has some geographical limitations. Users in New York and Washington are unable to access the portal.
Advanced Investing Options
Several of Kraken's extra offers will appeal to more savvy investors.
Investors can use margin trading in addition to the coins that are available to everyone. This is a hazardous style of investing in which you borrow money to fund purchases using your previous investments as collateral. Margin allows you to realise exponentially higher returns, but it also exposes you to margin calls, which can result in enormous losses if prices fall abruptly. Margin trading is a less prevalent option on platforms available in the United States right now, as the federal government determines how to approach cryptocurrency. The maximum interest rate for margin loans is 0.2%.
You can stake (and unstack) certain coins in addition to margin trading. Ethereum (ETH), Cardano (ADA), and Solana (SOL) are just a few of the cons that you can stake.
Kraken also provides cryptocurrency futures trading.
There are various expenses associated with using Kraken's Instant Buy option, which may appeal to newbies who are unfamiliar with maker/taker models. While Instant Acquire does enable you to buy cryptocurrency rapidly, it does it at a far greater cost than the Kraken trading platform, and you'd be better served learning how to utilise the trading platform to reduce expenses.
The firm costs 0.9% for trading stablecoins and 1.5% for trading most other cryptocurrencies. Users will also be charged a 0.5% processing fee if they utilise internet banking to acquire their cryptocurrency. Other costs apply if you use a credit or debit card.
Fees are significantly reduced for consumers who use the higher-level version, Kraken Pro. For transactions of $50,000 or less, the platform's pro edition levies a 0.16% maker fee and a 0.26% take fee. The pricing tiers for Kraken Pro are shown in the table below.
Cryptocurrencies on Kraken
Kraken supports over 160 cryptocurrencies, including popular ones such as:
Bitcoin (BTC)
Ethereum (ETH)
Cardano (ADA)
Dogecoin (DOGE)
Litecoin (LTC)
Polkadot (DOT)
Polygon (MATIC)
Ripple (XRP)
Stellar Lumens (XLM)
Solana (SOL)
Sushi (SUSHI)
Uniswap (UNI)
Kraken App Reviews

Why should you install Kraken App?
Kraken's price and features make it a suitable choice for new cryptocurrency traders and investors, from beginners to experts. Its cheap Kraken Pro fees, strong staking rates, and futures markets are all appealing. However, some users claim major account security difficulties, and the site is not the easiest to use when compared to rivals.
Overall, Kraken is a solid cryptocurrency trading and investing platform. Ascertain that you are aware of all expenses and hazards, and take measures to safeguard your account using two-factor authentication. If you do, you should have a good time buying and trading bitcoin Kraken.
Frequently Asked Questions
Is Kraken a U.S. Company?
Yes, Kraken is based in San Francisco, California and is available in 48 U.S. states.
Does Kraken have a crypto rewards card?
No, and, as of yet, no upcoming cards have been announced.
What fees does Kraken charge on margin trades?
Margin traders are charged an opening fee of 0.02% and a rollover fee of 0.02% per four hours.
Does Kraken have Shiba Inu?
Yes, Kraken began supporting Shiba Inu deposits on November 29, 2021, and trading went live the next day.
Download the Kraken App