What is the Life360 App?
Life360 is a platform for today's busy families, bringing them closer together by helping them better sync, communicate with, and protect the people they care about most. Their mobile app provides millions of families in over 140 countries with services such as private location sharing, location history, drive details, crash detection, roadside assistance and help alerts through our free and paid membership subscription.
It has raised +$100M in Bessemer Venture Partners, DCM, Fontinalis Partners, BMW iVentures, Allstate, Bullpen Capital, Founders Fund (FF Angel), Launch Capital, Kapor Capital, and 500 startups. Founded in 2008, it is based in San Francisco with offices in San Diego, Las Vegas, and Ft. Lauderdale.
The app is both a web and mobile application and was referred to as a "family-oriented private social network" by Bloomberg Businessweek. The app is a social network for families and differentiates itself in this way as it is not based around peer groups or professional networks such as Find My Friends and LinkedIn. It allows users to share locations, group messages, and call for roadside assistance. It has four main features: location sharing, circles, places, and premium.
Main Highlights
SOS to send a silent alert with your location to family members, emergency contacts, and responders.

24/7 Emergency dispatch that's always on call for your entire family. Even if users can't call for help, it will.

Family Safety Assist for comprehensive real-time specialist support anytime, anywhere, and in any situation.

Identity Theft Protection to safeguard each family member's sensitive digital information and white-glove restoration service, including up to $1M in coverage.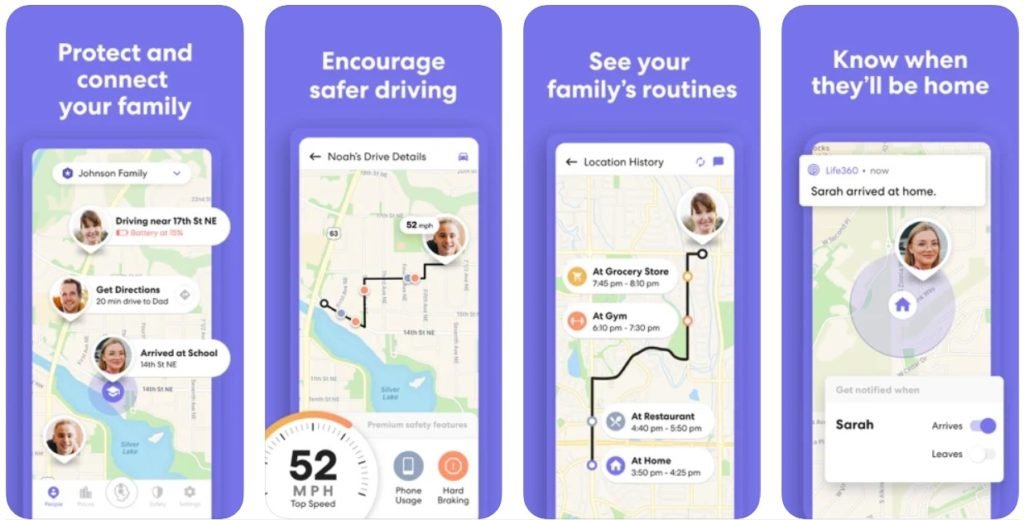 Features Of The App
The main feature of the app is location sharing. Users can open the app and see where other members are instant. Users can choose to share or not their location with any particular circle at any particular time

Circles is the app's newest feature, released on September 3, 2013. Circles allow users to create separate groups within the app, e.g. "caregivers," "extended family," and "John's baseball team."

It allows users to create geofences that alert them when another enters or leaves another location.

It operates as a freemium app, and users can pay for extra features. These extra features include stolen phone insurance, access to a live advisor 24/7, unlimited creation of "Places," and emergency roadside assistance.
Why Choose The App?
Life360 is a location-sharing app aimed at families. It is apparently ruining the lives of teenagers all across the United States. The service allows parents to track their kids' whereabouts in real-time, among other features.
Life360 is one of the many digital monitoring tools now used by millions of parents in the United States. The app functions like an enhanced version of Apple's "Find My" feature that lets you share your location with friends or family or what the company calls "your Circle."
 In addition to location sharing, Life360 lets family members see how fast people in their circle are driving, how much battery their cell phones have, and more. The service is free to download and use, although users can pay for additional features. According to the San Francisco-based company, Life360 had over 18 million monthly active users at the end of 2018.
Top Reviews

Frequently Asked Question About The App
How do I contact customer care?
Life360 members can contact customer care support in a few ways. For support in the app:
Tap on the 'Settings' icon

Tap on 'Support'  (

Some users on older version may see 'FAQs' instead of 'Support'

)

Look through the FAQs or type your question in the search box

If the FAQs are not helpful, tap on the 'Contact' icon at the top right corner and send us a detailed message including account info for all members needing help.




The 'Contact' icon will appear after you have looked at at least one FAQ.

When customer care sends a reply to your question the reply will be visible in-app by tapping on the 'Contact' icon at the top right. You will also get an email reply.
What phones will run the app?
The Life360 app will work on iPhone and Android phones. So, if you have an iPhone and your family member has an Android phone, you can use Life360 together! Life360 does not support iPads, other tablet devices, or smartwatches. Because of this, the app may not work at all, or not perform as it does on an iPhone or Android phone.
Yes! Our basic service is 100% free of charge to download and use. We also offer three paid memberships: Life360 Silver, Gold, and Platinum that give you more of the features and benefits you love. For users outside of the U.S., we offer Life360 Premium with additional features.
Download the Life360 App
Like our Life360 App review? Check out more Mobile App Reviews or Submit your own Mobile App Reviews.