What is MangaToon App?
MangaToon app lets you read comics, manhua, manhwa & manga. All the comics are colorful. Different comics in Action, Romance, Boys' love, Comedy, Horror and more, are updated daily. The comics are updated daily. You can read dozens of HD comics such as romance, action comics, BL manga, etc. All the comics are updated regularly. Some comics are even updated every day. That means 7 chapters a week. Some Korean comics can be read on Manga toon now.
MangaToon was developed and managed by a very talented team of MangaToon and the app is updated very frequently. This app is breaking records with millions of downloads by the users. The app does not hinder any other applications running on your phone. It uses a secure, enterprise-grade environment. It ensures that your data is safe and nothing is shared with any other application.
Main Highlights:
Comics updated daily

Subscribe to follow every update closely

Optimized scrolling for uninterrupted reading

There are novels as well in the app

Features of the App
New comics are added every week in the app. You can subscribe to your favorite comics and you will never miss an update. Most comics are free and MangaToon also provides pay-per-view comics.

You can download your favorite comics and read them offline. You can scroll smoothly for an uninterrupted reading experience. Along with that, the comics are available in many languages like English, Vietnamese, Spanish, etc.

The app also lets you write your own stories and share them with millions of readers. The app team members then choose the most popular novels to be converted into comics. You can even create and read engaging chat stories on your phones, get more fans.
App Reviews on the App Store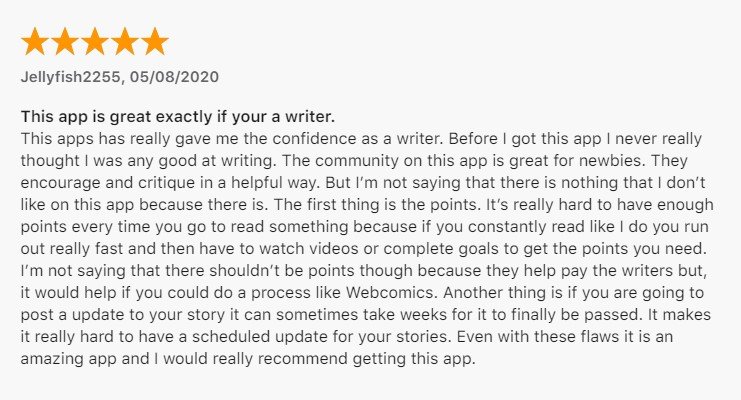 Frequently Asked Questions 
Is the app completely free?
No, the app is not completely free on the App Store.
Yes, the app is secure as it doesn't store any personal information and it asks for very few permissions.
What permissions does the application require?
The app needs basic permissions like Storage, Location, and Photos/Media/Files.
Which android version does it require?
The application is compatible with android version 5.0 and above.
Does the app have a dark mode?
The app does have a dark mode.
Download the MangaToon App
Like our MangaToon App review? Check out more Mobile App Reviews or Submit your own Mobile App Reviews.