What is OkCupid App?
While OkCupid was once the most popular dating site, a slew of new dating applications has crowded the market, forcing it to become lost in the shuffle.
OkCupid is a 2004 online dating website and app (available on iOS and Android) that is now owned by the Match Group (owners of Tinder, Hinge, etc.). It was bought for $50 million in cash by IAC (Match's parent company) in 2011.
However, OkCupid remains popular, owing in part to its 2018 revamp, which gave the 20-year-old dating service a new look and feel. They modified their tagline to "Dating Deserves Better" and blazed the way for the rest of the country with their bright, tongue-in-cheek advertisements that brilliantly play on the DTF acronym.
Historically, the site was regarded as a playground for people seeking casual dating and hookups. However, after some rebranding, the site is now seeking to target singles searching for something a little more serious as well. OkCupid offers four relationship goal options: New Friends, Short Term, Long Term, and Hookups.
Highlights of the OkCupid App
Uses a mutual-like system that matches users based on dating preferences and personality traits
Offers promo discounts and coupons from time to time
There are reports of fake profiles despite the site's efforts to filter them
OkCupid has 20+ sexual orientations and 12 gender identities to choose from
OkCupid is now available in 9 languages
Popular with singles in their 30s and 40s
Offers general free services and options to upgrade
You can use OkCupid for free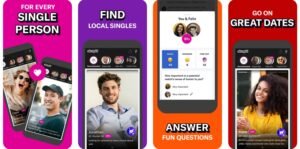 OkCupid Key features
When you join OkCupid, you'll be asked to complete a 15-question matching questionnaire, which is used to calculate a matching percentage with other members. The questions are pretty random, but we can see how some of them can be useful in pairing people together.
You will always be able to access all photographs from all users, regardless of your OkCupid membership level. In comparison to the rest of the online dating business, this should be considered a plus, as many services limit you to only seeing the primary photo or no photographs at all.
OkCupid uses a mutual match method, which means you will only hear from people who also claim they like you. That is, in order to send messages, you must first like other users. The amount of likes you may send out with a free account is restricted. However, with premium accounts (Basic and Premium), you may send as many likes as you want, which should assist to boost your chances of matching. It does, however, enhance the likelihood that some individuals would simply click like on everyone and only look at profiles if they have a match.
OKCupid's deal breakers feature allows you to specify items that are "hard no's" for you in a match. If you don't want to view matches that smoke, for example, you'll need to upgrade to acquire this option.
On OkCupid, there is a button under each photo that allows you to write a brief comment to someone about their photo or a piece of their profile. The goal of this feature is to provide you with more options to start interaction aside from swiping. On the one hand, we enjoy it since swiping seems constrained.
Premium users have access to the visible likes function, which allows you to view who has liked your profile before liking theirs. Without this function, you can only tell whether someone likes you if you also like your profile. As a result of this feature, you can receive a heads-up on who is interested in you, which may allow you to change your focus to individuals who are more inclined to connect with you.
The Super Like is a blatant rip-off of Tinder (it's alright, they're owned by the same business). This is a method of liking another member while pushing it to the top of their list.
OkCupid App Reviews

Why should you install OkCupid App?
At first sight, it's not clear what distinguishes OkCupid from other dating apps, but OkCupid, like other applications, has its own gimmick. In an age where Tinder makes swiping simple and Bumble gives women complete control, it's tempting to dismiss OkCupid as a generic afterthought. It's not until you finish the signup process that you discover it collects enough information about you to offer smart match suggestions, saving you the time you'd otherwise spend looking through hundreds of profiles. You may also utilise the majority of its features for free.
Frequently Asked Questions
Double Take is OkCupid's matching feature that shows possible matches in a roulette style.
Boost is an add-on feature which highlights your profile on OkCupid for a specified time frame.
Where do I see my matches?
You can see your matches on the Likes and Messages tab.
How do I see who messaged me on OkCupid?
You can see who messaged you on OkCupid's Double Take. OkCupid puts the sign "They messaged you" on the match suggestion's entry.
Can I unmatch an OkCupid member?
Yes, you can do this by clicking the three dots found at the top of the user's profile.
What security features does OkCupid have?
OkCupid has published privacy policies and terms of usage on its website. Block and report buttons are also easily accessible on every member's profile.
How can I block and report a suspected scammer?
You can block and report a user by clicking the three dots on top of the message bar, or by clicking the 'block' button found on his or her profile.
Do your OkCupid profile pictures and/or profile information show up in Google Search Results?
No, your OkCupid photos and personal information won't show up in Google Search Results.
Do I have to link my account to Facebook?
No. OkCupid can be linked to social media sites like Facebook and Instagram, but it is not required.
Download the OkCupid App
Like our OkCupid app review? Check out more Mobile App Reviews or Submit your own Mobile App Reviews.