Main Highlights:
A new emergency SOS system this year uses satellite communication.
The system is powered by Qualcomm's Snapdragon X65 processor.
Interactive lock screens are normally confined to a fast check of alerts, time, reminders, calendar appointments, and note taking, Apple is expanding the lock screen's personalization and versatility.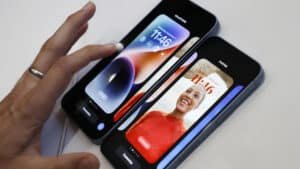 iPhone 14- The New Model
The most recent iPhone 14 series shows the majority of the hardware specs. Apple usually follows the "marketing" protocol. It never reveals technical elements of its hardware, such as RAM size or battery capacity. It generally states something like, "The new iPhone is speedier" or "The battery will last all day." Apple revealed a new emergency SOS system this year that uses satellite communication.
As a result, even when there is no cellular network, you may still send emergency texts. Of course, Apple did not go into depth about the technology behind this system. However, iFixit has made these hardware specifications public.
"iPhone 14 contains bespoke radio frequency components and new software design solely by Apple," according to Apple.
Together, they allow Satellite Emergency SOS on the latest iPhone 14 models." The hardware is being investigated by iFixit. It should be noted that the thorough breakdown is still happening. So there are still some elements missing from this initial check. However, we can already have a fair idea of the magic that lies beneath this system.
Surprisingly, the system is powered by Qualcomm's Snapdragon X65 processor. This appears to be owing to the modem's capability for band n53. Since 2020, the band has been approved by 3GPP. The application is solely for satellite-based IoT services. On the modem, Globalstar supports that band. For those who are unaware, Apple possesses up to 85% of the available bandwidth on Globalstar. All of that bandwidth will be used to support the new emergency response system.
It should be noted that the capability is still unavailable on the iPhone 14 series. Apple has revealed it, but it will only be available via a future software update. That is normal practice for several businesses nowadays. The emergency SOS function, according to Cupertino, will be live in November of this year. At first, there will be a beta test in the United States and Canada. It is, however, not limited to North American owners. The coverage area appears to be above 62o latitude. This encompasses sections of northern Canada and Alaska. In these situations, the function is really valuable.
The emergency SOS satellite system is a pleasant surprise on all iPhone 14 versions. After all, Apple will take a new path in 2022.
Only the Pro models receive substantial hardware changes. The iPhone 14 and 14 Plus are essentially updated versions of the iPhone 13. The iPhone 14 Pro and Pro Max are the most expensive models in the series. The new design with Island Notch and the Apple A16 is distinctive to this range. The higher versions also received camera enhancements, however, these appear to be causing some issues for customers.
When iPhone 14 owners are not using their latest Apple gadget, the screen is far from sleeping. It'll stay illuminated with clearly displayed widgets like alarms, calendar appointments, and sports scores flitting with real-time changes, and it'll be available whenever you glance down or, inevitably, pick it up again.
Apple's new flagship range, which goes on sale in shops on Friday, includes the most significant update to the lock screen in years — valuable real estate that had previously been a wasteland of alarms. It's not a novel idea; Android has long supported always-on displays, but this is a first for Apple. Not only is it a means to keep customers more linked to their gadgets in a more passive manner, but the idea of finding something new to do with old space comes as cash-strapped consumers look for a reason to trade in or acquire devices that do not have substantial hardware improvements.
"This was like an empty garage that was now completely occupied," Wedbush Securities analyst Dan Ives said. "It will undoubtedly increase the amount of time spent on the phone. We think it's a brilliant strategic move."
While interactive lock screens are normally confined to a fast check of alerts, time, reminders, calendar appointments, and note taking, Apple is expanding the lock screen's personalization and versatility. It will also display information such as the status of a takeaway order and the arrival of an Uber at your house, which was previously only available within applications. (Those who find it too confusing can turn off all widgets.)
The new lock screen also allows you to showcase photographs, choose custom font styles and colours, and relocate notifications to the bottom of the screen.
"Apple isn't always first, and they may appear to be falling behind the curve more and more, but when they bring something to market, it tends to be really well executed," said Michael Inouye, chief analyst at ABI Research.
Inouye, on the other hand, feels that an always-on display might cut the amount of time spent on the device, allowing users to accomplish more without having to navigate through programmes and maximise multitasking. "When it's just a brief message on the lock screen that isn't interactive, it prevents such unplanned diversions from our main job," he explained.
Whether the lock screen saves time or drags a user further into a time suck depends on the user.
According to Apple, what a user interacts with on their lock screen has no bearing on their Screen Time, the iPhone's internal tracker that tracks a user's involvement throughout the week.
Apple's new lock screen joins a slew of other headline-grabbing upgrades coming to the iPhone 14 series, including the Dynamic Island, a pill-shaped section at the top of the screen that replaces the much-maligned notch. When calls are received, music is played, or other functions are used, it enlarges and contracts.
But, like with the lock screen, Apple is attempting to make the most of tiny places that have mostly gone unnoticed for years.
"These are all things that firms are doing to demonstrate advances at a time when it's getting increasingly difficult to do so from the hardware side," Inouye explained. "Even when hardware breakthroughs are made, most customers will not notice the differences in their typical day-to-day usage. However, these modifications are evident."