What is Parler app? 
Social media, as the name suggests was intended to share one's opinion and viewpoint. But nowadays, social media giants have imposed stringent terms and policies that people now have to think twice before sharing their views.
This policy is relatively good, but it has its drawbacks. Social Media is gradually losing its true meaning and intention due to these moderations.
Parler is an unbiased social media platform where people can express their viewpoints freely. It does not discriminate between any ideology and maintains that social media is going on as it was meant to be.
Here people can share their wisdom or follow other people to see and view their ideologies, and praise or criticize them.
Pros of Parler App:
Unbiased social media.

Support or criticize any viewpoint.

Write and post parleys (similar to tweets) up to 1000 characters.

Crowdsource content
Cons of Parler app:
The app is subject to controversies.

People may find information that is unpleasant to them.
Overview of Parler App
Parler is the only social media platform that is retaining its true meaning. It is a platform to share views, perspectives, and wisdom about any topic or in any conversation. Post your parleys and let the world know what you think. Create a poll and see what other people think, or vote on other people's polls to let them know what you think. It is the number one place to engage in sharing opinions without having to worry about restriction and moderation policies.
Parler is dedicated to freedom of expression, civil discourse, and user privacy. Its interface provides all the activities in an ordered way, unlike other social media where your feed and what you will see on your feed are chosen by an algorithm. It is a powerful place to discuss, debate, and learn new things and get more knowledge. it is fully unbiased and therefore you can without any doubt tell the world what you need them to know.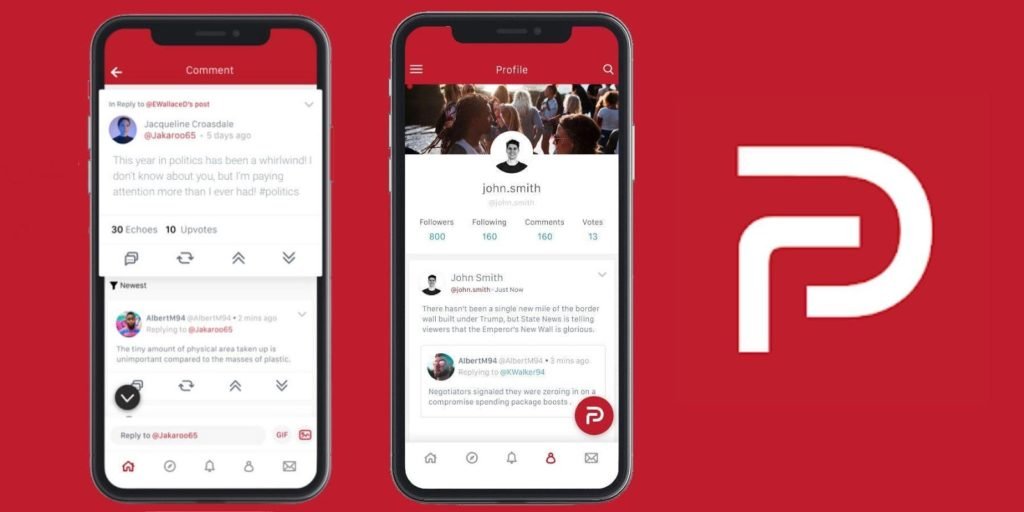 Features of the app:
Light restrictions

: Express anything without any fear of suppression.

Discussion & Debates

:

Interact with other people to know and discuss your views or debate about what is right.

Engage

: Engage with other people and support or criticize their opinion. Also, collaborate with them and stream together.

Discover

: find new personalities and follow them to get regular updates.

Categories

: Find new updates related to any category, whether be it music, politics, pop culture, literature, or any other.

Post

: share what you think by posting parleys.

Features that unveil when you sign up: 
News about any topic.

Different ideologies and perspectives.

Share your ideas and beliefs.

Appraise or deny other opinions.

Post without any fear of restraint.

Frequently Asked Questions 
Parler App is available on whic platform?
Parler App for Android & Parler App for iPhone.
Is the Parler app free to use?
Yes, the app is free to use. 
Is the payment secured for in-app purchases?
There are no in-app purchases.
Is the Parler app safe to use?
It is developed by an established developer and it is safe to use.
Is the Parler app free to use?
Yes, the app is free to use. 
Is the payment secured for in-app purchases?
There are no in-app purchases.
Which permissions are required to use the app?
The app requires the following permissions: 
Media Files

Storage

Wifi

Camera
Why should you use the app?
Social media censorship has become a very common thing nowadays. Any person that has even a significant amount of influence has to analyze his social media presence thoroughly so that he or she doesn't offend any people or any communities' faith and belief. The app is just the place where there is no strong imposition of any type of censorship so that social media, which was intended for sharing and expressing opinions doesn't hinder away from its true meaning. The app is best for anyone who wants to feel the true meaning of social media.
Parler App Reviews: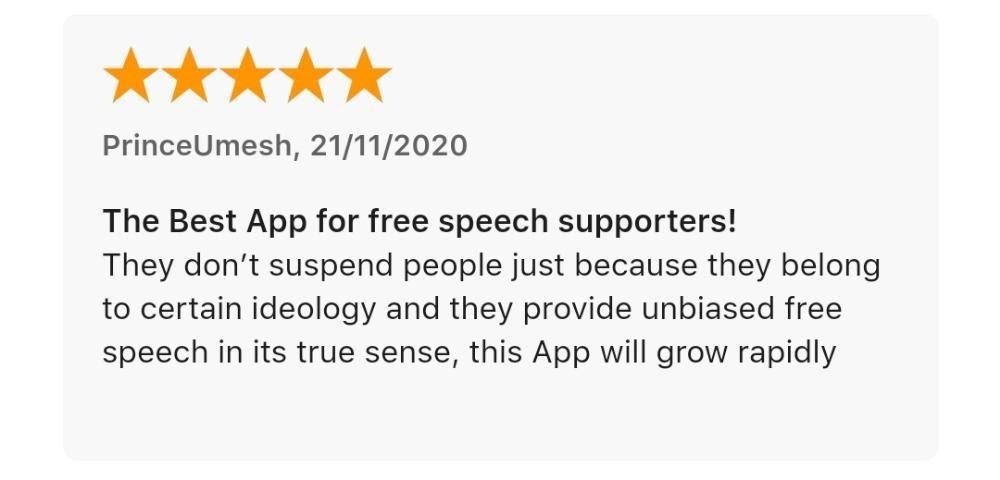 Download Parler App:
Like our Parler App Review? Check out more Mobile App Reviews or Submit your own Mobile App Reviews.