Introduction: 
Plato app is an amazing social app to play games with friends. Today, integrated social platforms are abundant, irrespective of the platform. The social features on many PC, console, and mobile games encourage players to bring together their friends and family on the title. On these platforms, they can now compete against each other.
Plato is a texting app that integrates enough games to keep you hooked for a lifetime. Along with texting, it enables you to game with your friends from within the chat window and offers a large number of titles to choose from. The app also lets you play games in groups with your friends. 
Pros of Plato App: 
It has a simple and ad-free interface.

The games have built-in messaging abilities.

You can now game in groups of up to 100 people.

Select from over 45 games with never-ending fun.
Cons of Plato app:
The app has limited multi-player capabilities.
In-app purchases are required for upgrades.
What is Plato app? 
Plato app is an all-in-one chat app that lets you play a number of games within the same app. Along with chatting with people, you can make new friends. It launched back in 2014 but got all the success it deserved during the lockdown period. The app is no doubt the best place to chat & play multiplayer games with anyone from around the world. It is rated for teens, so all the kids can also use this one. However, parental supervision is advised. 
This app is available in 24 languages and has no annoying ads. The best part is that you don't need to sign-up with any email, mobile number, or Facebook account to get access to the app. Hence, there is no privacy concern. Although the app is available for free, there are in-app purchases to access advanced levels within the games. 
The app has over 40+ group games on the same app. Thus, it cuts down the hassle to keep installing new games for fun. The list of multiplayer games include Table Soccer, Pool, Ocho, Mini Golf, Bankroll, 4 in a Row, Hold'em Poker, Minesweepers, Go Fish, Zombie!, Draw Together, Dots & Boxes, Ludo, Literati, Chess, Big Two, Gin Rummy, Dice Party, Dominoes, Rock Card, Checkers, Spades, Backgammon, Go, Hearts, and many more. 
Many new and trendy games keep getting added to this list with the latest updates. All these games are multiplayer games and you can easily create groups of up to 100 people. They can be your friends, family, or strangers and you can play with them with real-time chatting.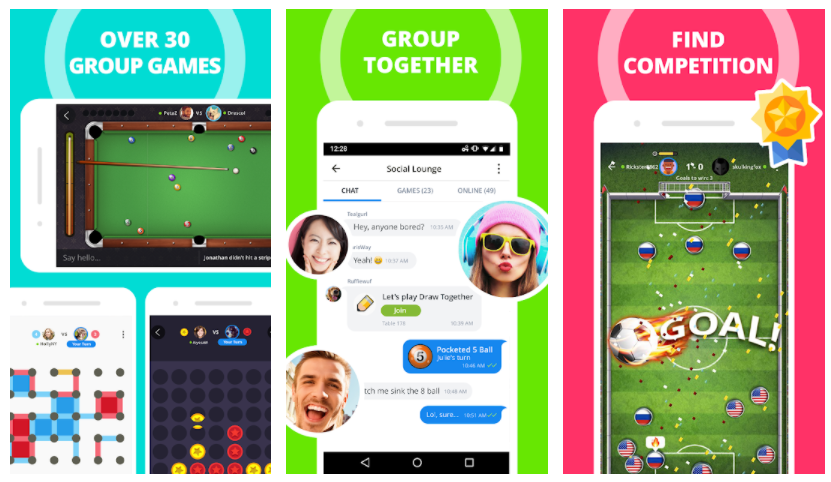 Features of the app:
Over 45 Group Games:

Plato has over 45 multiplayer games. These include Ocho, Pool, Table Soccer, Werewolf, Ludo, Bowling, Mini Golf, Darts, Hold'em Poker, 4 in a Row, Skeeball, Match Monsters, Plox, Chess, Backgammon, Checkers, Basketball, Archery, Cup Pong, Draw Together, Dice Party, Dominoes, Gin Rummy, Sea Battle, Go Fish, Dots & Boxes, Bingo, Minesweepers, Reversi, Literati, Go and many more.

Developers are adding new games all the time.

No Ads & the app is private by design.

Get Together in Groups:

Plato makes it easy to gather a group of up to 100 friends to play and chat together. You'll never miss a message with real-time notifications either.

Find Competition:

Get paired up with another real person using the matchmaking system or join one of many weekly tournaments. If you're good enough, you can climb the leaderboards while you level up in your favorite games or earn Coins to spend in the Shop.

Make Friends:

Tens of thousands of people are online right now and Plato makes it easy to find new friends through any of our dozens of public chat rooms. Breaking the ice is easy with friendly games.
Features that unveil when you sign up: 
Users can purchase coins for their profiles. 

Plato VIP can be unlocked via in-app purchases.

Unlimited levels can be unlocked in certain games.
Frequently Asked Questions:
Which OS supports the app?
Both Android and iOS platforms support the app.
Yes, the app is free to use. It also has some in-app purchases.
Is the payment secured for in-app purchases?
Yes, the in-app purchase payment method is secured. 
Which permissions are required to use the app? 
It requires the following permissions:
Wi-Fi connection information
Other:
Send & receive data from the Internet

Control vibration

View network connections

Get full network access

Prevent device from sleeping

Run at startup
Why should you use the app? 
The app has a large game selection and multiplayer abilities. The 'freemium' app is also ad-free even if you don't pay for extra features. This makes the experience much more cleaner and enjoyable. Also, it is available on both Android and iOS.
User Reviews: 
Download the app here:
Like our Plato App Review? Check out more Mobile App Reviews or Submit your own Mobile App Reviews.