Main Highlight:
Talkie.ai is now concentrating on the healthcare market. According to the business, the necessity for 24-hour availability of medical registration or multilingual telephone-based patient assistance has a high potential for automation using Talkie.ai's speech AI solutions.

The company also provides automation services to improve other typical hospital and clinic activities.

Talkie.ai will also use the cash to expand its workforce and create off-the-shelf services adapted to the demands of different sectors.
Talkie is an all-in-one solution for conversational AI. Without writing a single line of code, you can create sophisticated virtual agents. Quick to put into action. Scales according to demand.
Talkie.ai has announced a fresh funding round of around €2.5 million from a Polish-Austrian venture capital group. 4growth VC, NIF ASI, Satus Starter, FundingBox, Gateway Ventures, and Movens VC are among them.
Among the shareholders is the LT Capital fund, which made a previous investment in the firm.
Working in the healthcare industry has numerous problems, but customer service does not have to be one of them. Polish company Talkie.ai has built an AI-based platform and is ramping up research and expansion with the goal of creating completely automated customer support solutions that streamline and simplify telephone hotlines.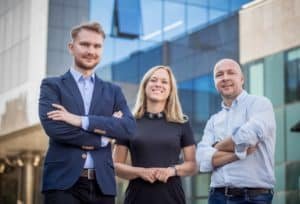 About
Talkie.ai – Automating customer service solutions
Talkie.ai is growing in a small but crucial market, creating completely automated customer support solutions for businesses where the primary point of contact is a phone number – especially in the healthcare industry.
The healthcare industry confronts several problems, and delivering exceptional customer service is an extra burden. The expanding and seasonally fluctuating amount of patient contacts, the requirement for 24/7 availability of medical registration, and the need to provide multilingual telephone-based patient assistance are all difficulties that might benefit from a touch of automation and digitisation.
Talkie.ai, which was founded in 2018, aims to do just that.
The Polish business also provides automation services for streamlining other typical hospital and clinic activities, such as allowing callers to self-book and manage appointments, buy medications, and give price and availability information, or basic medical triage. It can also interact with patient appointment management systems and a number of the market's top contact centre system suppliers.
"The solutions given by Talkie.ai adapt to current economic trends: growing labour costs and automation of corporate operations," said Krzysztof Bachta, managing partner of the 4growth VC fund. As a result, there is an increasing need for conversational bots powered by artificial intelligence. The expertise of the founding team and the completed product persuaded us to invest.
The Talkie.ai solution astounds us with its ease of use, speed of deployment, and overall quality – considerably greater than solutions I've seen in other firms."
Talkie.ai has focused its service on the healthcare industry, providing a valuable and beneficial answer to an overloaded staff. It also means that the company was able to construct voicebots with over 90% accuracy in recognising caller intent after only 10 data samples. Using voice cloning technology helps the voicebots sound more realistic, which improves the customer experience even more.
The solution is particularly notable for its quick implementation timelines, which can range from one day for simple business processes to just under several weeks for more complicated implementations. The voicebots are configured and operated via an administration panel, which provides the user with complete autonomy and control over their functioning.
Furthermore, using one of Talkie.ai's standard, industry-specific solutions eliminates the need for a single line of code to be developed. There is also the option to fully tailor the product to an organization's exact needs, making the offering one-of-a-kind.
Krzysztof Szubert, CEO of NCBR Investment Fund, commented: "New technologies, Artificial Intelligence – based, are an opportunity and a developmental necessity for the health care system. Civilizational health challenges require the introduction of new digital solutions, optimization of operations and practical applications of Artificial Intelligence. The Polish startup Talkie.ai is responding to such demands, boldly entering the next stage of growth and thinking about further expansion into the US market. NIF is making an investment in the company together with its partners, recognizing its huge market potential."
What's Next
Conversational Artificial Intelligence is a relatively young sector that is expected to be valued around €16 billion by 2024. The healthcare industry is embracing virtual assistants as the most effective approach to optimise customer relationships. According to Talkie.ai, the market for virtual assistants in healthcare will be valued more than €2.6 billion by 2027.
Talkie.ai is already available in the United States, the United Kingdom, and Poland. This fresh cash injection will be used to further specialise and personalise the technology, as well as to accelerate expansion in the United States. Talkie's next phase of operations is focused on providing specialised off-the-shelf solutions to the healthcare industry.
Pawel Lipinski, CEO and Co-Founder: "We intend to use the financing we raised to further develop our healthcare offering and expand overseas, primarily in the US, from where we already derive more than a third of our revenue. Given the scale of the healthcare market in the US, we see the greatest growth potential there. We also anticipate further expansion of our team, as well as the introduction of off-the-shelf offerings for other industries, tailored to their specific needs."