What is Quik App?
Quik app is an editing app. With this app, you can create awesome videos with just a few taps. Choose your favorite photos and video clips then let Quik work its magic. In seconds, it finds great moments, adds beautiful transitions and effects, and syncs everything to the beat of the music. Furthermore, the app lets you customize your story with text, music and easily share it with friends directly or using social media.
Quik was developed and managed by a very talented team of GoPro and the app is updated very frequently. This app is breaking records with millions of downloads by the users. The app does not hinder any other applications running on your phone. It uses a secure, enterprise-grade environment. It ensures that your data is safe and nothing is shared with any other application.
Main Highlights:
Choose from 23 themes, each with transitions and graphics designed for any occasion

Adjust the font, filters, and graphics to fit your style

Easily reorder, trim and rotate photos and video clips

Personalize your story with text overlays and title slide

Features of the Quik App
The app lets you add up to 75 photos and video clips from your Gallery, Albums, Google Photos, Dropbox, GoPro Cloud, or GoPro Quik Key. The app also lets you work with Motion Photos. You can save and share easily as well.

Moreover, you can choose from more than 100 free songs or use a song from your own collection. Quik supports MP3, M4A, MP4, MOV, etc. You can start your soundtrack at any point in the song and the app automatically syncs transitions to the beat of the music.

Furthermore, the app lets you save videos in gorgeous HD 1080p or 720p—even in buttery-smooth 60 fps. You can share to Instagram, Facebook, and more, or send a private Quik link via text or email.
Why Quik App?
Quik app is a video editor that lets you edit your photos, music, clips, and videos easily using the tools in the app. The app is also compatible with motion pictures. It provides a simple clean interface and visuals and makes it easier for the users to work with. It is secured and safe for everyone to use.
Quik App Reviews on the App Store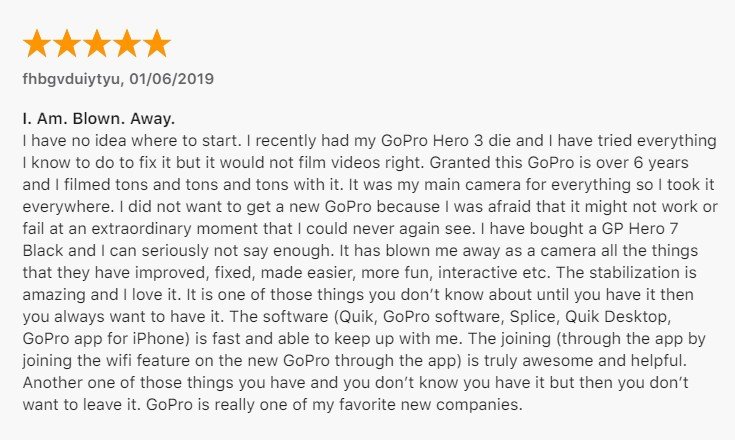 Frequently Asked Questions About Quik App
Is the app completely free?
No, the app is not completely free on the App Store.
Yes, the app is secure as it doesn't store any personal information and it asks for very few permissions.
What permissions does the application require?
The app needs basic permissions like Storage, Location, and Photos/Media/Files.
Which android version does it require?
The application is compatible with android version 5.0 and above.
Does the app have a dark mode?
The app does have a dark mode.
Download the Quik App
Like our Quik App review? Check out more Mobile App Reviews or Submit your own Mobile App Reviews.