Introduction: 
Sweat app is a personal fitness and training app for women. It encourages and helps women to work out at home or the gym with the largest fitness community in the world. It provides workouts, nutrition guides, a progress tracker, an activity planner, and much more all inside the app. Apart from fitness and exercises, the app contains hundreds of nutritious recipes for different preferences like a vegan diet or a vegetarian diet. Coming from different professional fitness trainers, it contains different programs for different needs.
Pros of Sweat App: 
Appealing and motivating user interface.

Personalized exercises.

Schedule planner.

Activity tracker.

Nutritious food recipes and other education.

Challenges and events.
Cons of Sweat app:
Some workouts may require fitness equipment.

Somewhat buggy to cancel trials and subscriptions.
What is the Sweat app? 
Sweat is a global community of women focusing on their fitness and nutritious needs. It offers a customized fitness plan, real-time workout sessions, instructional videos for exercises, customized nutrition plans, recipes, and the world's largest fitness community. The app is created by Kayla Itsines, an Australian health and fitness influencer. It features programs of many other professional trainers, who along with their designs and styles give you the right workout plan that is best for you.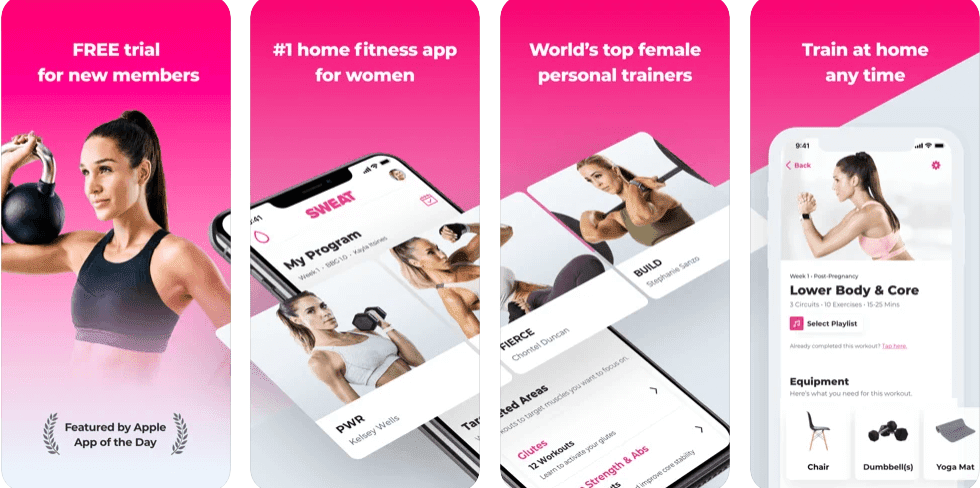 Features of the Sweat app:
World-class trainers: including

Kayla Itsines, Sjana Earp, Kelsey Wells, and many more.

Personalized programs: choose the plan that is right for you.

Challenging exercises: containing resistance, cool down, and rehabilitation modes.

Home Exercises: Yoga, stretching, and indoor workouts.

Events and Challenges: participate in ongoing challenges and achieve more.

Menus and Recipes: all with different dietary preferences and nutritional needs.
Features that unveil when you sign up: 
Access to all courses and programs.

Tracking and fitness reviewing tools.

Personalized weekly schedules.

Tips and motivation from other users.

Educational and digital well-being contents.
Frequently Asked Questions:
Which OS supports the app?
Both iOS and Android platforms are compatible.
No, the app requires a monthly or yearly subscription.
Is the payment secured for in-app purchases?
Yes, the in-app purchase payment method is secured. 
Which permissions are required to use the app?

 
The app requires permission to access media files, Wi-Fi connection, storage, and location on your device.
Why should you use the app?
The fitness app is best for women who are trying to get on with different workouts and dietary needs. A peculiar style or program doesn't suit well to everyone, and that's why the Sweat app is best because it has different courses for different personalities. With various tools to analyze your training and schedule your plans, you can achieve more with it and use your time more efficiently.
User Reviews: 
Download the app here:
Like our Sweat App Review? Check out more Mobile App Reviews or Submit your own Mobile App Reviews.