What is TextMe App?
TextMe app was created in March 2011 with a vision to offer rich mobile communication (text, calls, and mobile data) for free to anyone in the world. In 2011, they made it possible to use one application to send free text messages to anyone in your contact list at no cost. TextMe became the first application to offer SMS, rich messaging, voice, and video calling on both iOS and Android.
In 2013, the app extended its reach to more than 100 countries for voice and SMS. Now, users could talk for free to pretty much anyone in the world. Later, they launched FreeTone, the first application on both iOS and Android to offer completely free SMS and voice calls to any number in the US and Canada. 
The app also created TopTopUp, the first application that lets users send mobile top-up to more than 100 countries for free. And they launched free sponsored mobile data around the world. With their new app Simkarma, anyone in India can earn free mobile internet across all Indian operators.
Pros of TextMe App: 
Free unlimited texts, calling, and pic messaging to any phone in the US, Canada, and 40 other countries in the World.

Send pictures, voice, and video messages to your friends.

Transform your iPod, iPad, or tablet into a real phone.

Send your Dropbox photos and videos via SMS directly from TextMe
Cons of TextMe app:
Emergency calls may not be supported by the app.

Free SMS offer limited to the US and Canada at the moment.

Free texting to Latin America subject to balanced inbound/outbound traffic per fair usage policy and decided as per the location of the user.

Calls and SMS to certain carriers may not be included in this offer
Overview of TextMe app? 
TextMe app is a phone number app connecting millions of users to the numbers they need to text & call. It lets users have multiple phone numbers. It is the best free texting app on the store with free calling and free, multiple phone numbers. And there's no catch and no hidden costs. You can connect with WiFi or mobile data to send unlimited text messages (SMS), pics & videos (MMS), voice messages, and unlimited calls. 
Users get free unlimited texts, calling, and pic messaging to any phone in the US, Canada, and 40 other countries in the World. They can send pictures, voice, and video messages to friends. With this app, you can easily transform your iPod, iPad, or tablet into a real phone.
The app's developers are a group of enthusiastic engineers, with brilliant development skills in web and mobile technologies. Joined by highly experienced entrepreneurs with in-depth technical and commercial expertise in mobile and telecommunications they have a great service to offer.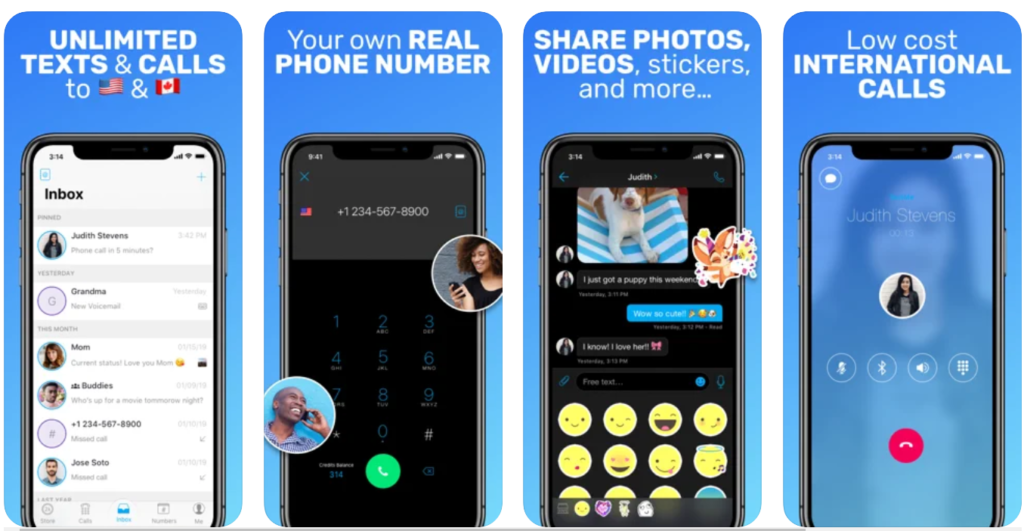 Features of the app:
Low-Cost International Rates – Users can stay in touch with contacts around the world with cheap international rates for calling and texting. They can also purchase credits or earn free credits by completing offers at no cost.

Turn your device into a phone – Download the TextMe phone number app onto your tablet to transform it into your new phone for WiFi calling and texting. 

Local phone number

International texting & calling

Voicemail

Call forwarding

Number lookup

Group-chat messaging

Send pictures, videos, and audio/voice messages

Use emojis and stickers

Dark Mode & Light mode

Customize your text signature

Customized text tones & sounds

Customizable call tones and ringtones

Unread message reminder

Text filtering & call filtering on the lock screen

Preview text messages on the lock screen

Customize background/wallpaper

Passcode Privacy Lock: keep your text message private

Hide or block text messages, conversations to keep them private

Share GPS location by free text message / SMS / MMS

Change your phone number and add multiple numbers

Sign up via Facebook & Google

Compatible with other SMS texting apps such as Google Voice, Talkatone, TextNow, TextFree, and more.
Features that unveil when you sign up: 
send free text messages from your desktop or laptop computer
Frequently Asked Questions:
Which OS supports the app?
Both Android and iOS platforms support the app.
Yes, the app is free to use. It also has some in-app purchases.
Is the payment secured for in-app purchases?
Yes, the in-app purchase payment method is secured. 
Which permissions are required to use the app? 
It requires the following permissions:
Phone
directly call phone numbers

read phone status and identity
Contacts
find accounts on the device

modify your contacts

read your contacts
Storage
read the contents of your USB storage

modify or delete the contents of your USB storage
Identity
find accounts on the device

read your own contact card

add or remove accounts
Location
precise location (GPS and network-based)

approximate location (network-based)
Other
read sync statistics

receive data from the Internet

run at startup

disable your screen lock

draw over other apps

prevent the device from sleeping

read sync settings

control vibration

send sticky broadcast
Why should you use the app? 
The app lets you call or text anyone in the world for free, even if they're not TextMe users. You can also get multiple numbers and manage them from one account. It is just like your email that you can access from anywhere. 
You can make a phone call from your laptop, iPad, or tablet. Or you can just log in to your account on a computer, tablet, or another phone and communicate like normal.
TextMe App Review: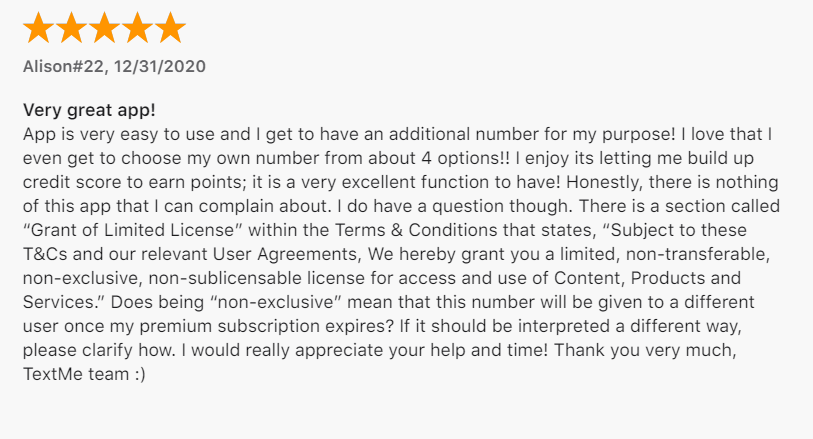 TextMe App Download:
Like our TextMe App Review? Check out more Mobile App Reviews or Submit your own Mobile App Reviews.