The act of marketing to customers via an app is referred to as mobile app marketing. The goal of mobile app marketing, from App Store Optimization to in-app messaging, is to enhance engagement both within and outside of the app. This can be accomplished in a variety of ways. The greatest mobile app marketers will often use a variety of digital methods to cultivate relationships and increase engagement with their applications.
The goal of mobile app marketing is to connect with your consumers at every point of their lifecycle.
The significance of mobile app marketing resides in how it is promoted across several platforms. When creating an app, it is critical to ensure that it is not limited to a single platform, unless that is your goal. Making your apps platform-agnostic aids in growing app awareness and use.
The inevitable increase in mobile app usage in 2022 has significantly improved our understanding of Mobile App Marketing. Businesses today not only adapt creative marketing methods to connect and interact with people, but they also conduct campaigns to target fragmented cohorts through super-personalized communication.
As of late, there are around 1.85 million iOS apps and 2.56 million Android apps. Furthermore, over 80% of the world's population has a smartphone, and users spend 5 to 6 hours every day on their phones.
These figures demonstrate the significance of firms adopting mobile. In reality, almost 65 percent of small firms and nearly all major organisations currently have a mobile app.
In this part of the country, competition is fierce. To thrive, you must stand out amid thousands of other apps. It won't happen quickly, but it is achievable with the right mobile app marketing strategy.
According to statistics, mobile apps account for half of all online traffic worldwide. Even more intriguing is that, according to the Ericsson Mobility Report, mobile traffic will rise by another 25% by the end of 2025. Mobile app marketing has never been more important than it is now.
Mobile App Marketing vs. Mobile Marketing
Mobile app marketing is the development of marketing strategies that successfully communicate to your customers at every point of the customer journey, from the time they first download your app to the time they become a brand supporter who makes several in-app purchases.
Mobile marketing, on the other hand, refers to marketing activities that take place on a mobile device, such as responsive site design, mobile-only displays, email marketing, and A/B testing on mobile checkout pages.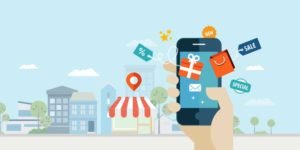 How Does Mobile App Marketing Work?
Mobile app marketing is a wide phrase that incorporates a variety of methods developed with mobile consumers in mind. These methods are critical for mobile engagement, or encouraging users to interact with the app after downloading it, whether by opening a notice or making that critical transaction.
App teams may increase user engagement using a variety of channels and methods. In-app messaging, push notifications, mobile email, and text messaging are all very powerful mobile mediums. Meanwhile, strategies may be developed when marketers have gathered sufficient consumer data to make judgments.
Data is critical to the success of mobile app marketing efforts, which is why mobile app marketers monitor a wide range of indicators, which are then used to inspire and modify their initiatives. Data is frequently combined with mobile app marketing management tools, allowing marketers to easily automate mobile campaigns to achieve the greatest outcomes for each individual app user.
Marketers may develop profiles by collecting consumer data like as app downloads and notification open rates, as well as non-behavioral data such as location or time of interaction, utilising mobile analytics. App teams may then group these profiles into categories to automate and provide targeted notifications.
Automation and customization are two powerful strategies for not only better engaging customers, but also saving marketers time that can be invested in more testing. When utilised together, automation and personalisation may significantly enhance the outcomes of mobile app marketing initiatives.
Marketers may apply precise modifications that will increase the success rates of their mobile applications, raising both engagement and customer retention, by basing changes on observable data.
What Are the Stages of Mobile App Marketing?
Certain elements must be considered while developing a mobile app marketing plan to guarantee that you achieve your goals. Let us go over them:
The Right Social Media Engagement
Social media is an important tool for advertising your goods. Marketing is no longer restricted to newspapers and billboards. To properly sell the goods, leverage the power of social media to improve exposure and target potential buyers.
In this day and age, getting influencers active in social media is a good tactic. Influencers that promote your mobile app might help it get popularity and attention.
Although the locations for promoting your mobile app have evolved, nothing can ever replace the impact of print media marketing and placing banners across the city. They are difficult to ignore and are easily accessible to persons who are not engaged on social media.
The Importance of Mobile App Marketing
Builds Strong Brand Image
Mobile App Marketing provides beneficial branding that supports and grows a brand image across digital platforms, allowing firms to attract the attention of the audience almost instantaneously and achieve prominence.
Another benefit of Mobile App Marketing is that it increases brand awareness. Implementing suitable methods and running effective advertisements can be critical in attracting target users.
It is now time to boost user engagement after effective branding and reach. Digital marketers connect customers with companies through tailored communication, engaging imagery, and fashionable commercials. It is a watershed moment in the whole app marketing campaign since it impacts the likelihood of future revenues.
Offers Crucial Campaign Data
Provides Critical Campaign With the use of appropriate technologies, data analytics may give a better performance insight into mobile marketing efforts. With the data acquired, digital marketers track and analyse campaigns such as User Journey, Marketing Budgets, Impressions, Results, Conversions, App Installs, and so on.
After examining all of the necessary data, mobile app marketers have a better understanding of what not to do based on campaign effectiveness. As a result, they develop novel product and category-specific methods in order to scale outcomes and increase revenues.
Communication Between the user and Company
These days, many businesses offer customer assistance and chat capabilities within their applications. It facilitates and accelerates communication. It also helps to build trust between the consumer and you by giving the idea that you are always available to assist them.
The Future of Mobile App Marketing
The growth of digital marketing will offer up new income opportunities for mobile applications.
The profitable usage of app attribution services like as AppsFlyer, branch, adapt, and others will boost the emphasis on in-app event optimization significantly.

App owners' primary focus will be on session duration, which will necessitate additional gamification within the app. The more time a user spends, the more opportunities there are to interact and sell to that person.

Instead of simply obtaining installers, mobile app marketing will focus on developing loyal and relevant users.

Leading B2C Apps will also leverage their large user base to develop novel revenue approaches.

First-party data and artificial intelligence will enable hyper-local and hyper-personalized marketing efforts.