You've probably seen your favourite influencers post "link in bio" or use the hashtag #linkinbio if you've spent any time on social media, especially Instagram.
What exactly does the phrase imply, and how can it help your Instagram marketing? It's not simply a passing fad; urging readers to click the link in bio is a significant technique for driving traffic from social media to your website, product pages, and other destinations.
Originally, Instagram only permitted posters to include links in one location: their bio. This made it difficult to direct Instagram followers to your website. Instagram users started utilising the term "link in bio" in their posts to direct followers to their bio to discover the link they were referring to.
For example, a blogger may post a picture and a short excerpt from a recent blog post, followed by the words, "Read more in my newest blog post. #linkinbio."
Instagram now allows users to publish links in a couple different locations (with restrictions). However, many people continue to utilise the link in bio function since it helps users discover the most recent material. It is also widely used in other apps and platforms, like as TikTok, YouTube, and Twitter.
How to Choose The Best Bio Link Tools
There are several Instagram marketing tools available to assist you in linking to other content and pages. However, each tool operates differently, resulting in a varied final result.
Consider the following details while looking for the finest link in bio Instagram tool for you:
Ease of use – You'll need a product with a minimal learning curve so you can get up and running quickly.
Customizable – Look for a solution that allows you to change your bio link page without writing code.
Integrations – To expand your email list, search for a product that allows you to interface with third-party services such as your email marketing service.
Affordability – The top link in bio tools provide price options to suit a variety of budgets. Check to see if you can use a free version to test it out before investing any money.
Why Should You Use Link in Bio Tools?
Instagram may help you establish your brand, interact with your audience, and drive sales. However, you only receive one link to direct readers to your Instagram page, so make the most of it.
The good news is that there are various techniques available to transform that one link into a traffic-generating powerhouse. Instead of connecting to your home page or a single page, you can use a link in bio tool to bring readers to a landing page that highlights all of your main material, such as blogs, downloads, and even your email list.
With the above in mind, here are the top link bio Instagram tools for growing your business.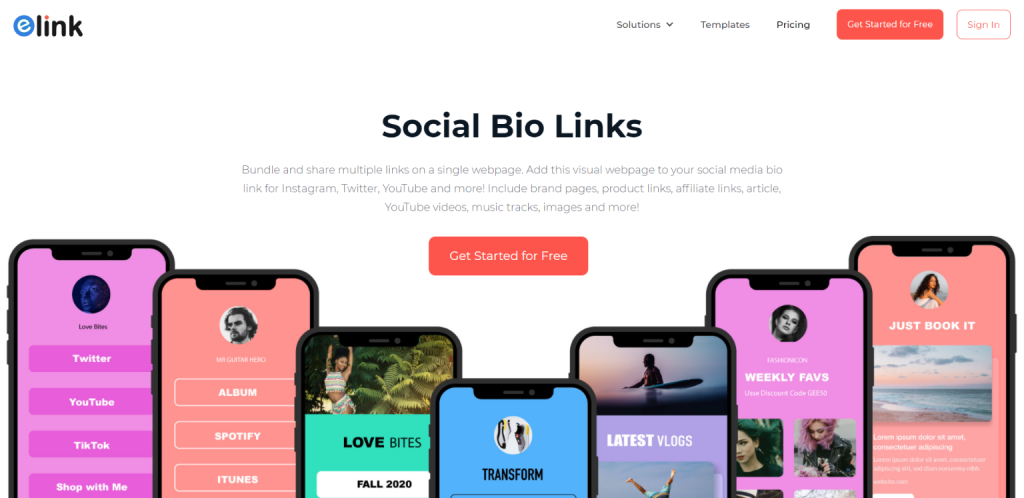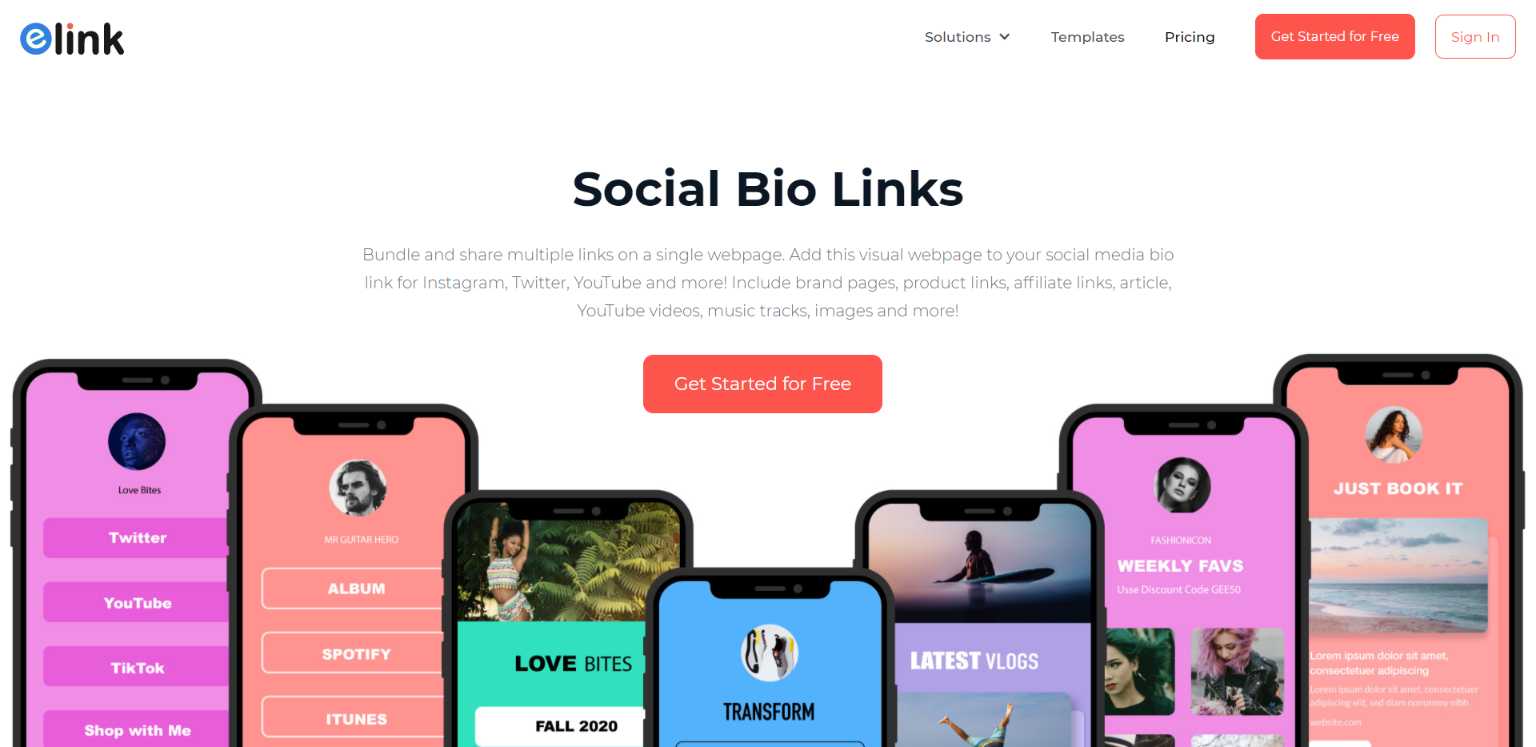 elink is a game-changing solution that provides you with the most aesthetically appealing, completely flexible layouts for your social bio link.
Every business, influencer, and brand has a layout that will make their material pop, jiggle, and stand out from the crowd.
elink allows you to select from a variety of fonts, colours, and design themes. You may make your social bio link more appealing by using photos, button language, header graphics, and other elements.
Users like elink's adaptability. If you want to create deals of the day, daily promotions, suggested books, social profiles, or product sites, Elink is the way to go.
Key features: 
Choose from over 50 beautiful layouts.
Customize the design according to your brand and message.
Add and edit the content on the go using elink's Chrome and Firefox extension.
Embed your elink on your website
Send newsletters using elink
Pricing: It is free or the pro one costs $12 per month.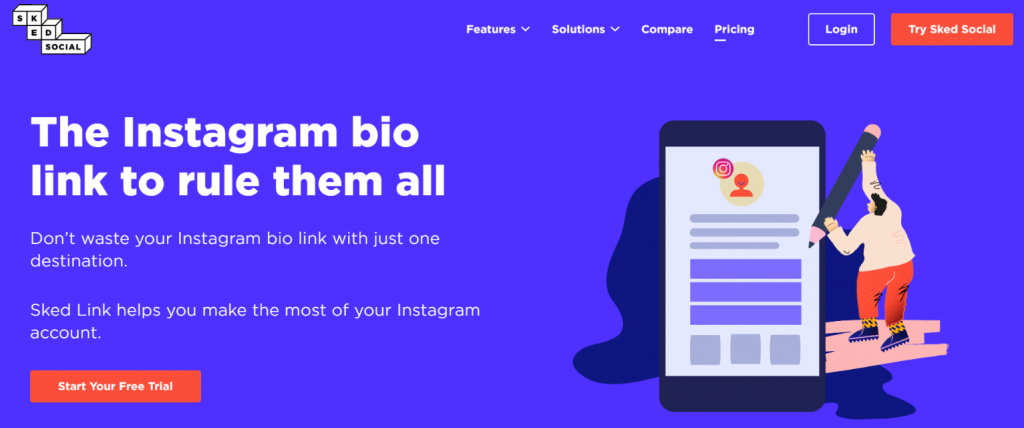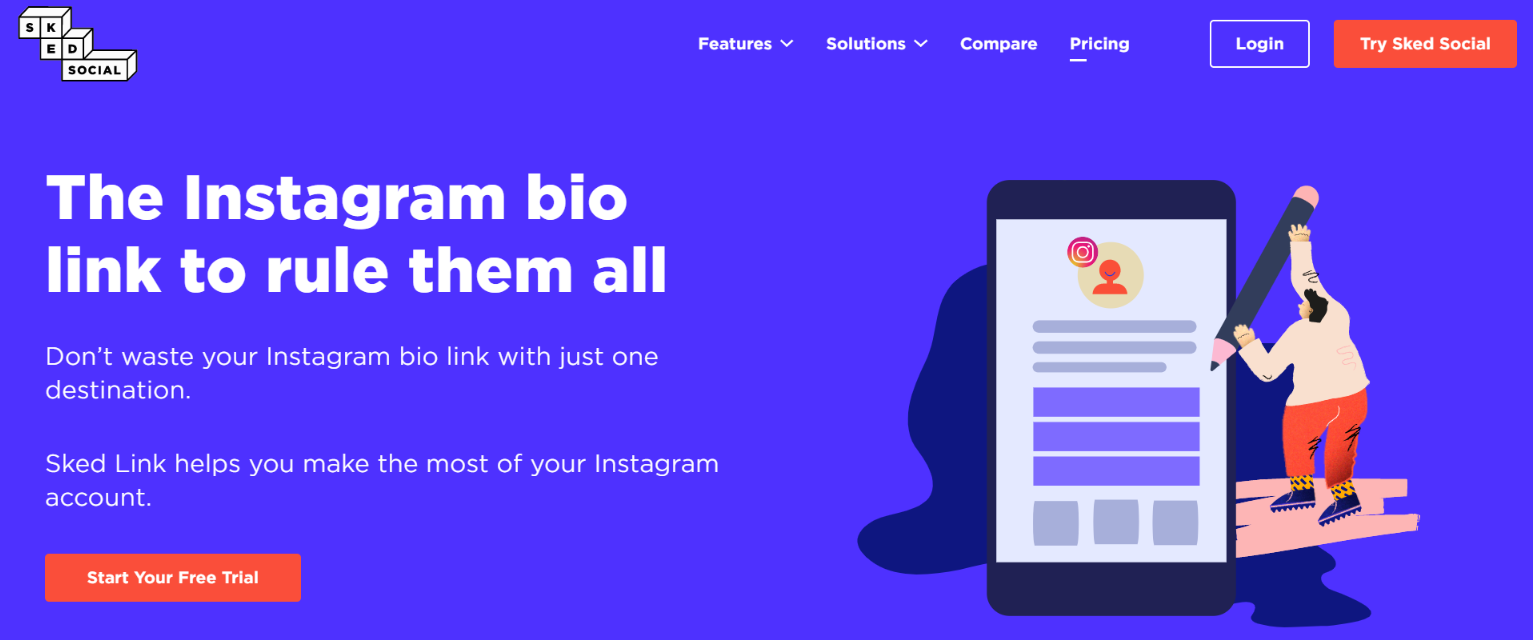 Sked Link takes pleasure in delivering your landing page faster than any other link in bio solution on the market. Users will not grow bored and leave the page.
What distinguishes Sked Link is its Instagram gallery display function.
You may include your Instagram feed in your personalised URL. That is, if someone clicks on one of your Instagram photographs via the link, you may lead them to a certain website.
Sked Link is really simple and easy to use. The main disadvantage is that it does not provide as many customising options as another link in bio tools.
Key Features: 
Integrate with Facebook Pixel and Google analytics.
Customize your landing page's introductory text.
Use custom CSS for extra configuration.
Accurately monitor the traffic being directed by Instagram.
Pricing: 
Sked Link is integrated with Sked Social, so to use it, you have to sign up for Sked Social.
Basic Plan: $25 per month.
Essentials Plan: $75 per month.
Professional Plan: $135 per month.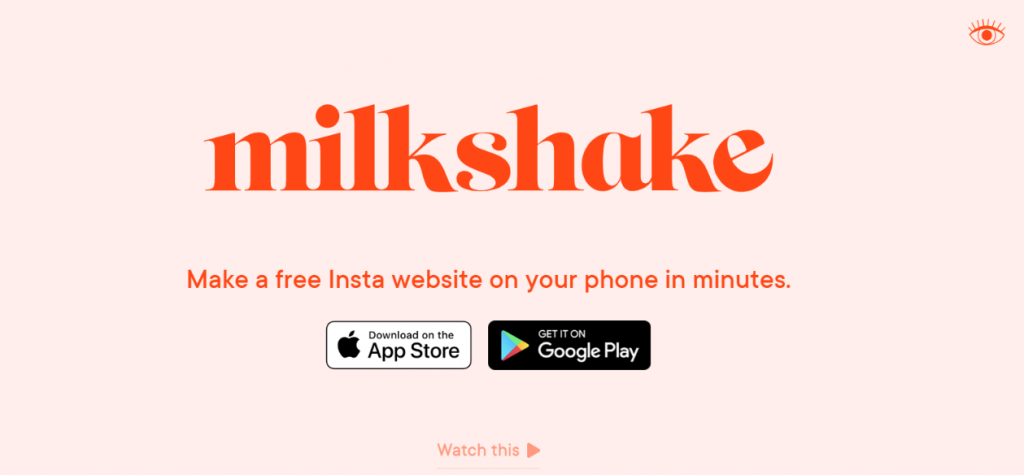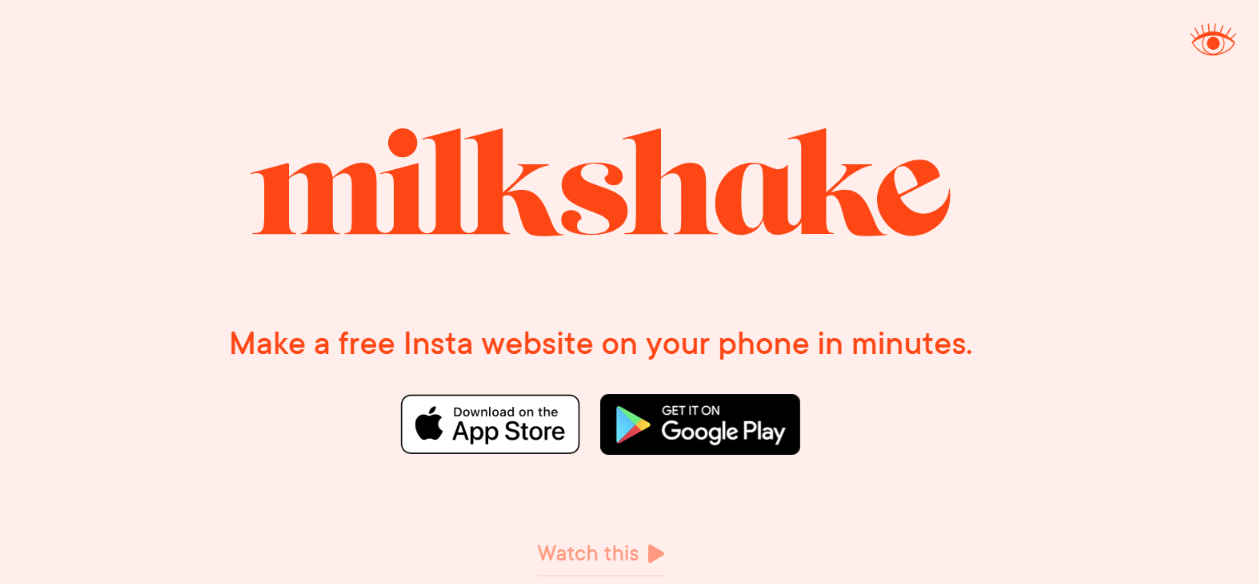 Milkshake is a website builder rather than a link in bio tool.
In fact, that's what they name their product: a "Insta website" that you can create on your mobile device in minutes.
It was created with Instagram in mind, and it does a great job!
Instead of a list of links, Milkshake employs cards that serve as website pages.
People may swipe across the screen, see multiple pages (or cards), and browse through all of your links and material, similar to how Instagram works.
Key Features: 
Customize cards to suit your brand look and feel.
Access insights and analytics.
Connect with your customers with integrated email features.
Include 'buy' buttons that are linked to your sales pages.
Pricing: Milkshake is free to use.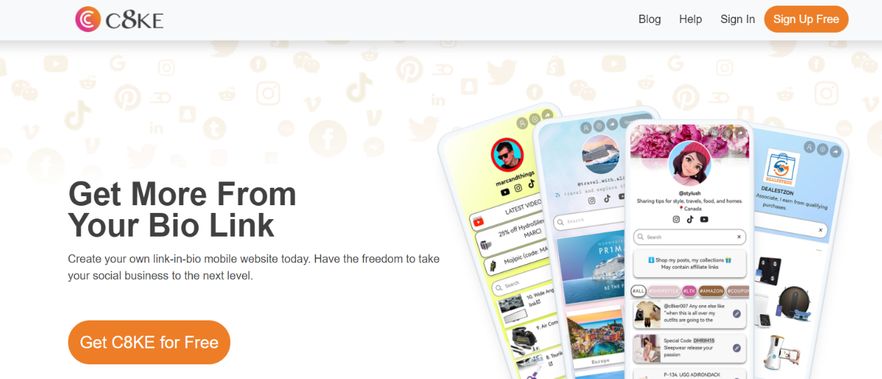 If you want to develop your business and affiliate/sales money, C8ke is the greatest link in bio tool. You may totally modify the font, background, and style of your page to meet your brand.
C8ke's main distinguishing feature is its shoppable gallery. Custom affiliate links or URLs can be added to every photo or video you post to the gallery. It also includes a search bar so that your readers may quickly discover the links they need.
C8ke's existing users like the opportunity to consolidate all of their affiliate connections from several networks into a single shoppable gallery. You may activate its RSS feed in addition to social links and custom fast links. Your page will be automatically updated with your most current blog entries and/or YouTube videos.
Finally, C8ke includes a subscription button so that your fans can quickly sign up for your personal newsletter. Growing your email list is critical to the success of your business.
Key features:
Search bar – helps your audience find your content
Highly customizable
RSS feed – share your latest blog posts and/or Youtube videos
Subscribe feature – get your audience to opt into your email list
Insights and analytics
Pricing: C8ke is free to use.


Using Linktree, one of the most well-known link in bio tools available, is simple.
You may input as many links as you like, organise or deactivate them, pick from 9 themes, and see how many times the link has been visited in total.
If you purchase the premium version, you will be able to add all social icons to your profile. You'll also have additional customization choices for your page.
One of the finest advantages of this tool is the option to schedule links, which means that they will not display on your landing page until the day and time you specify.
Key Features:
Robust link analytics including referral and location data.
Sends sensitive content and age-sensitive warnings.
Schedule your links to enable and disable them at the time you set them.
Pricing: It is free or the pro one costs $6 per month.


Leadpages is for you if you're serious about social media marketing and want a sophisticated tool.
This drag-and-drop tool makes it incredibly simple to design a stunning, professional-looking, completely responsive landing page complete with your own logo, footer, navigation bar, and other branding features.
In addition to links, you may include widgets on your website like as countdown clocks, social sharing buttons, CTA buttons, and so on.
Leadpages also provides SEO and analytics page tracking capabilities, allowing you to observe how your links are doing.
You can also use this tool's A/B split testing capability to create two landing pages and assess how well they convert.
Key Features: 
Insights on views, clicks, conversion rates, and more.
Various landing page templates to choose from.
Email marketing and WordPress integration.
Built-in payments.
Pricing: 
Standard – $37 per month
Pro – $79 per month
Advanced – $321 per month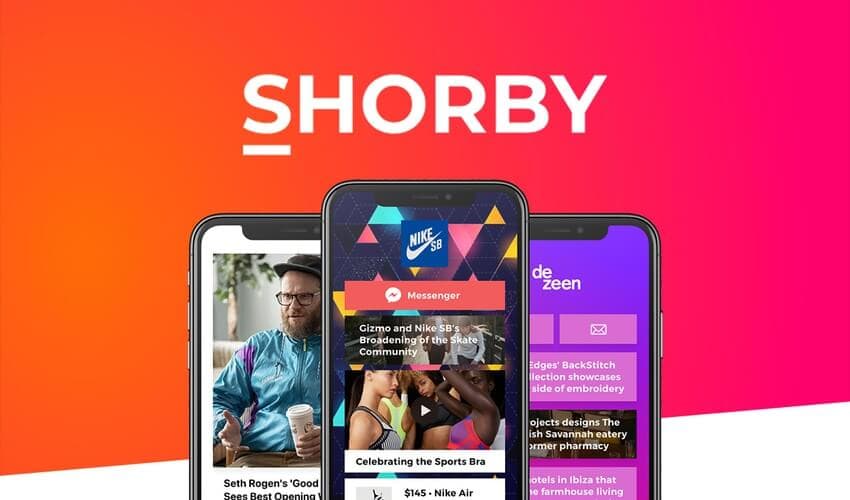 Shorby is a combination of three fantastic tools: a social media landing page maker, a link shortener, and a lead generation software solution.
Even if you're not tech-savvy, Shorby can help you create gorgeous landing pages with all of your connections.
After you've added your links, you may add other graphic components such as your logo, stickers, GIFs, and more.
You can do one more amazing thing with your Shorby landing page:
You may create a content feed that pulls your most recent blog articles and other updates from your RSS feed and displays them. As a result, whenever you publish a new website article, you won't have to continuously changing your IG landing page.
Key features:
Highly customizable.
Unlimited links and clicks.
Dynamic content feeds.
Allows retargeting to increase sales.
Shows analytics to help you track your traffic.
Pricing: The plans range from $9 per month to $99 per month.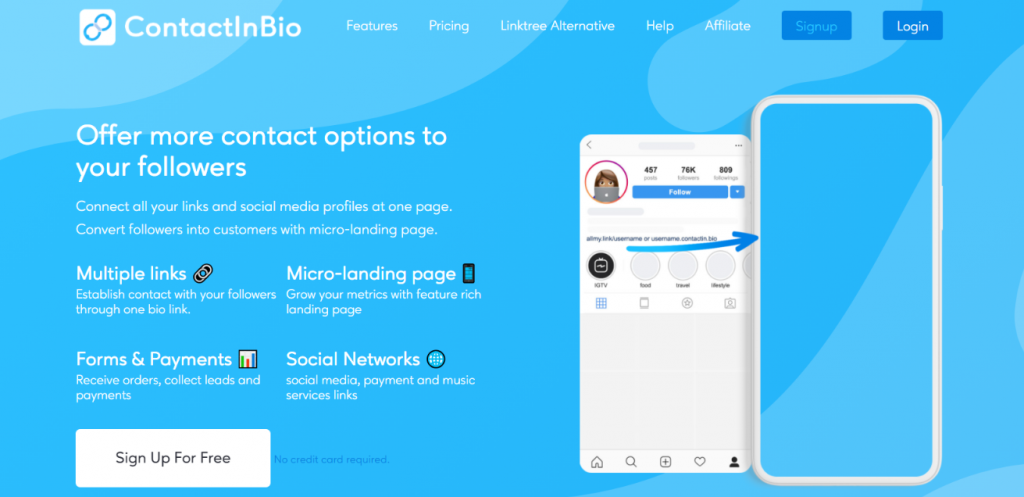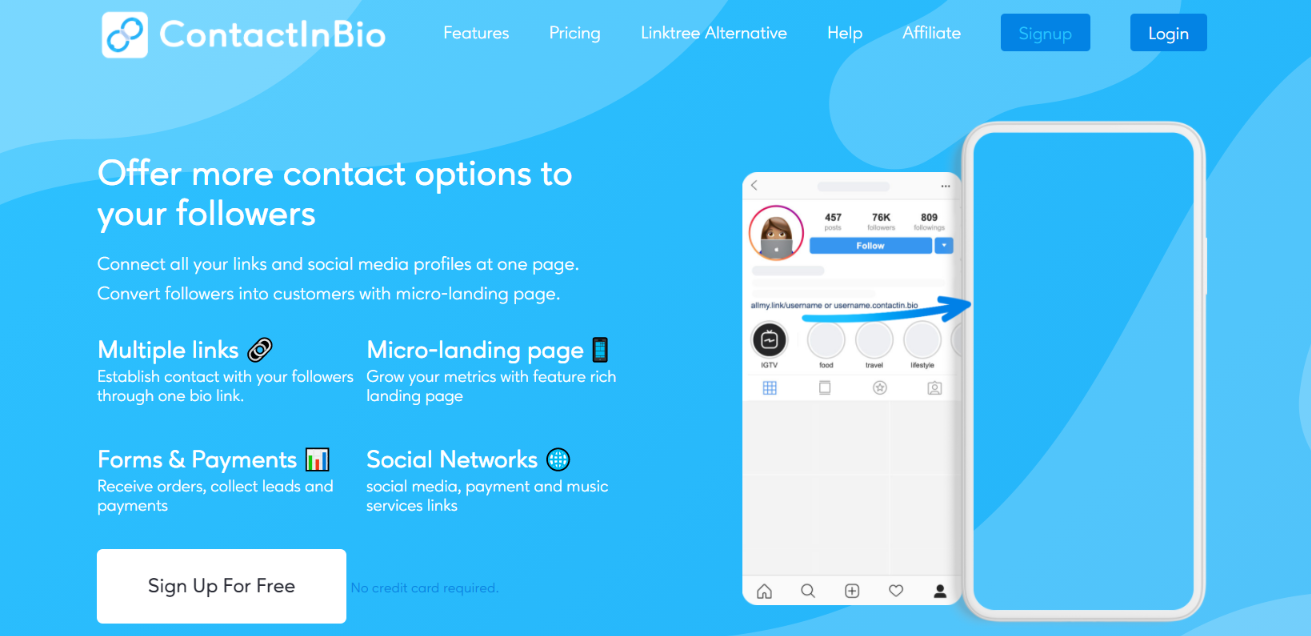 ContactInBio assists you in creating a feature-rich micro landing page.
This link in bio tool features a drag-and-drop interface and works with picture galleries, media players, and so on.
ContactinBio also includes forms and payment options, allowing you to easily receive orders and collect money.
You may also include smart connections to chat platforms like WhatsApp and Facebook, allowing your consumers to contact you with a single click.
Key Features: 
Choose one of four possible domains for your bio link, emphasising your brand name.
Connect your landing page to messaging applications.
View a daily breakdown of the number of individuals that clicked on your links.
Integration of Mailchimp with Facebook pixels.
Pricing:
It is free or the pro one costs $7 per month or costs $28/month which allows you to manage five accounts simultaneously.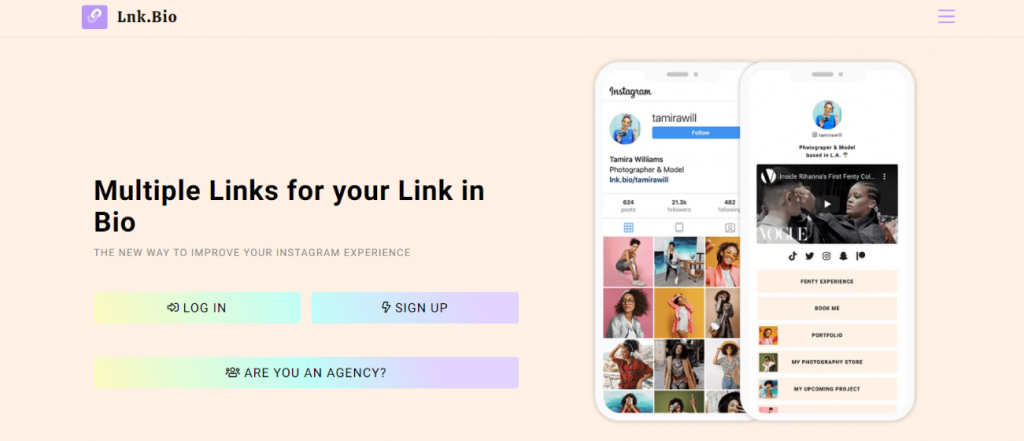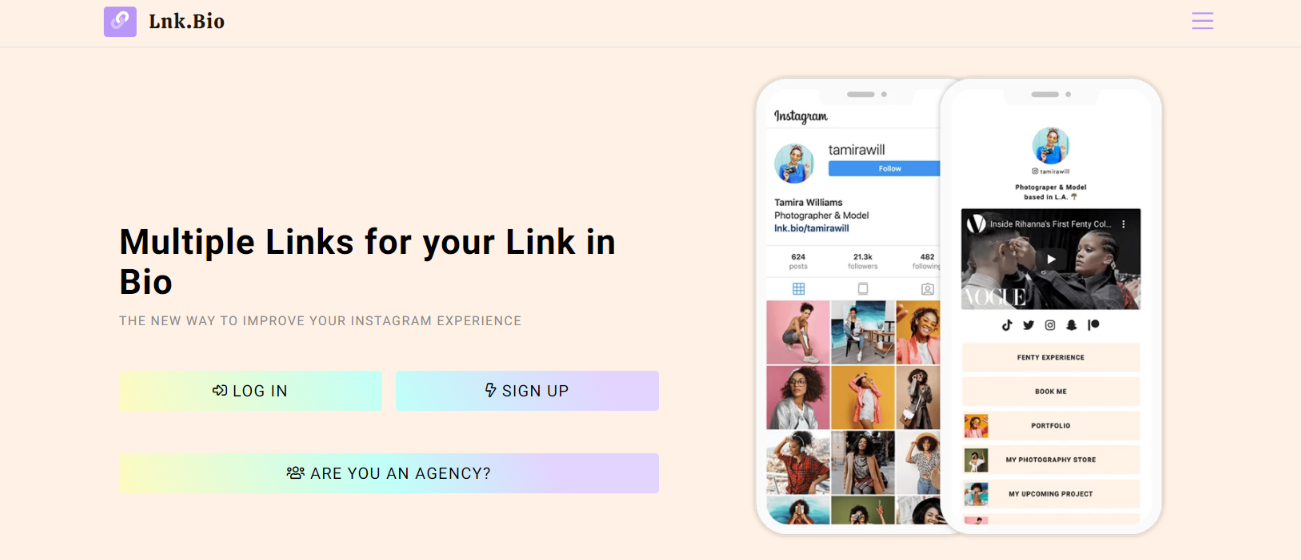 Lnk.bio is a simple yet effective technique for circumventing social networking networks' one-link limit.
The finest feature is undoubtedly that you may add an unlimited number of links and photos even with the free plan.
The main disadvantage is that there are no customization possibilities and you are limited to simply the landing page template.
However, the template is sleek, stylish, and classy, which is arguably the most significant aspect.
To be honest, if you're not very concerned about branding and customisation, this tool is a cost-effective solution.
Key Features: 
Create a personal URL.
Link tracking and stats.
Cross-link social media profiles
Uses the official Instagram API.
Pricing: It is free or the pro one costs $$0.99 per month.


Campsite is comparable to other apps. It has a bio interface. The tool promotes itself as a "dead-easy social landing page."
Campsite allows you to add as many links as you want to your unique landing page, change the colours and fonts, and have total control over your identity.
Another fantastic feature of Campsite is link scheduling, which lets you to designate when certain links should go active or disappear.
Campsite has comprehensive analytics tools, including as the ability to track where your visitors are coming from, how many people click on your link every day, and more.
Key Features: 
Google Ads and Facebook Pixel are being used to retarget profile visitors.
Robust statistics, including daily click breakdowns.
Switch between numerous Campsite accounts with ease.
Connect to Google Sheets or Mailchimp.
Customize your information with a custom title and description.
Pricing – It is free or the pro one costs $7 per month.