Main Highlights:
Insurance buying software that is simple to use
There is rapid and safe insurance accessible.
Everyone can utilise mobile technology.
Nowadays, it appears like anything can be done online, from video conferencing with your doctor to shopping for groceries through an app. Purchasing insurance is no exception; in fact, many digital insurance businesses provide online and app-based services. Many clients no longer need to talk with a representative.
What Is Digital Insurance?
As the name indicates, digital insurance is a type of insurance that is available online or through a mobile app. These platforms draught and price policies using a blend of live customer service and computerised algorithms. Digital insurance businesses provide a wide range of coverage options and products, including auto insurance, home and renters insurance, life insurance, and even healthcare packages.
While some of these organisations are younger, stand-alone startups, many digital insurance providers are owned and backed by well-known, trusted, and established insurance corporations.
How Do We Choose Digital Insurance Companies?
We looked at 6 digital insurance companies. Factors considered included financial stability ratings, consumer reviews, and consumer complaint indexes compared to the national average. We also considered mobile access, availability across the country, and pricing when making our determinations.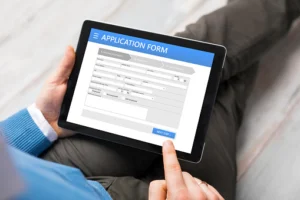 We've identified the top digital solutions for insurance services for vehicles, property, health, life, and accidents for our list of Best Insurance Apps.
GEICO Mobile
Ride-sharing applications may have captured the attention of the internet, but which insurance mobile apps do you use when you have a flat tyre or are involved in a vehicle accident? That's where one of the finest auto insurance applications, GEICO Mobile, comes in. On Dynatrace's Smartphone Insurance Scorecard, this mobile app is ranked first.
It is one of the top car insurance applications that supports Amazon Alexa and Google Action in-app, allowing users to access the following functions with only a voice command.
GEICO Mobile App Highlights:
Users can access insurance plans with digital ID cards.
Kate, GEICO Mobile's new virtual assistant, responds quickly to questions on insurance coverages, billing information, and other topics.
In-app Parking Locator to assist users in finding and booking parking before arriving at their location.
Users of these insurance mobile automobile apps may provide Easy Photo Estimates of the damage immediately from the app.
Users may create reminders to remind them to pay their insurance bills, change their card information, and download their ID cards.
Globe Life
App development in healthcare, as in most sectors, is always increasing, resulting in outstanding and finest healthcare apps. However, when it comes to the insurance market, the Globe Life health insurance app is unrivalled. The app, developed on behalf of Globe Life, offers hassle-free term and whole life insurance products that do not require an agent visit or medical exams. In addition, the life insurance app provides accidental benefits and mortgage protection plans, which shield customers from having to pay for unforeseen unintentional losses.
Globe Life Mobile App Highlights:
Make one-time payments.
Use social media to connect with an insurance firm.
Users can pay their premium costs on a monthly basis.
Accept more coverage alternatives when they become available.
Farmers Mobile
Farmers Smartphone is a popular farmer insurance mobile app that enables farmers (mostly those whose fields are protected by insurance plans) to easily check and manage their policy details, pay EMIs, and access another farmer's insurance-related information at any time.
Farmers Mobile App Highlights:
Farmers with insurance may examine policy data, pay invoices, and view their digital insurance cards, among other things.
Even when logged out, users may obtain their digital proof of insurance for vehicle and house coverage.
Users can contact Farmers or your Farmers representative, even while they are offline if they have any questions.
Users may view policy information, pay invoices, and more using the "Remember Me" function without having to log in every time!
MyAmFam Insurance Mobile 
You've definitely looked into the best family safety apps to protect your loved ones, but simply knowing where they are isn't enough. That is why you must protect your family by using one of the top family insurance applications. MyAmFam app provides American families with risk-free insurance products. This insurance software does not have clunky navigation or crowded panels, allowing you to easily handle all of your insurance-related duties. The app is the finest since it provides vehicle insurance as well as insurance for homeowners, renters, health, business, and ranches.
MyAmFam Insurance Mobile App Highlights:
Set up and schedule automatic payments.
Without requiring a sign-in, save evidence of auto insurance immediately to the mobile or Wallet.
Set up notifications and payment reminders in-app.
Users may effortlessly and securely log in using Touch ID or Face ID.
Locate an auto or glass repair business, as well as roadside help.
myCigna
The myCigna app has transformed and streamlined the entire travel experience. So why not take advantage of the same alterations while purchasing travel insurance? Cigna Health and Fitness have released its first iOS Insurance app, providing a quick and easy method to get travel insurance anywhere around the globe.
The myCigna Insurance app offers insurance options ranging from basic to complete absolute peace of mind. Get on-the-go coverage for emergency medical bills, travel delays, and theft or loss of baggage and possessions. Get tailored coverage in 2 minutes, whether you're 17 on your first vacation overseas or 89 and a seasoned globe trotter. All policy information is automatically saved and available – anytime and wherever you need it.
myCigna Mobile Insurance App Highlights:
Low-cost travel insurance for UK, EU, and EEA citizens up to the age of 89
a wide range of options: Backpacker, Economic, All-Inclusive, Annual Multi-Trip
Get coverage even if your journey has already begun.
24-hour access to Medical Assistance Claims
All of your insurance information is securely saved in your account.
Conclusion
Insurance Apps, as described in the preceding list, aren't just for insuring your property, car, house, or even your pet, but having a safety net to fall back on in times of need is essential. This list includes most areas of insurance that individuals require to keep themselves and their loved ones safe, including roadside assistance, rapid claims, GPS-guided directions, and health facilities.